1,485hp auction: Final Dodge Viper and Demon go under the hammer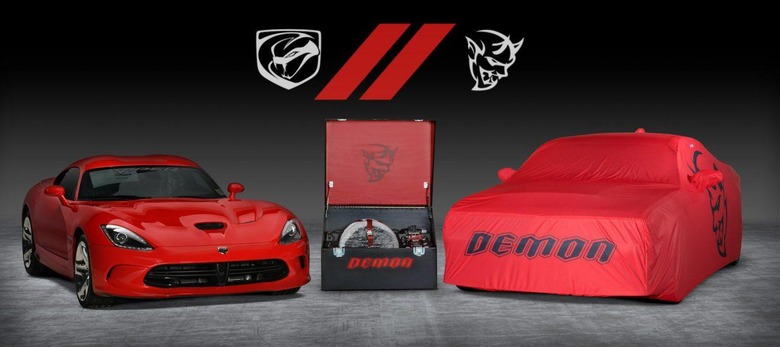 If your dream garage includes two modern classics with 1,485 horsepower between them, then Dodge has the package deal for you. The last 2017 Dodge Viper ever built and the final 2018 Dodge Challenger SRT Demon have been bundled together for a charity auction, though the kicker is that you can only buy them together.
Normally, the Viper would be a pretty safe bet in a game of Top Trumps, what with its 8.4-liter V10 engine and ridiculous 645 horsepower. However it's made to look almost pedestrian – okay, a slight exaggeration – by the 840 horsepower Challenger SRT Demon. That brings its 6.2-liter V8 Hemi to the party.
Neither were ever produced in vast numbers, but these two particular cars are even more rare. Dodge only committed to a single model year of the Challenger SRT Demon, making just 3,300 of the street-legal drag racers. 3,000 of those were earmarked for the US, and the remainder for Canada – as we found when we drove it, it's every bit as eye-opening as you'd expect.
This particular car has been finished, fittingly, in Viper Red, with a black interior featuring cloth and Alcantara seats. It has both front seats fitted, but the rear seat delete option. Of course, it comes with the Demon Crate, too, with its narrow front-runner drag wheels, performance powertrain control module with high-octane engine calibration, replacement switch module with high-octane button, and a set of Demon-branded track tools.
As for the Viper, that's also finished in the same Viper Red paint, and was the last off the Conner Avenue Assembly Plant line in Detroit last fall. It has a black interior and black Alcantara seats, along with carbon fiber accents on the exterior. Both cars get VIN instrument panel badging, just to mark their last-of-the-line symbolism.
Barrett-Jackson Northeast will be auctioning off both cars as a single lot on June 20, and pre-registration to bid is open from now until May 28. All of the proceeds of the sale will go to The United Way, a charity that focuses on community-based and community-led projects in education, financial stability, and health across more than 40 countries. It's an organization that Dodge has worked with before, and in fact when the Viper plant was closed a number of items from inside were auctioned off to raise money for the charity.
Exactly how much this pair of cars will go for is unclear. An auction for the VIN 001 Challenger SRT Hellcat back in 2014 brought in a hefty $1.65m, also for charity, so it's possible that this "The Ultimate Last Chance" sale will go even higher.