Here's How To Restore Your Apple TV With An iPhone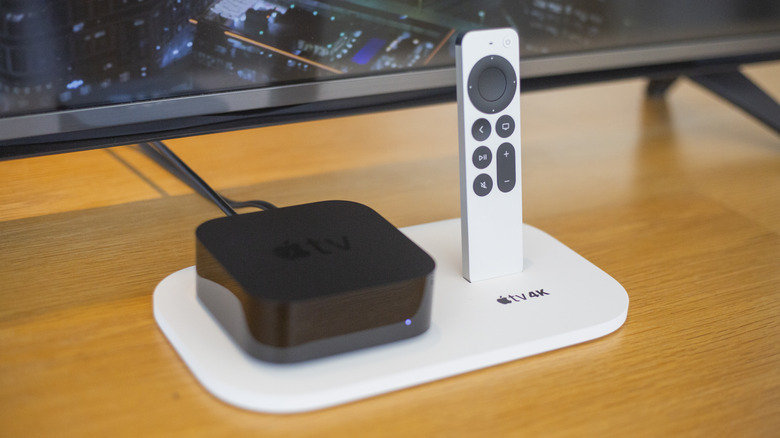 Bloomberg/Getty Images
The Apple TV rarely has software issues, but they can crop up from time to time. Among them is a black or blank screen that appears on your TV screen. This black screen may sometimes appear when you turn on Match Dynamic Range or Match Frame Rate, and your TV goes blank while it switches formats. A black screen may also be caused because of a loose HDMI cable connection or if you use a receiver or HDMI switch.
In many cases, plugging in your HDMI cable firmly, switching your HDMI cable, or just restarting your Apple TV can fix the issue. Sometimes, however, the black screen on Apple TV can be a more serious problem. You might see a warning symbol on your TV screen or a black screen with a flashing indicator light on your Apple TV. This is usually the result of a glitch that occurs after a software update. If this happens, you'll need to restore your Apple TV.
While Apple has provided a way to restore the Apple TV HD or earlier models by connecting them to a Mac or Windows PC with iTunes, Apple TV 4K users needed to contact Apple Support to fix the issue. With the release of iOS 17, you can now restore your Apple TV using your iPhone.
Restore Apple TV using your iPhone
The Apple TV HD, unlike the Apple TV 4K, has a rear USB-C port that allows you to connect it to a computer and perform a system restore, just like you would on an iPhone. Since the Apple TV 4K doesn't have a USB port, you had no option but to contact Apple Support to restore it until now.
As spotted by MacRumors, Apple now has a support document that details how you can restore your Apple TV using your iPhone. If your Apple TV is having problems, it may display an image of an iPhone next to an Apple TV, indicating you can use your phone to restore it. This option is available for the Apple TV HD and later models running tvOS 17. You also need to have an iPhone that's updated to iOS 17 for it to work. Follow these steps to restore your Apple TV:
Unlock your iPhone and hold it close to your Apple TV.
A Recover Apple TV prompt will appear on your iPhone.
Tap Continue and follow the steps that appear on your iPhone.
Leaving your Apple TV connected to power, wait until the recovery completes.
Apple says you can continue using your iPhone as normal during the recovery process. Once the Apple TV reboots, the recovery is complete. If this method doesn't work for your Apple TV, you have an iPhone that can't be updated to iOS 17, or you don't own an iPhone, you'll need to contact Apple Support for help with the recovery process.