The Most Reliable Home Appliance Brands, Ranked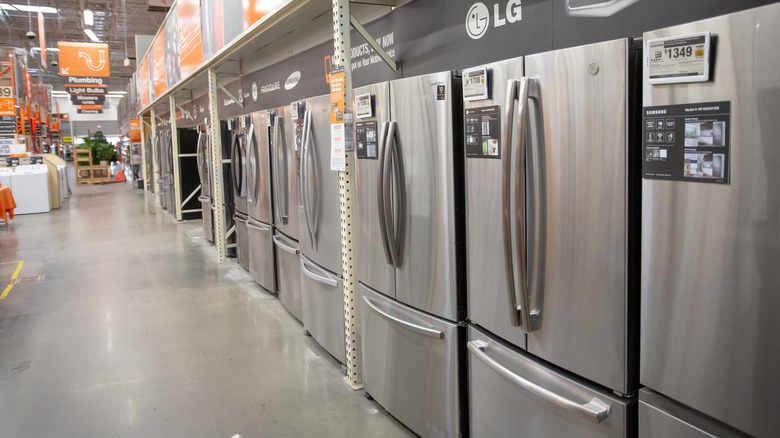 The Image Party/Shutterstock
Home appliances are big purchases. Not only are they very expensive, but they're expected to last many years with normal use. There are people out there who have had the same stove or refrigerator for more than 10 years. In order to do that, it helps to play the odds. Modern appliances are expected to last between eight and 13 years, depending on the appliance and who you ask. Of course, some appliances can live longer, and others can go down before they're supposed to.
If you're shopping for a new appliance, there's little you can do about longevity. You can buy from the most reliable brand and have it break down on you in a year, or you can buy a cheap, less reliable product and it'll go for 20 years. There are so many variables to control that it's almost impossible to say. For example, maintaining your appliances is a crucial step to ensure longevity. In addition, the type of appliance matters as well. French door refrigerators and dishwashers have higher fail rates than other appliances, so those types of products can have low reliability even when they come from a generally reliable brand.
However, some appliance brands have a better track record than others. This comes as a function of good design, a good selection of parts, and a decent warranty that can solve any early issues before it's expected to live long-term. In some cases, it's also specialization. One such example is Speed Queen, which has an excellent reputation but only makes a few products. In any case, here are the most reliable home appliance brands.
10. KitchenAid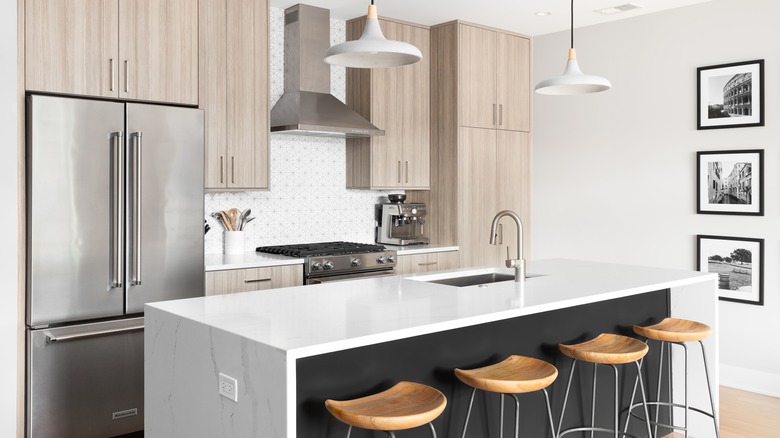 Joseph Hendrickson/Shutterstock
KitchenAid is a decent appliance brand, even if they're best known for their legendary stand mixers. The company promotes good-looking, easy-to-clean appliances with forward-thinking designs and modern features. As such, a KitchenAid appliance can make your kitchen pop in ways you might not get from a budget-oriented brand. The brand scores high on customer satisfaction surveys, so people are clearly happy to own them. That's a good sign since people are generally not happy with an appliance if it breaks down all the time.
In terms of reliability, KitchenAid is the middle of the pack, which is a good spot to start this list. On average, a KitchenAid will require more repairs than the industry leaders in this space, but still less than most. In return for the slightly lower reliability, you get appliances that look nice without being super expensive. KitchenAid is also a Whirlpool subsidiary, which is a recurring theme in the appliance space. You can expect similar reliability to any Whirlpool brand, and Whirlpool itself is also on this list.
As per the norm, it's all about playing the odds with KitchenAid. There is a higher-than-average chance that your KitchenAid appliance will work well for many years. You can find horror stories about KitchenAid on the internet, but those stories exist for virtually every appliance brand. Plenty of folks buy KitchenAid appliances, live with them for over a decade, and never have any serious problems with them until it's time to replace the appliance.
9. Ikea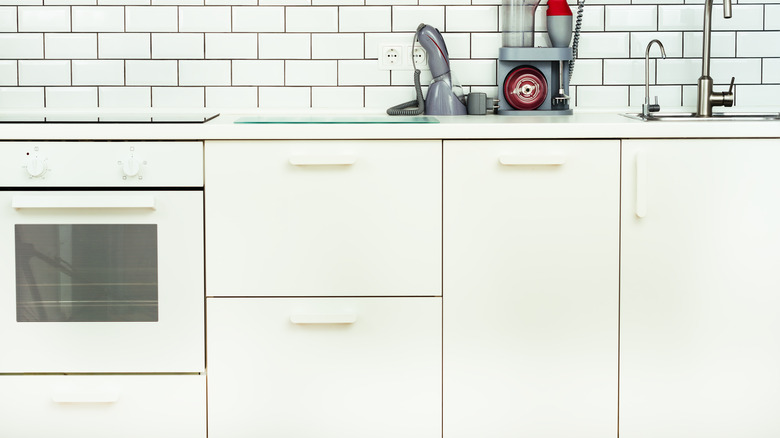 j.chizhe/Shutterstock
Ikea is a surprising name for a list like this. Consumer Reports named Ikea one of the most improved brands in terms of reliability over the last few years. Ikea's lineup is a bit smaller than most of the other appliance brands on the list. The company sells dishwashers, refrigerators, microwaves, and gas or electric cooktops. Ikea appliances are cheaper than most competitors, with functional, minimal designs. They're intended to blend in with their surroundings rather than be the centerpiece.
In terms of reliability, Ikea is better now than it used to be. The brand doesn't manufacture its own appliances. It farms out the work to Whirlpool and Electrolux. Both brands have a decent history with reliability, and that holds true for the products they make for Ikea. There are also a bunch of different variants. For example, Ikea sells over half a dozen refrigerators under different names and styles. Some of them are unique, like the Superkall, which is thinner and taller than your standard refrigerator.
Ikea also helps customers when their appliances break down. Ikea's LAGAN appliances come with a five-year warranty. The average standard warranty on home appliances is generally one to three years. A longer warranty is often a sign of higher reliability, and Ikea can fix its products longer than most other appliance brands. That helps even out the fact that Ikea isn't the most reliable brand out there. Even so, Consumer Reports is a lot nicer to Ikea than it was even a few years ago.
8. GE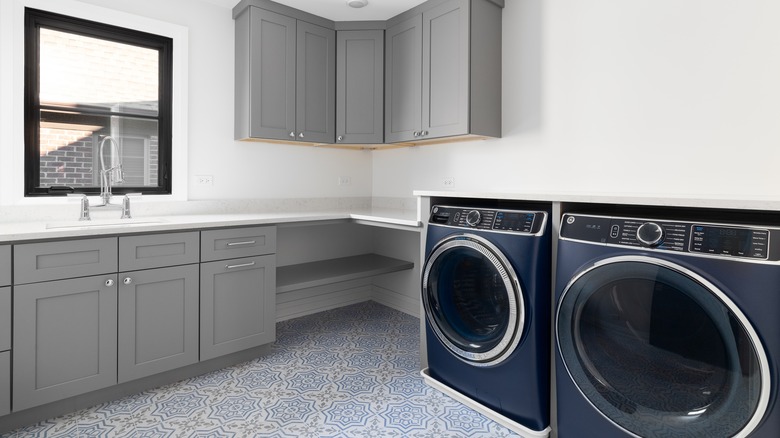 Joseph Hendrickson/Shutterstock
GE is one of the largest and most recognizable companies in the world. The company makes appliances but also a host of other products, including military jet engines, pharmaceutical diagnostic equipment, and plenty of non-appliance consumer products. All told, GE is a tale of three brands. There is the base GE brand that competes in the mainstream space. There is also the GE Profile, which is GE's upscale appliance lineup, along with Café, its even higher-end, more customizable lineup.
The difference between GE's product lineups isn't too different in terms of reliability. GE's base lineup is fairly average. It ranks near KitchenAid in terms of repair frequency as measured by appliance repair companies like Yale Appliance. However, the GE Profile lineup scores quite a bit better than most of its competitors. The Café lineup is also above average in terms of robustness. Thus, if you spend more money on GE's more expensive products, there is a higher chance that you won't see any major issues.
GE's warranty period is the standard one-year warranty on all of its appliances, no matter how upscale it is. That's not great compared to others like Ikea, but at least GE is there to help out for the most part if there's an obvious manufacturing defect. GE's placement on this list is based on its mainstream lineup because it's the cheapest and the most available in the entire portfolio. You can do worse, but you can do better, too.
7. Miele
Miele is a German appliance brand that specializes in higher-end products. It's held a good Consumer Reports ranking as well as comparably low repairability metrics. This is where brands on the list start pulling away from the average. Miele products are more expensive than mainstream brands and include modern designs that look good in most kitchens. In addition, Miele manufactures a lot of its own internal parts for its products, which is unusual. Most other brands farm out the majority of individual components and then assemble them later.
Miele doesn't have a lot of weak products in its lineup, which helps its placement on this list. You're almost guaranteed a consistent experience across its entire product lineup. That said, the experience is not flawless, and there are stories of Miele's customer service not being great all the time. Its overall Consumer Reports and repairability rankings are good but not exceptional. For example, the brand scores better than GE's mainstream products but not quite as well as the GE Profile lineup.
According to Consumer Reports, the products to think twice about are the gas cooktops and pro ranges. Some of the brand's dishwashers also have a higher-than-average service rate when compared to other brands. Other than that, Miele makes some good overall appliances that should work fine for their intended lifespan.
6. Whirlpool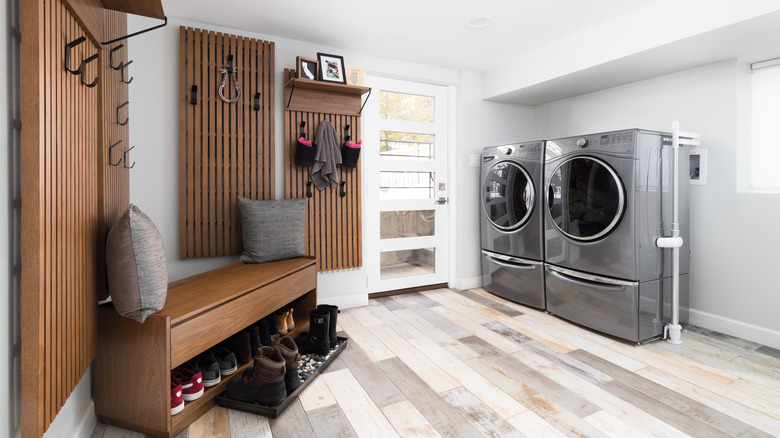 Joseph Hendrickson/Shutterstock
Whirlpool is right up there with GE in terms of reliability. Whirlpool owns a bunch of other brands, including Amana, Maytag, and KitchenAid. It also makes products for Ikea. Thus, it's fair to say that Whirlpool has a lot of experience in this space. The brand's mainstream products rank surprisingly well against other mainstream brands. Consumer Reports ranks it pretty well, and repairability metrics are low for most Whirlpool products. The company is often cited as among the most reliable mainstream appliance brands. Maytag is also listed often in similar reports, but we'll talk about Maytag more later.
You can find Whirlpool appliances at most big box stores and many price points. The company does cheap appliances better than most, while its higher-end appliances compete against other high-end products well. Whirlpool also has one of the largest service networks, so it's easier to get a hold of an appliance repair tech if something does go wrong. Whirlpool warranties last for one year, which is the industry average. It'll cover manufacturer defects but won't protect you long-term.
Overall, Whirlpool appliances are generally pretty reliable. It's about as good as it gets for a non-specialty brand, and Whirlpool sells better cheaper appliances than most others. Of course, there is still the risk of getting a dud, but that's true for every appliance on the list, especially if you buy failure-prone appliances like French door refrigerators.
5. Maytag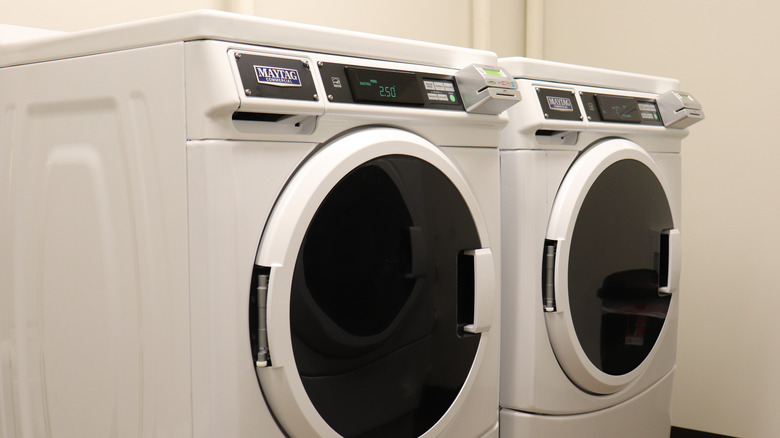 Alejandro Guzmani/Shutterstock
Maytag is yet another Whirlpool subsidiary and the highest one on this list. The company makes almost any type of appliance you can think of, including kitchen and laundry appliances, along with niche things like wine chillers and trash compactors. Maytag has a good combination of high customer satisfaction and a low service rate compared to other brands. Consumer Reports doesn't rank Maytag very high, but J.D. Power scores Maytag highly on most of their appliances and at the top of their washer and dryer rankings.
Whirlpool scores high in the same places as Maytag, but Maytag scores just a little bit higher. The American company also sells several products in almost every category. For example, the brand has at least half a dozen washers available in any given big box store. That gives consumers a variety of options ranging from simple and reliable to more modern and expensive. There are so many products in Maytag's lineup that it boggles the mind. However, Maytag manages to score well on almost every reliability test, which is impressive.
You can likely move Samsung, Whirlpool, GE, and Maytag around on this list based on personal preference. All four brands are highly successful, with large product portfolios and good reliability. They also all have cheap or expensive options for multiple types of shoppers. You can even toss Amana in there as well. The best one is mostly subjective opinion since all four brands score similarly on most customer satisfaction and reliability surveys.
4. Samsung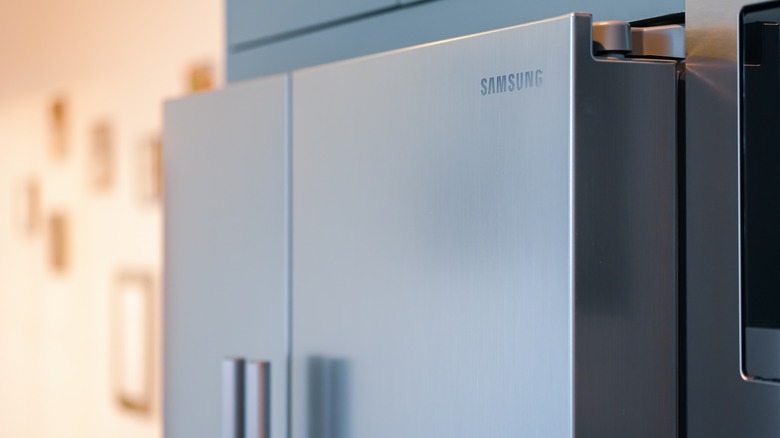 Dragos Asaftei/Shutterstock
Samsung is a polarizing appliance brand. Consumer Reports isn't the biggest fan of Samsung and ranks them middle of the pack in terms of predicted reliability. J.D. Power, on the other hand, says Samsung is among the most reliable brands on the market. Repairability metrics agree with J.D. Power in this instance, and Samsung appliances have fewer service calls than most other brands. Pair that with relatively high customer satisfaction ratings, and Samsung is a decently safe bet when it comes to buying appliances.
Samsung's real strength is that they sell almost every type of appliance you can think of. Modern appliances also come with smart features. The company made a pretty big splash with its refrigerator with an Android tablet built right into the door. Samsung also has its Bespoke lineup, the brand's upscale selection on par with GE's Profile products. Much like GE and Whirlpool, Samsung products range from relatively cheap to very expensive, depending on the appliance. The warranty matches the industry average, which is fine but not great.
There are a lot of stories about Samsung appliances failing. However, there is a reason for that. Samsung sells a lot of units. In fact, Samsung controls about 20% of the U.S. appliance market as of 2022, which is more than anyone else. Samsung's failure rate isn't much higher or lower than other brands, but there are simply more Samsung appliances out there, and failure stories are more common as a consequence. The math doesn't lie here. Samsung makes good products.
3. Bosch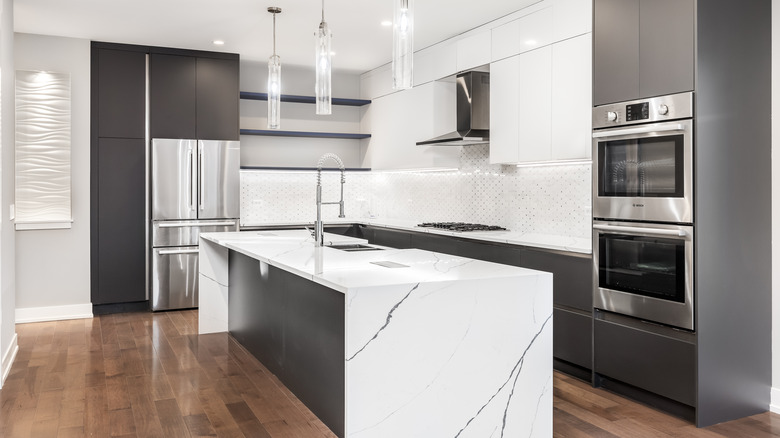 Joseph Hendrickson/Shutterstock
Bosch is among the most reliable appliance brands. From here on out on this list, brands now score unanimously high on every authoritative list. Bosch has a reasonably high Consumer Reports ranking, a comparatively low number of service visits, and it scores high on J.D. Power as well. Consumer satisfaction surveys put Bosch near the top of their lists as well. This is one of the few brands where it's actually a little difficult to find a trustworthy resource that contradicts the assertion that Bosch is reliable.
Bosch's appliances are part of the affordable premium segment. The company doesn't make budget-friendly stuff, but its products aren't so expensive that they become inaccessible. Its 500 and 800 series products are its most popular, and you can find them at most big box stores. Like most, the overall reliability depends on the appliance. Dishwashers and French door refrigerators scored the lowest, which is fairly typical across all brands. There doesn't seem to be an outlier in Bosch's entire product lineup, and that level of consistency isn't typical in the appliance space.
Bosch protects its products with a five-year warranty. However, the structure is a little funky. The first year covers the entire appliance. Later years only deal with things like the microprocessors, the dish rack in dishwashers, and the electronic components in refrigerators. Both fridges and dishwashers come with lifetime warranties to protect against rust. Overall, it's better than the industry standard, which is a good thing.
2. Speed Queen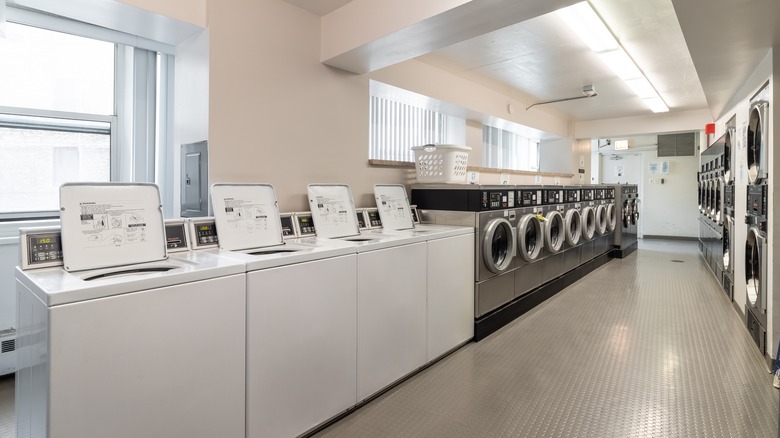 Joseph Hendrickson/Shutterstock
Speed Queen has a cheat code for a list like this. The company only makes washers and dryers, so the brand gets to dodge the lower reliability ratings of some appliances. Plus, the focus on just two different types of products gives Speed Queen an advantage in those markets. Speed Queen is toward the top of the Consumer Reports rankings. It has a relatively low rate of failure as well. Speed Queen boasts that its products are designed to live for 25 years, which is a ridiculous number compared to the average failure age of most appliances.
There are less than two dozen products in Speed Queen's entire lineup. They include four washers, four electric dryers, four gas dryers, two front load washers, a pet-specific electric or gas dryer, and two stackable washer and dryer combo units. It also sells units to laundromats with great success. The company is used to developing products that get used almost a dozen times a day. That no doubt helps its product development process and reliability scores.
Speed Queen has arguably the best warranty in the business. Each product has a tier. For example, there are TR7, TR5, and TR3 washers. The number in the model is also the warranty length. Thus, a TR7 has a seven-year warranty while the TR3 has a three-year warranty, which is reflected in the price. The higher tiers are obviously more expensive. Even the lowest number is at the high end of the average for the appliance industry, and seven years is among the longest.
1. LG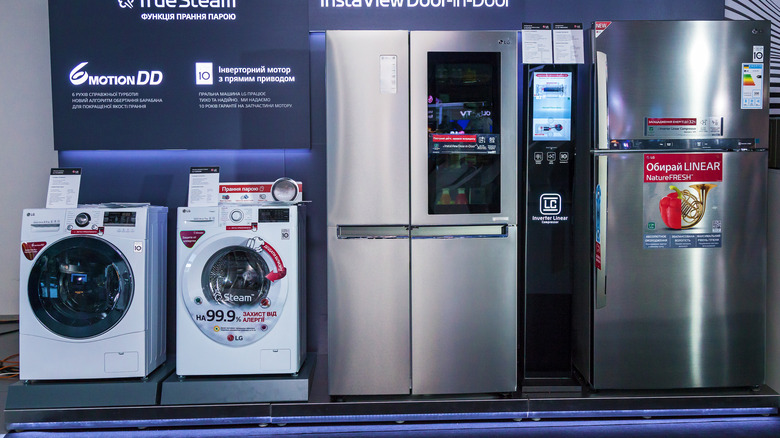 Photosite/Shutterstock
At the top of the mountain sits LG. It is a statistical darling in the home appliance space. It has the lowest rate of repair in the industry as measured by appliance repair technicians. It sits comfortably in the top three of Consumer Reports and scores well on customer satisfaction surveys. J.D. Power also holds LG in relatively high regard. LG's upscale brands, LG Studio and Signature Kitchen Suite, also score quite well in the above metrics, meaning you get a reasonably reliable product no matter how expensive it is.
There isn't much about LG that separates it from its competitors other than the fact that it tests well. It's entirely possible to get a bad LG unit, but it's considerably less likely than with other brands. That's especially impressive, considering how many kitchen and laundry room products LG makes. Its French door fridges can be questionable, but LG has been fixing the issue in recent years. LG also manufactures its own core components, similar to Miele. That likely helps with reliability as well. The company is even working on upgradeable appliances.
The reliably is a good thing for LG since its service network is below average compared to other brands. So, even though LG has some decent warranties depending on the appliance, it may be difficult to get a repair tech out to fix it under warranty. Other than that, LG sells solid products that seem to top, or at least come close to topping, nearly every reliability and customer satisfaction chart we could find.