Sony Reveals Project Q Streaming Device, PlayStation Earbuds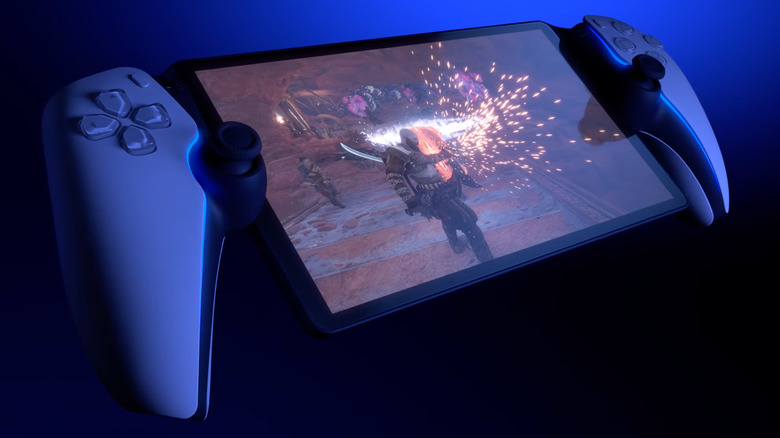 Sony
Sony unveiled a new handheld device during its 2023 PlayStation showcase. As was previously suspected, Project Q isn't a standalone device similar to the PlayStation Vita but is instead a streaming handheld that will be reliant on the user's PS5 console. The handheld device will use Remote Play and connect to the console via a Wi-Fi network. You will be able to use it to stream almost any PS5 game you own.
The device itself resembles a DualSense controller that has been sliced in half with each half then being attached to the side of a tablet. That center screen has an 8-inch diagonal measurement and an "HD" resolution. Sony claims that the device itself packs "all of the buttons and features of the DualSense Wireless controller."
As it's a streaming device and not a standalone unit, the games you'll be playing on Project Q will have to be installed on your PS5. According to Sony, VR games are excluded from the playable list. Beyond the screen size, the vague mention of it being "HD," and the shared features with Sony's premier gamepad, little else was unveiled about Project Q during the showcase. Sony has mentioned that more will be revealed in the "near future." Missing details include things like battery life, the screen's exact resolution, additional features, and its real name.
Sony has some earbuds on the way as well
Project Q wasn't the only piece of hardware that was revealed during Sony's PlayStation Showcase. The company also unveiled a pair of wireless earbuds which it claims bring "next-generation audio immersion" to the console and PC. In terms of appearance, the white and black audio devices are on the smaller side and appear to match the styling of the console itself. They also store away in a case, which matches the styling and presumably charges the earbuds themselves. 
The earbuds will "deliver lossless audio with low latency," according to the company, and can connect to smartphones via Bluetooth. It isn't yet known if the lossless audio and low latency parts come through an advanced Bluetooth connection, a part already built into the PS5 console, or via an included dongle. Other details that have yet to be unveiled include things like price and battery life. As with Project Q, Sony claims it will tell us more about the upcoming earbuds in the near future.
While Project Q was one of the more exciting announcements from this year's PlayStation Showcase, and a lot of details on the device are yet to emerge, some fans may be disappointed. Streaming handhelds certainly have their uses, but it may not have been the portable PlayStation many fans were wishing for.