LEGO Technic Mars Rover Perseverance Set Is More Than Just A Toy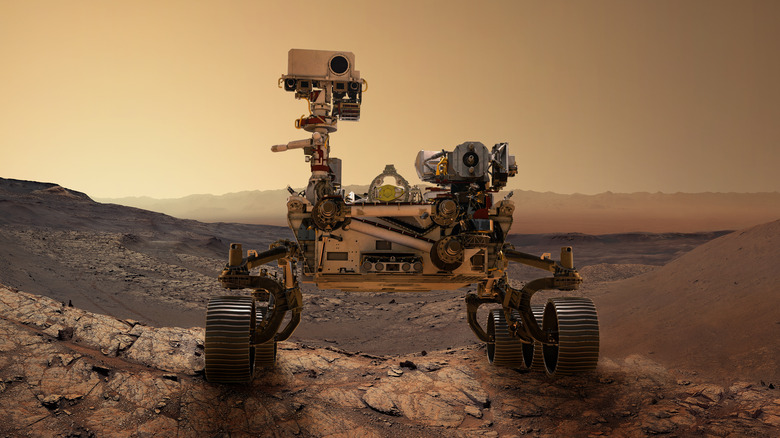 Triff/Shutterstock
Two years ago, NASA's newest Mars rover — Perseverance — touched down on the Red Planet's surface, joining its Curiosity predecessor in vital scientific research. Perseverance's successful landing drew plenty of press at the time thanks to the sheer spectacle of it, but Mars exploration is an equally incredible feat of science and engineering. To convey the enormity of that accomplishment to the next generation, NASA has teamed up with LEGO for a cool new project.
Today, the LEGO Group unveiled their newest LEGO Technic kit, the NASA Mars Rover Perseverance model. This isn't just your everyday LEGO kit that you build and leave on the shelf, however. The Perseverance kit is designed to be a STEM development project to help teach kids about the Mars mission, and the miraculous science that went into it. With a complex build and features modeled after the real deal, this kit will give builders an insight into NASA's fascinating rover development process.
Build your own rover
The LEGO Perseverance kit is a scale model of the real Perseverance rover, featuring a fully articulated, 360-degree boom arm, a functional six-wheel suspension for navigating uneven terrain, and even a detachable model of Perseverance's helicopter sidekick, Ingenuity. 
The kit is meant to be as accurate to the real deal as realistically possible, so that the kids who assemble it can get a proper picture of Perseverance's functions and how they help it conduct its daring Martian research mission.
Alongside the model itself, the Perseverance kit includes a download for the Technic AR smartphone app. Using this app, kids can receive information about the Mars mission's history and goals, and even get a live reading on the current weather on Mars from Perseverance itself.
The Perseverance kit was a major passion project for its creator, LEGO Designer Luke Cragin. "I've always felt passionate about space, and the design process let me explore my interest as I recreated the incredible engineering developed by the pioneering team at NASA," he said in LEGO's official press release. "We hope the model's features and functions will help introduce young space lovers to the world of engineering and encourage them to reach for the stars in the future."
The LEGO Technic Mars Rover Perseverance set will be available in stores starting June 1 for $99.99. The kit includes 1,132 pieces and is rated for kids ages 10 and up.