How To Improve The Sound Quality Of Songs And Podcasts On Spotify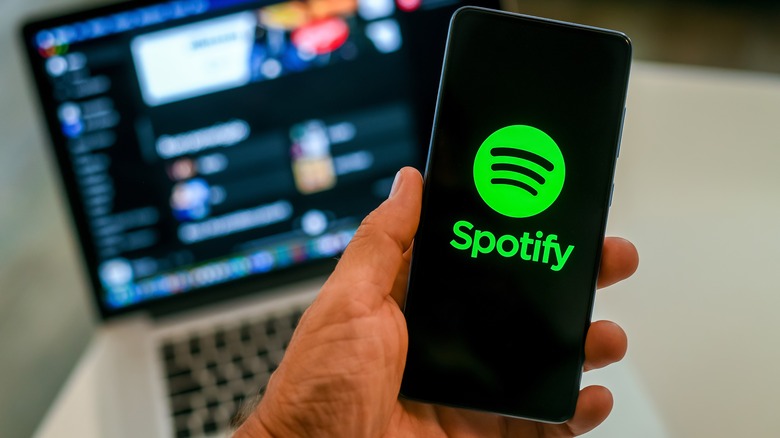 Fabio Principe/Shutterstock
One of the most important factors to consider when choosing your go-to music app is its ability to play audio with excellent sound quality. With over half a billion users to date, Spotify has earned its spot in the forefront of popular audio-streaming services. It's not just because of its ever-growing catalog of titles, but also its steady development of useful features that people can tweak to elevate their listening experience.
Spotify actually has several playback settings that can significantly affect audio quality as well as an equalizer feature that applies bass and treble levels that are more appropriate to whatever audio genre your currently playing track is filed under. In order to enjoy Spotify content in its highest available quality, you will need access to a stable and strong internet connection. In some cases, you may need a subscription to Spotify Premium to unlock those features, but even without one, you should be able to set the app's general sound to higher-than-normal quality.
Jack up Spotify's audio quality preferences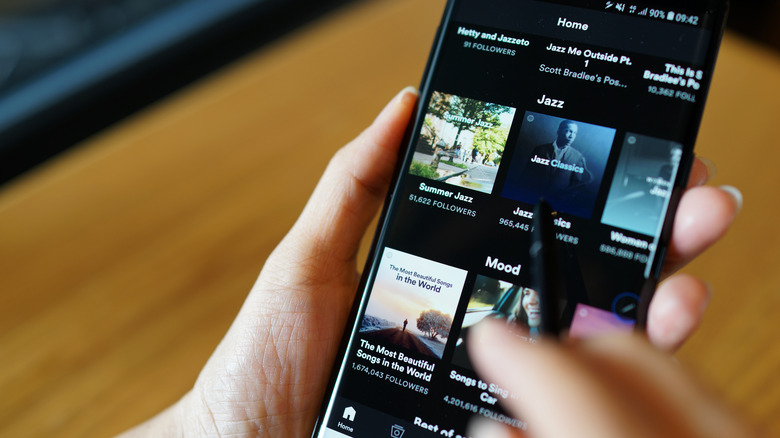 TY Lim/Shutterstock
Spotify's sound levels for music and podcast tracks is normally set to approximately 96 kbit/s for both desktop and mobile platforms and 128 kbit/s when streamed through the web player. However, depending on your internet connectivity, the quality can go as low as 24 kbit/s. Music tracks can be bumped up to high-quality audio with about 160 kbit/s.
Whether you listen to Spotify tracks through a Wi-Fi connection or stream content using mobile data, you should be able to set up different preferences for either scenario. For instance, if you are worried that Spotify will eat up too much cellular data, you can choose a lower streaming quality. Inversely, when top-notch Wi-Fi is on hand, you can go all out and pick the best possible audio setting so you can hear the finer details of certain songs.
To enhance audio quality on Spotify, make sure you are accessing the platform through only one device for now — audio settings will not appear when Spotify Connect is in use. Follow these steps on your mobile device:
Launch the Spotify app.
Tap the Home button.
Hit the gear icon in the top-right corner of the page to open Settings.
Select Audio Quality. Again, this menu will not show up if you have Spotify running on a different device.
Under Settings, pick your preferred audio quality for "Wi-Fi streaming" and "Cellular streaming." Note that mobile data rates will apply for the latter setting.
The steps are similar for Spotify on a desktop. Just click your profile photo in the top-right corner of the page and hit Settings. Under the "Audio quality" section, click on the dropdown next to "Streaming quality" and pick your preferred level.
Breaking down Spotify's audio quality settings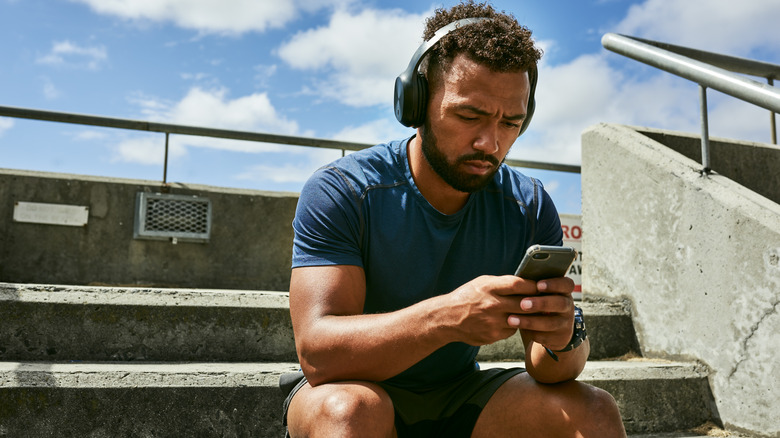 Laylabird/Getty Images
When applicable, choosing the "High" streaming quality option should be a good enough setting. However, if you are uncertain whether your internet connection can handle it, you can opt for "Automatic" so that the app spontaneously switches to the best possible sound level given your bandwidth. In addition, Spotify Premium subscribers have an added "Very High" option to maximize their audio quality even further up to 320 kbit/s, which is double the highest possible audio quality on a free account.
There's also an "Auto adjust quality" feature that you ought to leave enabled — the toggle for it should be green and kept that way — to maintain seamless listening free from stuttering. If you are able to download Spotify tracks for offline listening, you can also choose a better sound quality. Note that people with a free version of the app can only download podcasts, which may have a default audio quality setting. If you have Spotify Premium, you can opt to download tracks with "Very High" audio quality. Just make sure your device has enough storage space for the files.
Unfortunately, if you regularly listen to Spotify using the web player, you will not be able to adjust music audio quality at all.
Switch on Spotify's equalizer feature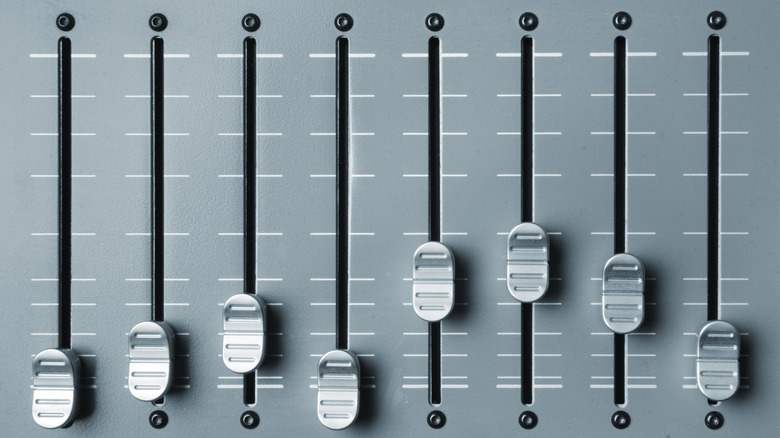 Tunart/Getty Images
Every audio track on Spotify is created differently. To ensure that you are listening to spoken word tracks with maximized vocal volume and quality and don't miss out on any bells and whistles added to songs, you should tinker around with Spotify's equalizer. Here's how to do it on the mobile app:
Launch Spotify and then hit Home.
Tap the gear icon to get to Settings.
Select Playback.
Hit Equalizer, then switch the toggle next to Equalizer to the on (green) position to enable it.
Once Equalizer is enabled, you can pick an option from a list of available audio presets. It is recommended to play around and go through each one while a Spotify track is playing so you can hear the difference in every option. You can also manually drag the dots on the equalizer itself until you find an audio level combination that suits your preferences.
The Equalizer is also available through Spotify's desktop platform. To find it, click on your profile photo in the top-right corner and go to Settings. Under the Playback section, enable the toggle next to Equalizer. Once it's on, you can choose a preset or tweak the equalizer dots manually until you are satisfied with the resulting audio levels.
Exploring the Spotify equalizer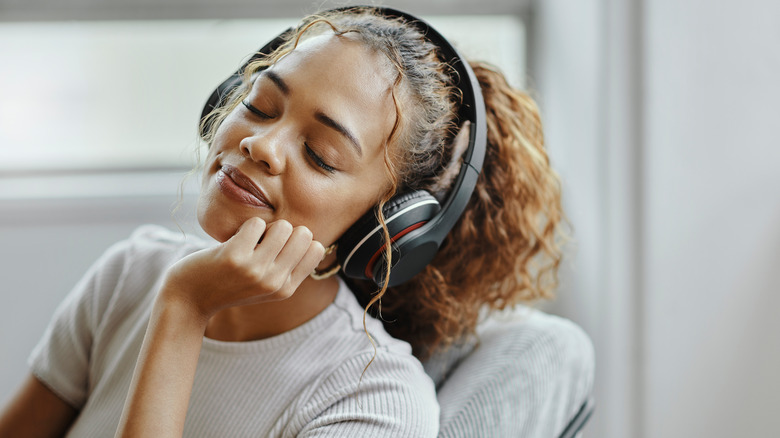 Delmaine Donson/Getty Images
There are currently 22 equalizer presets available on Spotify, most of them named after a specific audio genre style, such as Classical, Hip-Hop, and Rock. Others are designed to boost or reduce certain sound elements like treble, bass, and loudness. There are also options that are applicable to podcasts such as Spoken Word and Vocal Booster.
Regardless of what your current Spotify playlist is like genre-wise, any equalizer preset can be applied, and it may make the songs sound a little bit different, depending on which one you choose. If you feel like it, watch the audio wave change when you switch presets and experiment with tweaking the levels until you hit your chosen sweet spot. If you are a Spotify mobile app user, you can enable the "Also apply to podcasts" setting to use the preset for both music and podcast episodes alike.
Much like the audio quality settings, the Equalizer is also not available on the Spotify web player. You also cannot change equalizer preferences when Spotify Connect is in use. Make sure you're only active on Spotify through one device at a time if you want to modify equalizer settings.