The 5 Best Special Edition Nissan GT-Rs Ever Made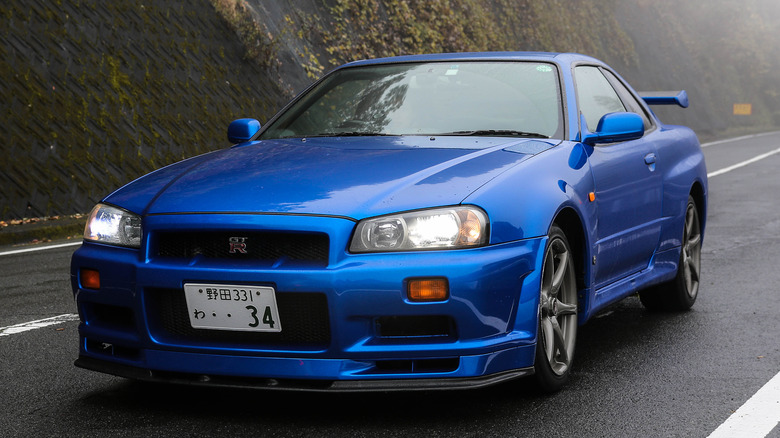 WildSnap/Shutterstock
A lengthy history follows the iconic Nissan GT-R, the family of cars born in the fall of 1968 at the Tokyo Motor Show. Locked to the Japanese Domestic Market, car enthusiasts from other parts of the world could only dream of what it felt like to drive these beautifully-designed sports cars. Reading car magazines and watching Paul Walker tear the roads in "Fast and Furious" only increased the desire to own one. With the emersion and growth of racing video games featuring the almighty Nissan GT-R, enthusiasts had a chance to scratch the itch, only falling further in love with the GT-R vehicle family. Then finally, it happened.
In 2008, the United States car market received the GT-R R35 with a twin-turbo V-6 engine pushing out 480 horsepower and 430 pound-feet of torque to all wheels. It was all that you could imagine and more, but Nissan didn't stop there. Over the years, the automaker has made continuous improvements to the GT-R R35, and to this day this performance machine turns heads wherever it may roam. Perhaps an entire book could be dedicated to the history of excellence of Nissan's GT-R vehicle family, but five special edition models in particular left a noteworthy mark on the automotive industry all by themselves.
1990 Nissan R32 Skyline GT-R Nismo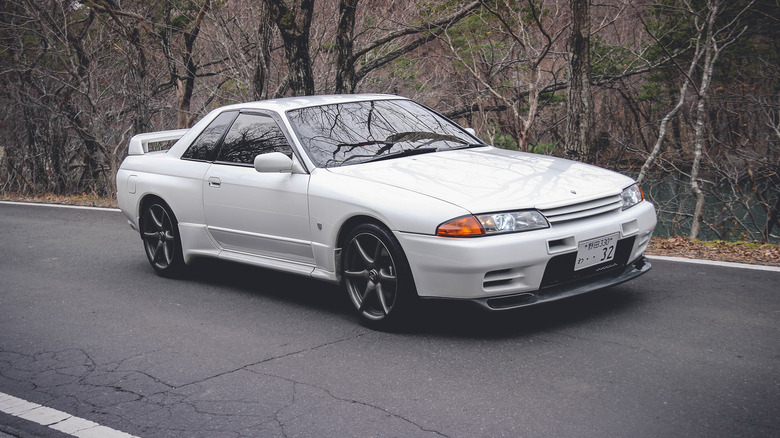 WildSnap/Shutterstock
When the Nissan GT-R R32 dubbed the Godzilla first hit the market in 1989, it came with the famous inline-6 RB26DETT engine now known for its durability, longevity, and tuning potential. The RB26DETT pushed the GT-R R32 to 280 horsepower and 266 pound-feet of torque sent to all wheels.
A year later, in 1990, an improved version Nissan Skyline GT-R R32 Nismo was developed by Nismo (Nissan Motorsports) for homologation of updates made to the GT-R R32 for Group A racing. Only 560 Nismo versions of the R32 were built, 60 for Nissan's racing team and 500 for the market. The Skyline GT-R R32 Nismo was tuned to perfection with added air intakes, bonnet lip spoiler, and grille mesh removal for better airflow, with the trunk spoiler helping with rear-end downforce. The only available color for the R32 Nismo was tGun Grey Metallic.
If you're looking for a Nissan Skyline GT-R, the R32 Nismo is the one you want. They continue to appreciate in price, while the official Nismo team offers complete restoration to anyone who has money to spend on the piece of automotive history known as the Nissan Skyline GT-R R32 Nismo.
1998 Nissan R33 Skyline GT-R Autech sedan body style
There comes a point in a car person's life when they decide to settle down, start a family, and trade in their performance car for a family-accommodating vehicle. Well, with the Nissan Skyline GT-R R33 Autech, you can have your cake and eat it too, as it's officially legal to import!
The four-door sedan GT-R R33 was designed and developed by Autech in 1998 to celebrate the 40th anniversary of Skyline. It sports the same powertrain as the regular R33 GT-R, including the RB26DETT engine, and most of the changes were made to the exterior. Even though the Autech Skyline GT-R R33 isn't officially made by Nissan, Nissan did approve of the build — Autech was Nissan's umbrella tuning company that later on merged with Nismo.
Even though a four-door Skyline GT-R looks unnatural, the first Skyline GT-R ever built was a four-door, and that didn't stop it from dominating the tracks of Japan. The innocent sedan looks can be deceiving with the Autech Skyline GT-R R33's 276 horsepower and 271 pound-feet of torque sent to all wheels.
1999 Nissan Skyline GT-R R34 V-Spec Midnight Purple II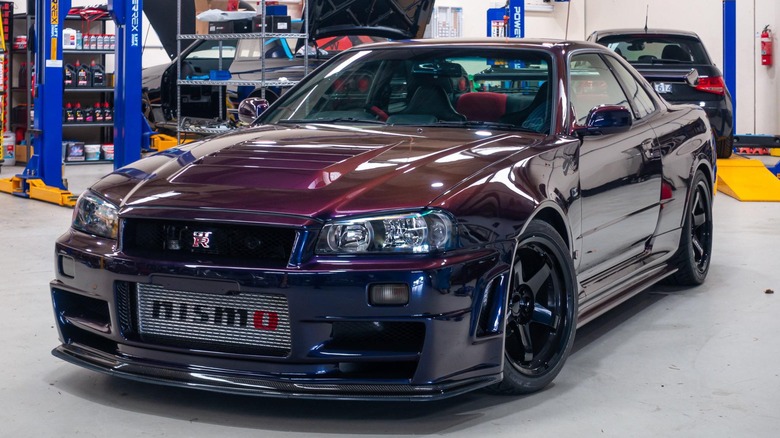 classic topcar/Shutterstock
Just the Nissan's RB26DETT is enough to entice any car enthusiast. Put the extremely capable engine even by today's standards in a Nissan Skyline GT-R R34 V-Spec and you get an icon. Finish off the R34 V-Spec in the stunning Midnight Purple II color and you create a legendary sports car. In fact, we believe that the R34 Skyline GT-R is the best of the best.
The 1999 Skyline R34 V-Spec received multiple improvements, some of which are front bumper air intakes that let the engine breathe, as well as a carbon-fiber wing and a carbon-fiber diffuser that improve aerodynamics. With a previously mentioned engine, an electronically controlled limited-slip differential, and a firmer suspension, the R34 V-Spec was bound to make incredible horsepower. However, due to the Japanese Gentleman's Agreement, it was limited to 276 horsepower and 260 pound-feet of torque.
There are only 282 models of the Midnight Purple II V-Spec R34s, and they're as stunning as they are rare, but they're also quite expensive. The fact that the Midnight Purple II is a widely recognized color that plenty of body shops attempt to copy even today speaks volumes about the popularity of the Skyline GT-R R34 V-Spec Midnight Purple II edition.
2019 Nissan R35 GT-R50 50th anniversary limited edition
We're often presented with totally stunning concept cars with breathtaking exteriors and interiors filled with carbon fiber as well as leather. Of course, they're also supposed to come with upwards of 500 horsepower. Promised is exactly what every car person wants, but the final product ends up with cheap plastics and barely 300 horses, leaving us disappointed.
In collaboration with ItalDesign and in celebration of the 50th GT-R anniversary, Nissan decided to build such a prototype in 2018. The result was the Nissan GT-R50 with 720 PS (roughly 710 horsepower), a futuristic exterior, and an interior combining black Italian leather with a carbon fiber finish. The Nismo-tuned hand-built 3.8-liter twin-turbo V6 is the one to blame for all the power, while the extraordinary design of the GT-R50 originated from Nissan Design Europe and Nissan Design America. 
The Nissan GT-R50 is what almost every car person dreams of, however, with only 50 cars ever made and with the order books closed, finding one for sale would be near impossible. Still, the Nissan GT-R R35 Nismo comes with 600 horses, which is quite respectable, while the Nissan GT-R50 by ItalDesign pushes the limits of the GT-R brand even further.
2022 GT-R R35 Nismo Special Edition
While it was speculated that the beloved Nissan GT-R R35 was heading for retirement, Nissan decided to unveil a special edition 2022 Nissan GT-R R35 Nismo and continue the production of the GT-R R35 model. The special edition 2022 R35 Nismo will be heavily based on the regular GT-R R35 Nismo trim with 600 horsepower, and it is said that the special edition model won't receive a boost in power. However, we're talking about Nismo, so that statement could end up proving inaccurate.
The biggest selling points of the 2022 Nissan GT-R R35 Nismo are supposed to be Nissan's brand new digital-friendly logo, a very unique Stealth Gray finish with an exposed carbon-fiber hood, 20-inch wheels, and a few other minor changes. All of the secrets of the special edition 2022 Nissan GT-R Nismo are yet to be revealed once it hits the North American market sometime during the fall, but those who want to unravel them will have to be quick as Nissan claims that it will produce a very limited amount of the special edition GT-R R35 Nismo models.