Paul Walker's Iconic Fast And Furious Nissan Skyline GT-R Is Going Up For Sale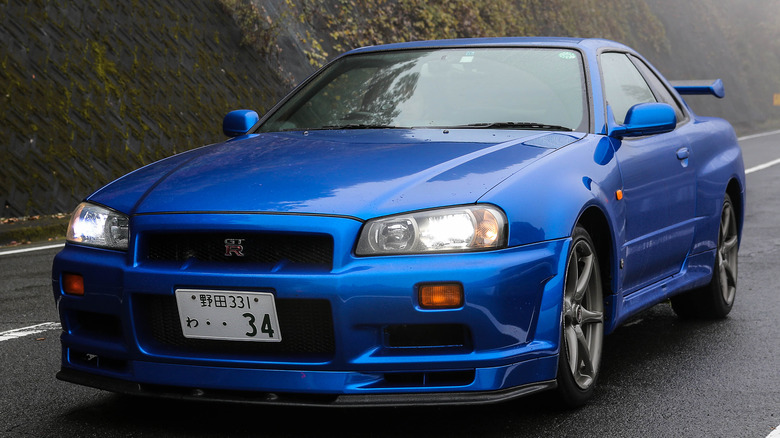 WildSnap/Shutterstock
The "Fast & Furious" series of films has no shortage of slick rides, but one car that is instantly recognized by fans is the Nissan Skyline GT-R driven by the late Paul Walker's character Brian O'Conner. But the actor's love for cars went far beyond just the camera, as he was quite fond of fast machines in real life, too. One of his favorites happens to be the aforementioned Nissan beast, one of which is now going under the hammer.
The car in question is quite an oddity. The Nissan R34 GT-R will only become street legal in the United States in 2024. Usually considered a JDM forbidden fruit, this machine can muster 276 bhp, but when it comes to the legality aspect, it has nothing to do with any safety concerns or performance limitations. Instead, federal law only dictates that the cars are ineligible for import until they have completed 25 years' worth of product life.
There are exemptions, such as bringing these machines onto American soil under an exhibition license. So far, Motorex has been the sole source of getting the Nissan beauty in the U.S., but the Department of Transportation revoked its importer license over irregularities back in 2006, according to Driving Line. But now that the 25-year honorary period for product life maturation is coming to an end, every Nissan Skyline R34 will become a white-hot commodity in the U.S. in the coming months.
A white hot fan relic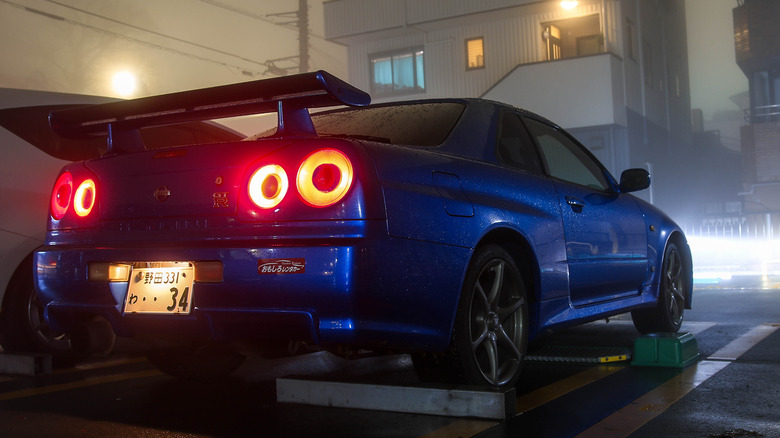 WildSnap/Shutterstock
GT-A International has listed the original blue Nissan Skyline GT-R R34, which is said to have been driven by Walker in the fourth installment of the "Fast & Furious" film franchise. The vehicle comes fitted with a twin-turbocharged 6-cylinder engine with a 6-speed manual transmission married to an all-wheel drive and all-wheel configuration. The car, which has clocked around 3,700 miles total, features a Nismo NE-1 exhaust and V-spec NUR pedals. There's also a Turbonetics front-mount intercooler under the hood, while the modification department is led by lowering springs and side skirts, both from Nismo.
The company says it will provide the original Universal Pictures Rental Contract Copy as proof of authenticity for the vehicle, alongside a valid Florida title to certify ownership for the highest bidder. CarScoops reports that GT-A will showcase the iconic movie car at Motorworld Munich ahead of its planned auction toward the end of the year. It's a bit tricky to guess how much the car can fetch, but if the $500,000+ price tag commanded by Paul Walker's 2001 Motorex Nissan R34 GT-R V-Spec II at Mecum just over three weeks ago is anything to go by, a similar hammer price doesn't sound too far fetched.
Since the car in question happens to be one that was driven around by none other than Paul walker himself in a cinematic juggernaut franchise, the value instantly skyrockets. To give you a rough idea, the orange 1994 Toyota Supra that Walker raced around in the first "Fast & Furious" outing fetched a staggering $550,000 in a Barrett-Jackson auction last year. The Nissan ride, with all the history behind it, is quite likely going to surpass expectations.