12 Facts About The Toyota Supra MK4 Only Hardcore Car Fans Know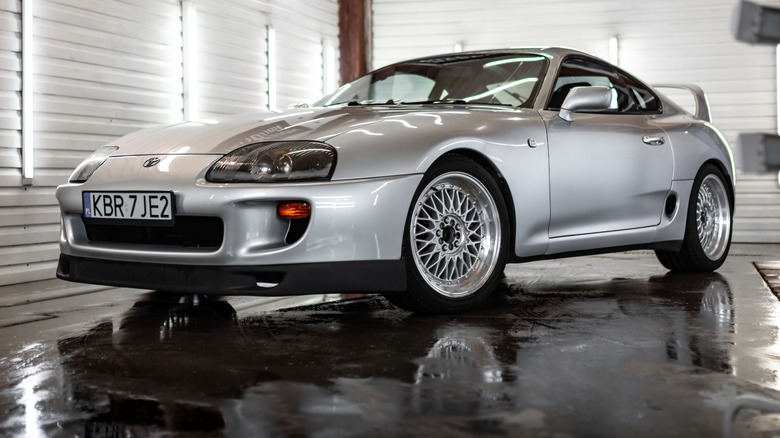 Adrian Chylaszek/Shutterstock
If you are a fan of sports cars, you will likely know a thing or two about the Toyota Supra MK4 and its remarkable performance and reputation as a tuner's dream. At the time of its launch in 1993, it was highly anticipated, as with three previous incarnations since 1978, the fourth-generation Supra needed some life injected into the new model. Accordingly, the Toyota design team got to work under the leadership of chief engineer Isao Tsuzuki to produce a radically different take on the marque's old flagship sports coupe, and the result was a much curvier, aerodynamically-profiled machine. The all-new Supra MK4 was also a thing of beauty, as it retained fewer of the aesthetic features of the previous Supra and looked a lot more like the stunning Toyota 2000GT of the late 1960s, with its elongated hood and fastback rear.
The Supra MK4, also known as the A80, is one of the most sought-after classic Japanese sports cars in recent years, but it hasn't always been this way, as it was discontinued in the US following years of disappointing sales. However, after a renaissance, thanks in no small part to its role in movies, numerous video game appearances, and a large community of race-tuning enthusiasts, the legend lives on and is now more popular than ever. This popularity is reflected in the large prices it can fetch at auction and numerous online fan forums and blogs relating to the car and its modifications. Here we take a look at what drives the intrigue surrounding this modern classic and the path it took to achieve its iconic status.
It has been featured in many different forms of media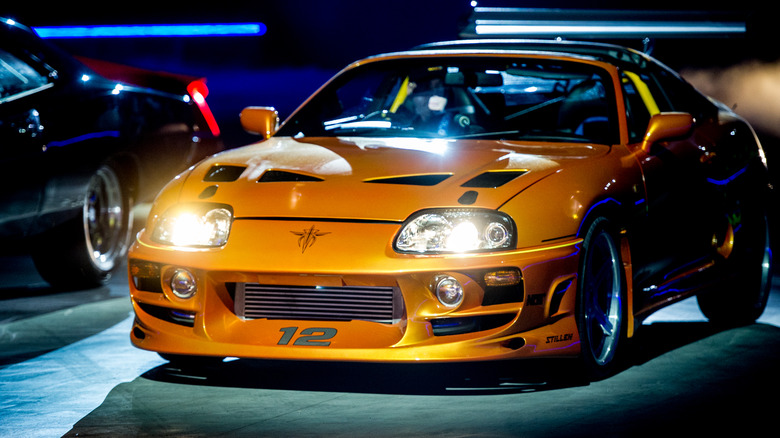 Ollie Millington/Getty Images
One of its most notable movie appearances of the Supra MK4 was in 2001's "The Fast and the Furious," where it was driven by the lead character Brian O'Conner, played by the late Paul Walker. Likely chosen by producers due to its popularity among race tuners (on whom the franchise is primarily based), the Supra's appearance in the film helped to popularize the car and has become an iconic part of the franchise. The Supra also went on to appear in the 2003 film "2 Fast 2 Furious" and in the 2021 film "F9: The Fast Saga".
Additionally, the 1994 Toyota Supra MK4 has appeared in many video games over the years, again likely due to its notoriety among amateur racers and car tuners. Some of the video games that feature the 1994 Toyota Supra MK4 include the Gran Turismo series; the Need for Speed series; the Forza series, and the Midnight Club series, among others. The Toyota Supra MK4 will doubtless continue to inspire and feature in future movies, games, and other media, as it remains in the public interest due to its distinctive looks and its notoriety, both on and off the track.
There is a myth that it was banned by the NHTSA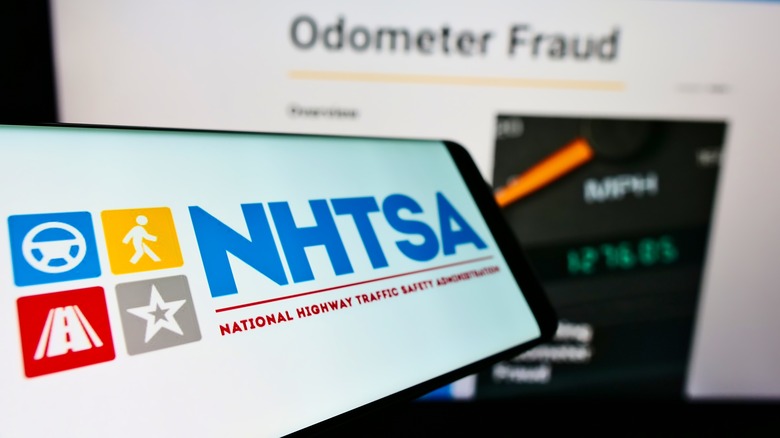 T. Schneider/Shutterstock
The internet can be an echo chamber of disinformation, and one such example concerns the 1994 Supra MK4 being banned in the United States by the National Highway Traffic Safety Administration (NHTSA) due to reliability issues. This rumor still perpetuates on online forums and review sites when in fact, according to the NHTSA itself, it is entirely untrue. That said, some creases admittedly needed ironing out.
One issue that was raised was related to the Supra's braking system. Some drivers reported that the brakes were not as responsive as they should be, and there were concerns that this could lead to longer stopping distances and potential accidents. Another concern about the Supra was related to its handling, with some drivers worried that the vehicle could become unstable at high speeds. However, these concerns were not widespread, and the Supra was generally considered to be a safe and reliable car within its segment.
You could choose from two engine options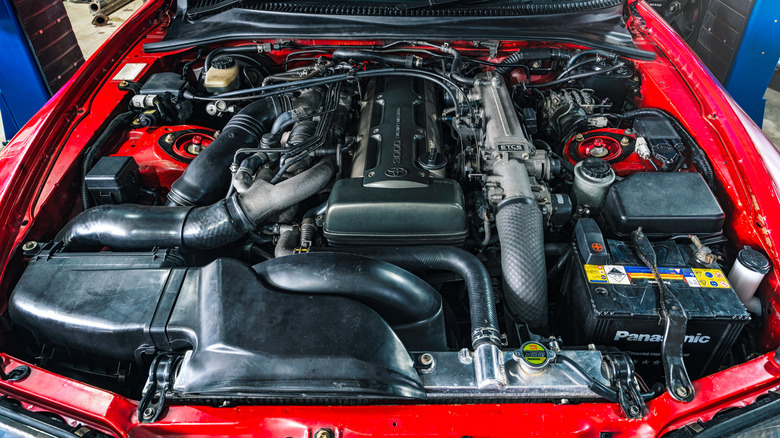 Streetmetal/Shutterstock
If you were in the market for a brand-new Toyota Supra MK4 in the early nineties, you were faced with two choices of engine, the first being the 2JZ-GE: This was the naturally aspirated version, which produced 220 horsepower and 210 lb. ft of torque. It was mated to either a 5-speed manual or 4-speed automatic transmission. The second was the 2JZ-GTE: This was the turbocharged version of the engine, and it produced 320 horsepower and 315 lb. ft of torque. It used either a 6-speed manual or 4-speed automatic transmission and was only available on the Supra Turbo model.
Both engines were 3.0-liter inline-six units known for their reliability, durability, and tunability. The 2JZ-GTE, in particular, has become legendary among car tuners for its ability to handle high levels of boost and produce impressive amounts of power. For this reason, those models powered by this engine are the most sought-after in used markets according to this Japanese export site and are what most people consider the ultimate MK4 Supra.
The Supra was initially based on the Toyota Celica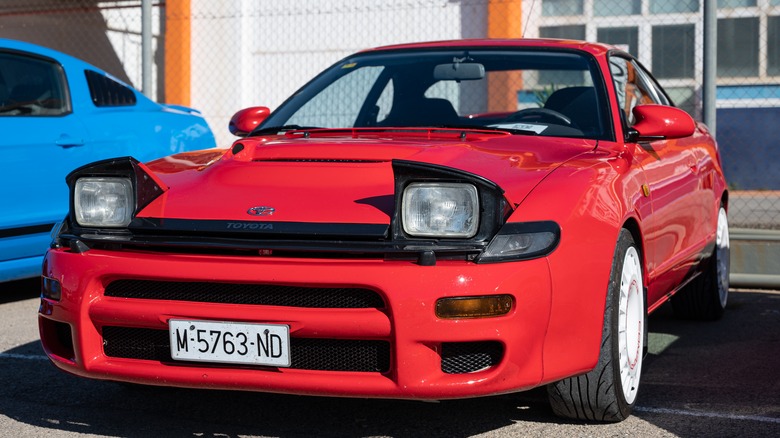 adolf martinez soler/Shutterstock
While the Supra is undoubtedly one of the coolest cars ever to roll off the Toyota production line, it has roots in something far more modest. Initially, the Supra was based on the compact Toyota Celica coupe, albeit with significant modifications. The first-generation Toyota Supra, which was produced from 1978 to 1981, was even called the Celica Supra for the first years of its existence. It shared many components and stylistic features with the Celica but had a longer wheelbase and a more powerful engine. However, from the second generation (1982-1986) onwards, the Toyota Supra became a standalone model and was no longer based on the smaller car.
The Celica remains a smaller and more affordable sports coupe, and it fits an entirely different market segment compared to the MK4. So, while the Celica did share some components with the original Supra, such as its engine and transmission, it was not based on the same platform and was designed with a different set of priorities in mind.
It also had roots in the 2000GT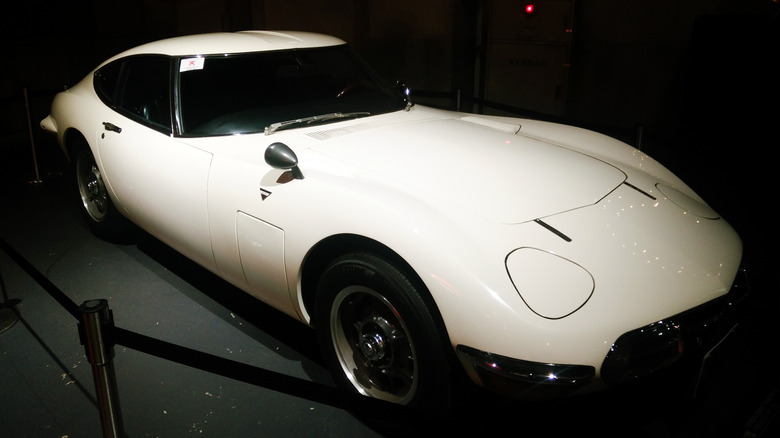 Jantz/Shutterstock
The 2000GT is one of the most coveted models Toyota has ever made. It provided the Supra's powertrain platform and was converted by Yamaha engineers from a Toyota Crown Sedan engine. You can also see at first glance how the Toyota design team was inspired by the fastback rear, sleek, aerodynamic lines, and elongated hood of the classic coupe, which, in turn, was likely influenced by other cars of the era, such as the Jaguar E-Type, Ferrari 250 GTO or Lamborghini Miura.
Yet while the Supra MK4 certainly drew inspiration from Toyota's sports car heritage, including the 2000GT, it was not directly based on the earlier model. Instead, the Supra MK4 was developed as a completely new vehicle, as the brand's premium high-performance sports car with the most advanced technology and features. However, both cars have become icons of Toyota's sports car legacy, as they were each renowned for their excellent performance and individual aesthetic qualities in their own rights.
It was one of the fastest cars within its segment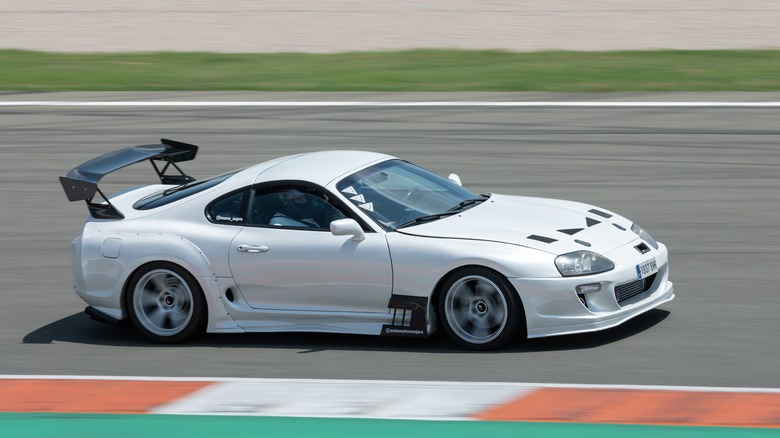 adolf martinez soler/Shutterstock
The Toyota Supra MK4 was widely considered to be one of the fastest cars in its segment during its production years. It could outperform many American muscle cars of its era and firmly put Japanese sports cars on the map, having been designed to compete with other top Japanese sports cars of its time, such as the Nissan GTR R34, Mazda RX-7, and Honda NSX.
With the turbocharged 2JZ-GTE engine, the Supra MK4 could accelerate from 0 to 60 miles per hour in around 4.8 seconds and had a top speed of around 155 mph, according to Ultimate Specs. These performance figures were very impressive for a car of the early 1990s and helped cement the Supra's reputation as one of the best sports cars of its day. Furthermore, the Supra MK4 was also known for its excellent handling and balance, making it a great car to drive on both the street and the track.
It's possible that the world simply wasn't ready for an affordable vehicle that performed on this level, and unfortunately, the MK4 never achieved the recognition that it deserved during its production run. But quality always prevails, and the car has finally attained legendary status within this exclusive segment as one of the greatest sports coupes of its era.
It is now worth a lot of money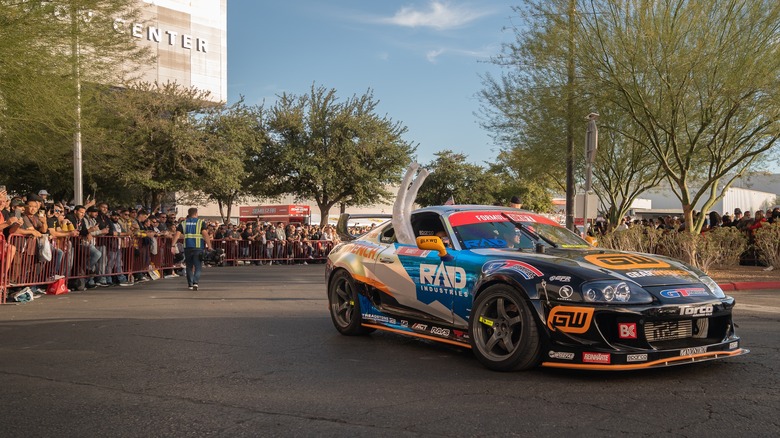 betto rodrigues/Shutterstock
The MK4's legendary status has earned it respect from a new generation of car lovers, which has predictably inflated its value. Of course, certain factors affect the resale price of any used car, including the car's condition, mileage, history, and location, but in general, well-maintained examples of the Supra MK4 can command very high prices due to their rarity and desirability.
The average price for a Toyota Supra MK4 in good condition ranges from around $50,000 to $100,000 or more, according to Classic.com, with some good-condition models and rare editions selling for significantly higher prices. However, the actual value of a specific Supra MK4 can vary widely.
The most famous MK4, as driven by Paul Walker in the Fast and Furious movies, went up for auction by Barret Jackson in Las Vegas, and, as expected, it received much interest. This hallowed model was an original 1991 Supra MK4 that was customized by Eddie Paul of The Shark Shop in California and featured the legendary 2JZ-GTE 3.0-liter turbocharged inline-6 engine with a four-speed automatic gearbox. It eventually went under the hammer for a whopping $550,000.
It was much lighter than its predecessor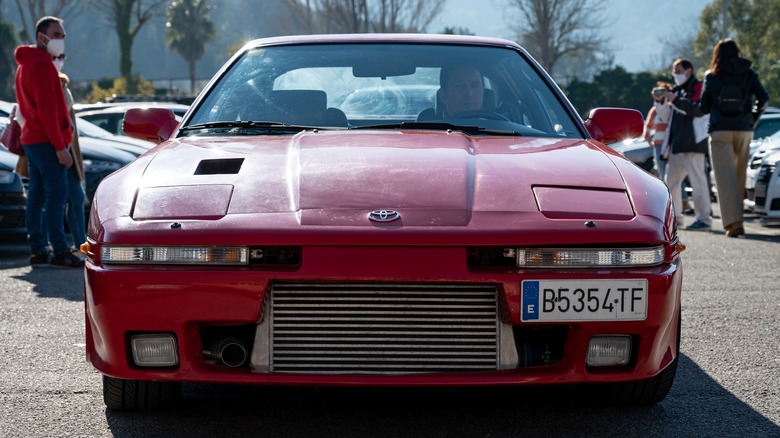 adolf martinez soler/Shutterstock
When it comes to optimizing performance, weight is a key factor, and the Supra MK4 weighed an incredible 220 pounds less than the third-generation model. This is due to designer Isao Tsuzuki's vision to redesign the model from the ground up, making significant changes due to disappointing feedback concerning previous models. Thus, the new Supra was created with a focus on lightweight materials, including an aluminum hood and front fender, and an efficient design, which helped reduce the car's weight while improving its performance and handling.
In addition to its lightweight design, the Supra MK4 also featured an advanced suspension system that consisted of a double wishbone suspension at the front and an independent multilink suspension at the rear, which provided a stable and responsive platform for high-performance driving. When coupled with the MK4's lightweight body, the result was a markedly-different machine that left a great impression where its forerunners did not.
It didn't sell as well as Toyota had hoped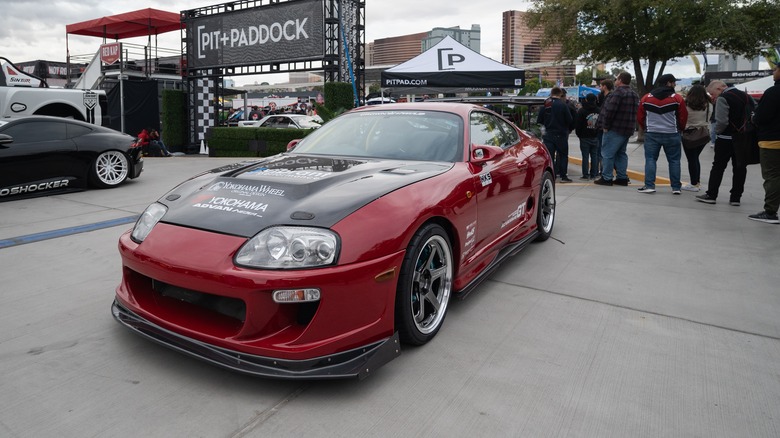 false/Shutterstock
You could be forgiven for thinking that the Supra MK4 was always a runaway success and a firm favorite with the car-buying public, but this wasn't always the case. While the MK4 is now a legendary car that is in great demand, it did not sell in high volumes during its years in production. Despite the MK3 Supra selling well over 100,000 units, the MK4 sold a mere 12,000 units in six years in the US, as recorded by Car Sales Base. This is likely due to the American market's changing tastes throughout the 1990s and the car's lack of practicality as compared to vehicles in the emerging 4x4 and SUV segments.
Despite its relatively low sales numbers, the MK4 has since become a highly coveted car and is now considered a classic within its segment. Its popularity has only increased in recent years, partly due to its appearance in the "Fast and Furious" film franchise and the release of the fifth-generation Supra in 2019, which helped bring renewed attention to the Supra brand going into the 2020s.
It was a trailblazer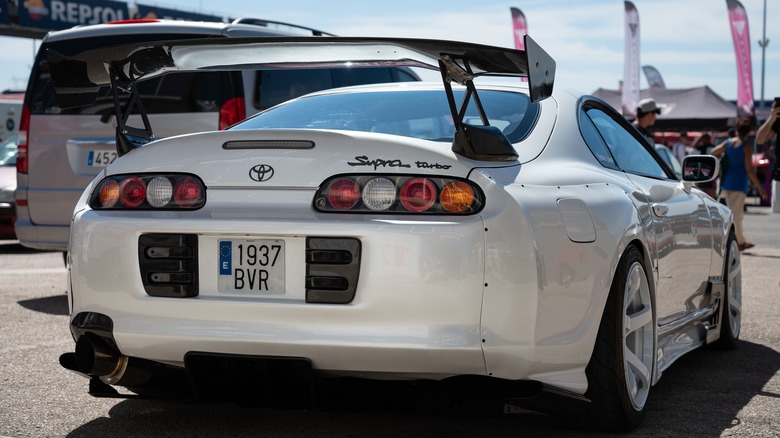 adolf martinez soler/Shutterstock
The Toyota Supra MK4 underwent significant changes compared to previous generations and, upon its launch, was one of the most sophisticated sports cars of the 1990s, with several standout features that helped it become an iconic car after so many decades. It found the perfect balance between function and form and represented an era of productive excellence for Toyota, cementing its reputation as a forerunner in quality car manufacturing.
The most prevalent feature was the twin-turbocharged 2JZ-GTE Engine, which is widely regarded as one of the best inline-six engines ever produced, along with its advanced suspension and braking system that matched the engine quality with superb handling and stopping power. The Supra MK4 was designed with aerodynamics in mind, with a sleek and stylish exterior that was not only eye-catching but also helped reduce drag and improve performance. It had a high-quality and well-designed interior that was comfortable and functional, with bucket seats, a double DIN sound system, and advanced climate control features within an ergonomically sound cockpit. The MK4 also boasted impressive safety features, including dual airbags, ABS, and high-penetration headlamps, and it had a tilting magnesium-alloy steering wheel, all of which were novel attributes in its day.
The Supra MK4 was a highly advanced sports car that was way ahead of its time in many ways. But, like all great automobiles, it was so much more than a sum of its parts. A combination of iconic looks, excellent performance, and innovative design all helped cement its reputation as one of the best-loved sports cars ever produced.
It was easy to modify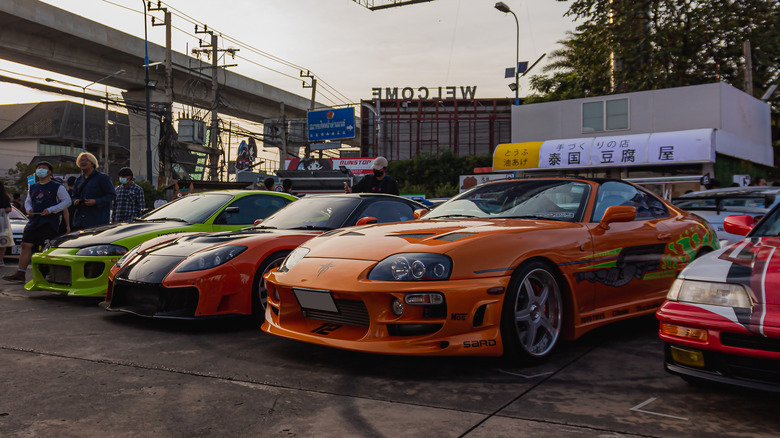 Suphakit Bunsan/Shutterstock
Car tuners are an enthusiastic breed, and they leaped on the Supra MK4, as its engine was relatively easy to optimize to incredible performance levels, as seen on Toyota-Supra.com. In particular, its twin-turbocharged 2JZ-GTE engine is known for its ability to handle high levels of boost and produce impressive amounts of power. The powertrain is also built with high-quality materials, which makes it more durable and reliable than many other high-performance engines. Additionally, the Supra MK4's advanced suspension and braking system provided a solid foundation for performance alterations.
Because of these features, the Supra MK4 is a popular choice for modifications, with many tuners upgrading the car's engine, suspension, brakes, and other components to improve its handling and performance. This pool of enthusiasts helped establish a large aftermarket parts industry for the car, with many manufacturers producing a wide range of parts and accessories to upgrade the ride. This added to the MK4's longevity and legendary status, as there are many varied custom models in circulation, each with its own unique character and abilities.
The Supra lives on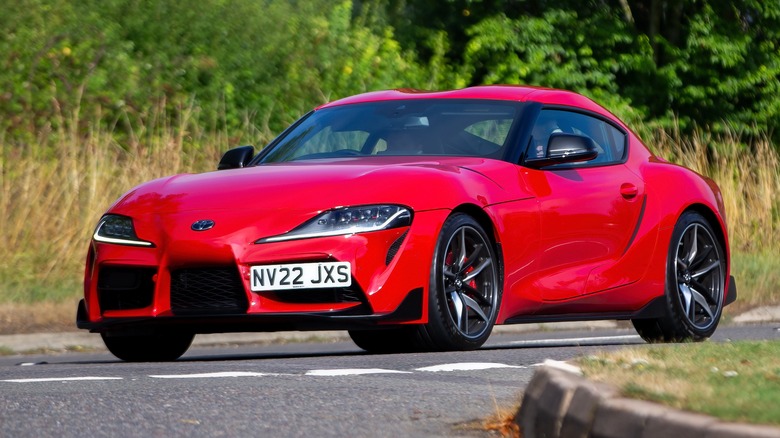 Sue Thatcher/Shutterstock
Following the Supra MK4's discontinuation in 1998, Toyota didn't look to be renewing the Supra line; however, after a 17-year hiatus, the GR Supra was launched as the latest iteration in the series lineage. In a novel move for the Japanese firm, it was developed jointly by Toyota and BMW and is built on the same platform as the BMW Z4, sharing many of its components. However, Toyota has worked to give the GR Supra its own distinct character, with unique styling and tuning, as seen on Toyota.com.
True to Supra form, the GR is powered by a 3-liter turbocharged inline-six engine that produces up to 382 horsepower and 368 lb. ft of torque. The car also features an advanced suspension system that provides excellent handling and balance, along with powerful brakes and other high-end components. Since its launch, the GR Supra has been praised for its superb performance, handling, and driving dynamics, as well as its comfortable and well-designed interior with the latest onboard tech and driver assists. It has also received high marks for its reliability and durability, in keeping with the Supra's decades-old reputation as an exceptionally well-made car, and has proved to be worthy of carrying the Supra name into the new millennium.