12 Automatic Motorcycles That Are Actually Worth Riding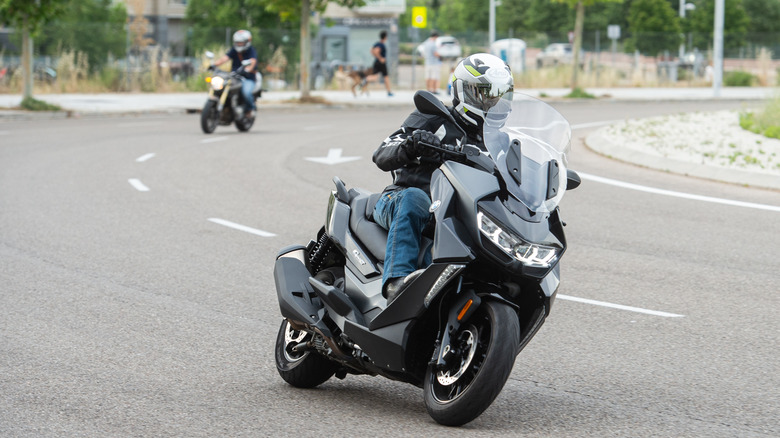 FernandoV/Shutterstock
Automatic motorcycles have always been something of a divisive subject among the biking masses. On the one hand, they offer a practical and affordable approach to commuting and are easier to use. On the other hand, they can be seen as too utilitarian and lacking the character and required operating skills of a manual transmission motorcycle. Yet automatics remain popular, and certain manufacturers have had great success introducing automatic gearboxes to existing models.
Honda dominates this segment. This comes as no surprise when you consider the amount of research and development it has dedicated to creating excellent automatic transmissions over the years. Other brands are starting to catch up, however, including dedicated electric motorcycle manufacturers breaking into the mainstream thanks to brands like Harley-Davidson and Energica. Because EVs require no clutch, it is possible that all motorcycles will be automatic in the not-too-distant future.
With electric vehicles becoming a viable alternative to fossil-fueled bikes and city-dwellers opting for more powerful scooters that can match the performance of geared bikes with a similar engine capacity, the margin between motorcycles, scooters, and EVs is becoming more blurred with each passing year. These automatic vehicles, including premium scooters, electric bikes, and traditional bikes with DCT and CVT transmissions, are most likely to convert the most ardent gearhead.
Honda Navi
Honda produced its first Monkey bike in 1968. These were small pleasure bikes that were cheap to run, cheap to maintain, and effortlessly cool in the right hands. More recently, it released the Dax, which is very similar to the Monkey as a small two-seat semi-automatic. The Navi is its latest offering in this tradition, and this is a fully-automatic small motorcycle that can seat two and is very economical, thanks to its Honda Eco-Tech engine, CVT gearbox, and starting price of just over $1,800.
That's a very fair price to pay for a reliable motorcycle from such a highly respected manufacturer as the "Big Wing," and you get an air-cooled 109cc motor, telescopic front forks, electric start, single rear shock, and a sturdy steel frame. There's even a lockable storage box in which to keep your sandwiches and work items, making this a viable commuter bike. So, is the Navi actually worth riding for pleasure? It'd be tough to ride one of Honda's small motorcycles, be it the Monkey, the Dax, or the Navi, and not crack a smile.
CF Moto V5
CF Moto isn't high on the list of popular motorcycle brands, but as a relatively young business, the Chinese company has created many vehicles for the ATV, UTV, and motorcycle segments. When you think of its Chinese heritage, the CF Moto V5 actually makes a lot of sense, as there was definitely a market for a capable and easy-to-ride cruiser in a country where infrastructure is lacking outside of the big cities. Nowadays, CF Moto has ditched the V5 in favor of creating affordable ADV bikes and small- to mid-capacity sports and street bikes. 
Having first rolled off the production line in 2006, the V5 was one of the early automatic cruisers. While it never entirely set the world alight, it showed us how well automatic transmissions could work on two-wheeled vehicles that don't have a step-through frame. Aesthetically, it was a precursor to the automatic vehicles to come with its smooth, clean lines and enclosed mechanics. Its power was uninspiring with a 244cc, single-cylinder engine that delivered just 18 horsepower and topped out at around 80 miles per hour, yet it had its fans both domestically and abroad, and it made a great stop-gap between a scooter and big bike ownership.
Zero SR/F
No matter whether you're into cruisers, adventure bikes, dual sports, or sports bikes, you cannot fail to be impressed by the sheer technological prowess that has gone into the development of the Zero SR/F. This is what the future of motorcycles looks like, and it is not as bad as we might have thought. While some may lament the lack of a clutch and thus a lesser connection with the road, there is plenty here to make up for this deficit in the form of gadgets, performance tech, and rideability.
As the first "smart" motorcycle, the Zero SR/F showed the world just how electrifying an electric motorcycle could be. The 110-horsepower machine can accelerate in the blink of an eye, and all you have to do is twist the throttle and hang on for dear life as it propels you to 60 miles per hour in three seconds. Thankfully, this performance is steadied by the onboard Bosch Motorcycle Stability Control technology and embellished by the companion app, with its virtual marketplace offering useful on-demand upgrades. If, after all this, you are still on the fence when it comes to electric motorcycles, consider the Zero SR/F's 60-minute charge time, 187-mile range, 124 mph (limited) top speed, and a five-year warranty, and it starts to sound as practical as it is pretty.
Honda ADV150
Honda doesn't toe the line when it comes to its products, and this is certainly for the betterment of the motorcycling community. If it weren't for the Big Wing brand's wild imagination, we wouldn't have such visionary bikes as the Rune, the Goldwing, or even the 100 million-selling Super Cub that almost single-handedly mobilized Asia. The Honda ADV150 is one such machine that sits comfortably within a category all its own.
While Honda's description of an "adventure scooter" may sound like a contradiction in terms, that is precisely what the ADV150 delivers. As capable in the city as it is on backroads, its robust build reassures you when you feel like taking a turn off the beaten track. In profile, its high ground clearance and upswept exhaust are reminiscent of an adventure bike. It has a rugged suspension with Showa forks and ABS as standard, which is not something you often see on a scooter of this size. While you won't be seeing the Honda ADV150 in any world-straddling adventure bike videos any time soon, it would excel anywhere where road conditions are sub-par, traffic is heavy, or where good old-fashioned fun is high on the agenda.
Suzuki Burgman 400
All the naysayers who dislike the scooter aesthetic have never wound through slow-moving traffic on the comfortable and capable city slicker that is the Suzuki Burgman 400. Just look at its wide throne-like seat, step-through frame, high handlebars, and tall, protective windshield, and you are in no doubt that the Burgman is luxury on two wheels. It comes with a DC power outlet for charging your devices, three storage compartments, including one large under-seat trunk, and a well-designed control panel that combines analog and digital instruments.
Hit the open road, and the Suzuki Burgman 400 continues to delight with its surprising abilities. Its dual front disc brakes with ABS as standard provide excellent stopping power, and traction control adds an element of security when negotiating slippery or uneven road surfaces. What really makes the Burgman stand out, however, is its 400cc engine. Having such a large-capacity power unit on an automatic scooter extends your possibilities, as all of a sudden, highway rides with two people become much easier, and long rides are feasible, even with a couple of days' luggage. We know that the Burgman will always be an automatic scooter, but if you are a new rider, a city commuter, or someone who likes to feel the breeze in your hair, this Japanese wonder starts making a lot of sense.
Aprilia Mana 850 GT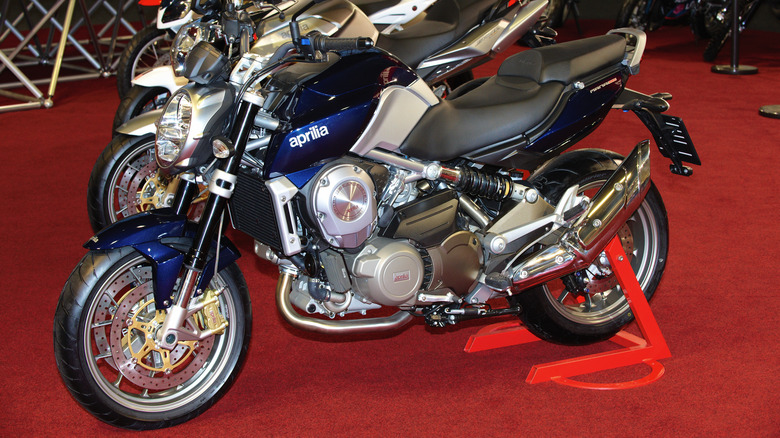 Rey Kamensky/Shutterstock
Nobody knew quite what to think of the Mana 850 GT when it was released way back in 2010, and it truly was a trailblazer as far as automatic bikes are concerned. At the time, a CVT transmission on a large displacement bike was far from normal, and it was met with some scrutiny in the original review by Web Bike World. However, it was praised for its solid build quality, and the automatic transmission was met with two thumbs up. Once ridden, this bike failed to disappoint from the get-go, and suddenly the lack of a shifter began to make sense. It forced those who rode it to ask themselves whether they actually needed gears, whether their ride was more fun without a shifter, or whether their riding was improved. Far from being a scooter with motorcycle styling, this was a fully-fledged motorcycle with the intuitive twist-and-go nature of a scooter.
The Mana 850 GT was discontinued in 2016, but it still pops up in conversations about automatic motorcycles and is remembered as one of the first automatic "big bikes." Now that we are seeing a renaissance of automatics from popular brands such as Honda, maybe Aprilia will go back to its roots and surprise us once again with a capable machine of this quality.
Damon Hypersport Pro
Even the biggest manual motorcycle fans would have to admit that the fully-electric Damon Hypersport Pro is a real looker. The thing is, when all you have to contend with is a battery pack and an electric power unit, you don't need to focus as much on functionality, leaving more time to think about the form. A lack of air filter, transmission, radiator, and fuel tank leaves the Hypersport with familiar yet clean lines, with few mechanical elements poking through the faring to distract the eye.
As the name Hypersport suggests, Damon, a small Canadian company, has managed to produce one of the most outrageously quick motorcycles that ever rolled off a production line, with a 0-60mph time of well under three seconds. It does include some mechanical wizardry in the form of an adjustable riding position for sport and touring modes and technology, including a hazard warning windshield, haptic hazard feedback via the handlebars, and a large 7-inch display with a rear camera. With this type of innovation, build quality, and ride performance, Damon stands out as a real contender in a quickly growing market.
Energica EsseEsse9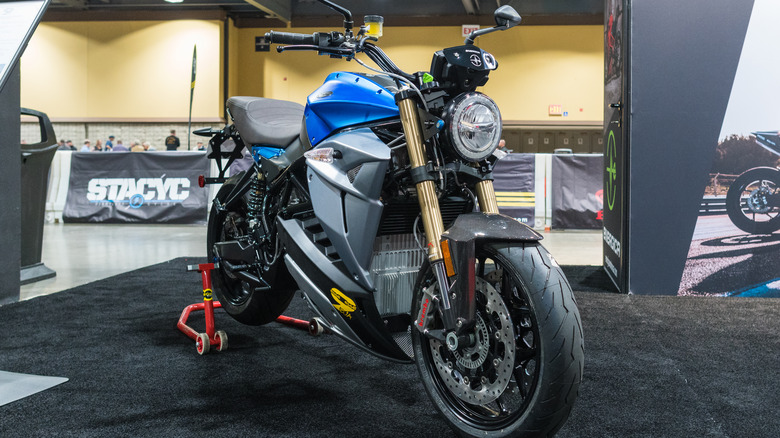 betto rodrigues/Shutterstock
Do you like the idea of an electric motorcycle but are put off by the futuristic styling? This is a problem that Italian manufacturer Energica tried to address when it created the EsseEsse9. The brand's idea was to offer riders the best of both worlds by marrying retro-inspired looks with the latest EV tech but it ended up with something that looks more like the Honda CB650R neo sports café than a retro cruiser. It's attractive, for sure, but it's no Triumph Bonneville T100.
However, the awkwardly-named EsseEsse9's performance lives up to its looks, and at 261 miles per charge, it has the range to accommodate many long hours in the saddle, so it gets two checkmarks for style and practicality. Its Slow Charge Mode enables home charging and tops you up at a rate of 0.66 miles per minute, which should alleviate any doubts as to its viability as a daily rider. True to EV form, it accelerates from 0-60 in under three seconds and has plenty of torque to spare. In short, the EseEssse9 is a great electric bike for those who don't necessarily wish to be seen on an electric bike, but for those in the know, it is a great all-around solution that rides like the traditional bikes upon which it is based.
Honda Rebel 1100T
If Energica wanted to achieve the classic bike aesthetic with its EsseEsse9, then Honda really pulled it off with the Rebel 1100T. Here it has created a classic "bagger" bike, complete with hard panniers, a fat exhaust, a low, wide, comfortable seat, and a half fairing up front to round off the look. Cruisers like this are known for their relaxed riding position, and with the addition of DCT technology, things get even more relaxed as you ride uninhibited by gear shifts, giving you more time to focus on looking cool.
And cool it is, as far as both looks and features are concerned, with a 1084cc parallel twin engine borrowed from Honda's Africa Twin adventure bike. It offers plenty of low-end torque, wide forks with a Showa rear suspension, LED lighting, and modern instruments within a classically-styled panel. There's even a lockable three-liter under-seat storage compartment for stashing essentials and valuable items. But if you want to know how the Rebel 1100T rides, you needn't look into a crystal ball. Honda has a long and illustrious heritage making bikes just like this, including the Shadow, the Phantom, and of course, the regular geared Rebel, so the 1100T comes from tried and tested stock, which should serve as a reassurance to those in any doubt as to its brilliance.
Honda NCX750X DCT
We'd all love to have an extensive motorcycle collection and a large garage or hangar that contains all of our favorite two-wheelers, but in reality, space, money, and a lack of free time make this idea far from practical. Owning a bike that can fulfill all your requirements, in the city, on the highway, and on small backroads with uneven surfaces makes a lot of sense, and this was Honda's thinking behind the NCX750X. As the bigger brother to Honda's popular CB500X adventure touring bike, this has the same automatic transmission technology as the flagship Africa Twin but is a more versatile roadgoing alternative with off-road capabilities.
The powerful 750cc parallel-twin engine of the NCX750X delivers enough torque to grant easy passage over almost any terrain or on any highway, and its comfortable, upright seating position offers a commanding view of the road ahead while facilitating comfort for long days in the saddle. There are, however, a couple of nagging points where the NCX750X falls a little short. We'd like to have seen a modern TFT display, in line with other premium bikes in this segment, and double disc brakes and upside-down forks could also have been added as they were to the latest CB500X. With that said, this is a great automatic motorcycle that checks most boxes when it comes to adventure touring.
Harley-Davidson Livewire One
Many never even considered riding an automatic motorcycle, much less an electric one, before we encountered the Harley Davidson Livewire in its infancy in Ewan McGregor and Charley Boorman's biking documentary, "Long Way Up." This was a highly capable road runner that was shown to be both practical and stylish, and with big bike heritage from the notorious Milwaukee marque. All of a sudden, it seemed that mainstream adoption was likely, and since then, Livewire has gone from strength to strength.
The Livewire One is a sensory overload on two wheels, combining power, agility, looks, and technology to bring you a comprehensive package that would thrill any motorcyclist, irrespective of their take on automatic vehicles. Typically for an EV, it has lightning-fast acceleration, masses of torque, and a capped top speed that belies its true potential. Add to this the latest safety features like traction control and cornering assists, mobile connectivity, and onboard music and directions, and the Livewire One leaves little to be desired, aside, perhaps, from a freeway range that extends beyond 70 miles.
Honda Africa Twin DCT
The Africa Twin is one of the original adventure motorcycles, having been in production since 1988. It has performed in the Dakar Rally and the Baha 1000 competitions and was re-released in 2016 as a competitor to the segment-dominating BMW GS series. Later in its development, one of Honda's engineers came up with the wild idea of adding an automatic dual-clutch transmission to its flagship ADV, and the Africa Twin DCT was born. Capable of tackling almost any terrain imaginable, this is the last word in automatic motorcycle tech.
Features of the latest model include selectable ABS for customized braking according to surface conditions, throttle by wire for programmable power delivery, an electronically-controlled suspension, and a six-speed automatic transmission with paddle shifters. Fans of onboard tech will admire the touchscreen LCD panel with three switchable displays for various essential data and Apple CarPlay and Android Auto compatibility. The Africa Twin DCT is also comfortable, with its high seating position, tall handlebars, a full fairing to protect against the elements, and a narrow seat to facilitate easier movement when riding on rugged terrain.
Whether or not the Africa Twin DCT is the ultimate automatic motorcycle is subjective, but it cannot be overlooked when discussing the best of the best. With that said, since the rapid rise of motorcycles within the electric vehicle segment and with automatic bikes becoming more popular and progressive each year, it certainly won't be the last automatic motorcycle that is actually worth riding.