PSB Speakers Alpha iQ Review: Wireless High-Res Audio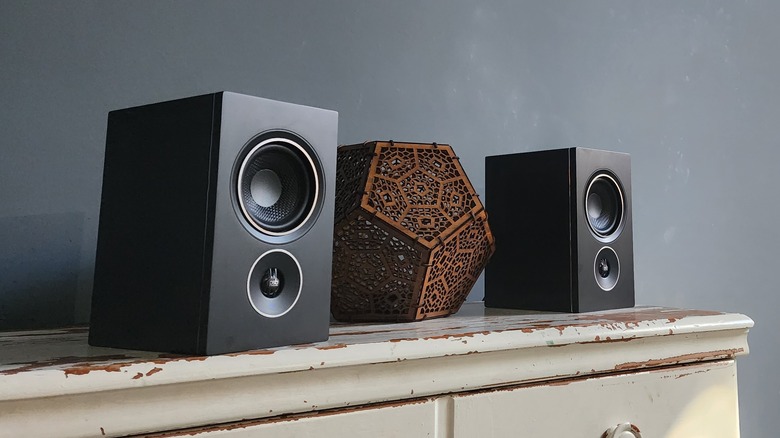 Markkus Rovito/SlashGear
We may receive a commission on purchases made from links.
As high-resolution streaming audio (higher than CD quality) slowly becomes more prevalent on subscriptions like Tidal Hi-Fi Plus and Amazon Music Unlimited, you don't need to play it on special equipment made just for it to enjoy the higher quality, but it will sound even better if you do. That's where a growing category of high-tech audio gear like the PSB Speakers Alpha iQ comes into play.
The Alpha iQ speakers are part of the BluOS ecosystem — a competitor to Sonos in the multi-room, networked streaming audio space — and they include a high-end digital audio converter (DAC) capable of playing 24-bit/192kHz-resolution audio. They also can decode and render the high-resolution MQA (Master Quality Authenticated) format, which was made to replicate original studio master recordings losslessly at a bandwidth-friendly size. It's what Tidal touts in its Hi-Fi Plus tier. Finally, the Alpha iQ is fully powered with internal amps, so there are no additional pieces of hardware or speaker cables needed for audiophiles to enjoy their sweet sound. Just power them up and go.
As befits such forward-thinking speakers, the Alpha iQs are also compatible with the gamut of audio streaming and home networking technology, including Apple AirPlay 2; Bluetooth aptX HD; voice control through Alexa, Siri, and Google Assistant; and home-control systems like Creston, Elan, RTI, and Control4.
All that fancy hardware and firmware adds up to a tidy retail price of $1,499. Is it worth it? That depends on your budget and love of crystal-clear, full-fidelity streaming music, but what I cannot deny are the amazing results the Alpha iQ speakers produce when presented with lossless and uncompressed music sources.
Setting up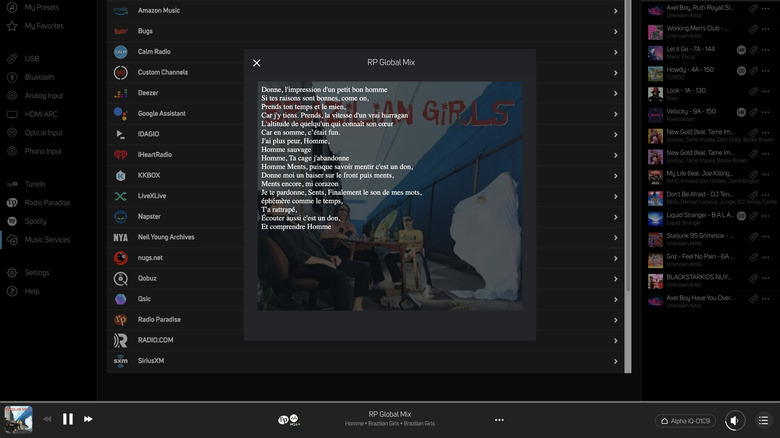 Markkus Rovito/SlashGear
After placing and plugging in the speakers, setting up the Alpha iQ requires the BluOS app. With the app on a device connected to the same Internet network you'll use to stream to the speakers, the BluOS app locates the speakers, updates their firmware if needed, and pairs them to the mobile device. The BluOS app calls the speakers "Players," and if you have or add any other BluOS devices to your home network, they will also appear as Players in the app — that way you can select which devices to play from at any one time, as well as join them together into Fixed Groups.
The BluOS app's Music Services menu option can connect more than 20 streaming audio services to play through the app to the speakers, including Spotify, Tidal, Amazon Music, iHeartRadio, Deezer, SiriusXM, Napster, and others. Most noticeably missing are YouTube and Apple Music, but it also works with Apple AirPlay 2, so Apple enthusiasts need not worry. 
Once integrated, I could just open any of the 20 supported streaming apps like Spotify or Tidal, choose the Alpha iQ speakers as the output device, and control the speakers' volume from that app. And the speakers showed up as an Apple AirPlay audio output on my iPad and MacBook Pro automatically, although there was a little bit of uncharacteristic latency when AirPlaying from the laptop.
When compared to other wireless speakers I've tested that require an app for setup — for example, Denon and Sonos speakers — firing up the Alpha iQ speakers with the BluOS app was as quick and trouble-free as any of them. I was up and running with crisp audio playback in only a few minutes.
Plug-and-play, free streaming radio options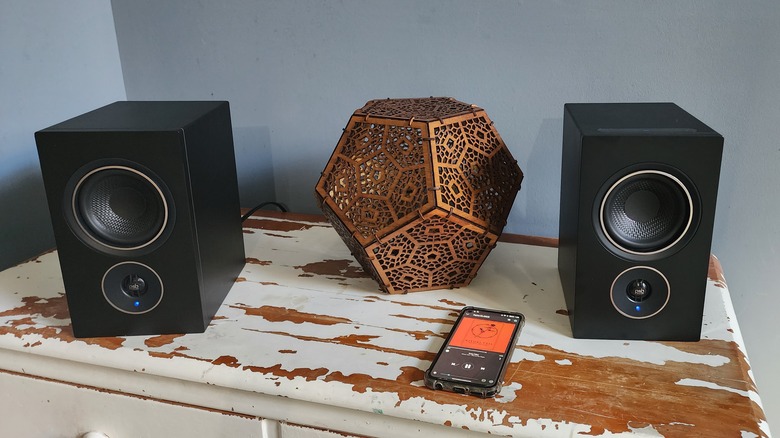 Markkus Rovito/SlashGear
The BlueOS app includes built-in menu options for TuneIn and Radio Paradise streaming radio services that you can play immediately without an account. TuneIn includes pathways to local radio stations, Internet radio stations, and a selection of podcasts. It was easy to find local radio stations as well as Internet stations for whatever genre I was in the mood for, and switching between stations invokes a near-instant response, with scrolling displays of the track playing. 
Radio Paradise has four "mixes" to choose from, including Main Mix, Mellow Mix, Rock Mix, and Global Mix, which are all available in "CD Quality" or the high-resolution MQA format. I could really hear the difference when comparing the CD Quality and MQA mixes over the Alpha iQ speakers. The MQA mixes displayed a noticeable difference in the clarity and vibrancy of sonic details, such as the throatiness of Nusrat Fateh Ali Khan's vocals or the texture and vibrato of Zoë Keating's cello.
The ability to stream lossless audio like MQA and other formats in a convenient way, while reproducing the sound at a standard intended for audiophiles, resides at the core of the Alpha iQ's purpose. MQA playback requires either a receiver unit or speakers with built-in MQA decoding and rendering technology, which is part of what justifies the Alpha iQ's steep price, along with the meticulous build quality and components needed for audiophile sound. So it's great that the BluOS app provides an instant option for playing MQA music through Radio Paradise without making you sign up for yet another account. However, to play whatever music you want to hear in MQA or another high-res format, you'll need a subscription to one of the few compatible services, such as Tidal Hi-Fi Plus, Amazon Music Unlimited, or Qobuz Studio.
Controlling the Alpha iQ speakers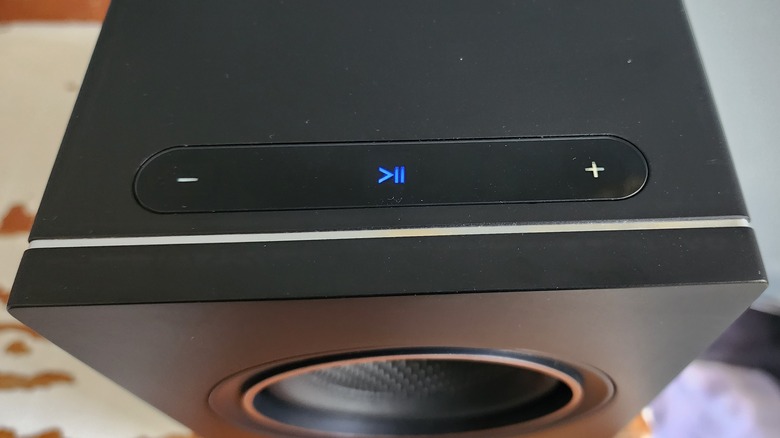 Markkus Rovito/SlashGear
From the BluOS app, you can control the volume and muting, audio settings, and presets. Audio settings include the left/right balance, treble and bass, and setting a volume limit. It would be nice to have a parametric EQ rather than just treble and bass settings, but in the end, I didn't really miss the lack of parametric EQ due to the Alpha iQ's extremely balanced audio profile and excellent frequency separation.
Other non-audio settings include a sleep timer for putting the speakers to sleep after a period of inactivity and an alarm for waking yourself up with one of the TuneIn or Radio Paradise stations.
Thankfully, you do not have to be tethered to the BluOS app at all times. Once you have an Internet radio station playing from the TuneIn or Radio Paradise services, the speakers will keep playing even if you close or quit the app or even turn off the phone. And once you integrate another app like Spotify, you can use the Alpha iQ speakers through that service and control their volume without opening the BluOS app.
There are also three backlit, touch-sensitive buttons for the speakers' volume and play/pause on the top of the primary speaker, which also has all of the audio inputs and a subwoofer output on its back panel. I love that the Alpha iQs provide very fine increments to the volume up and down controls. Other speakers that rely on Bluetooth for wireless playback often have a problem with the volume adjusting too much per click so it's impossible to dial in the best setting, but that's not the case here.
Wireless and wired input options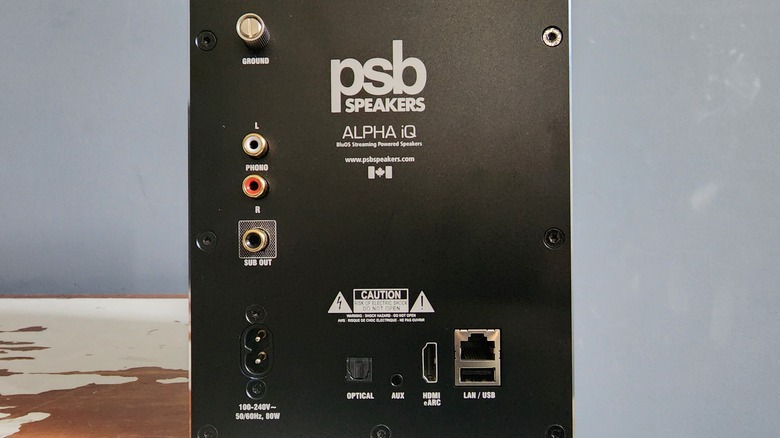 Markkus Rovito/SlashGear
While the Alpha iQ's default streaming uses a wireless protocol that allows high-resolution audio up to 24-bit/192kHz, it also has Bluetooth pairing that you can initiate through the BluOS app. It supports the Bluetooth aptX HD codec, which is the high-res Bluetooth codec most prevalent in hardware, but it is limited to playing 24-bit/48kHz audio compressed to a bitrate of 576kbps. There's also an Ethernet port for wired Internet connectivity.
The Alpha iQ's primary speaker also furnishes an ample selection of audio inputs for servicing legacy holdouts from the wired audio world: RCA phono inputs with a grounding post for connecting a turntable, an optical input for digital sources, a 1/8-inch aux input for analog line-level sources, a USB input for playing audio files off a USB drive, and an HDMI eARC input for TVs. I prefer a surround-sound system or at least a soundbar with simulated surround sound for watching TV, but the Alpha iQ speakers certainly sound leagues better than built-in TV speakers and could be a suitable compact option for a secondary TV in a bedroom where space may be scarce.
After inserting a USB drive, a "USB" option shows up in the BluOS Controller app, where you can browse the drive's contents and play songs or add them to the Play Queue. I played music in MP3, FLAC, ALAC, WAV, and AAC formats from a USB thumb drive, all without any problem. The speakers come with a mini-jack audio cable for the aux input, giving you a quick way to play tunes from a laptop or any device that still has a physical audio output.
Sound quality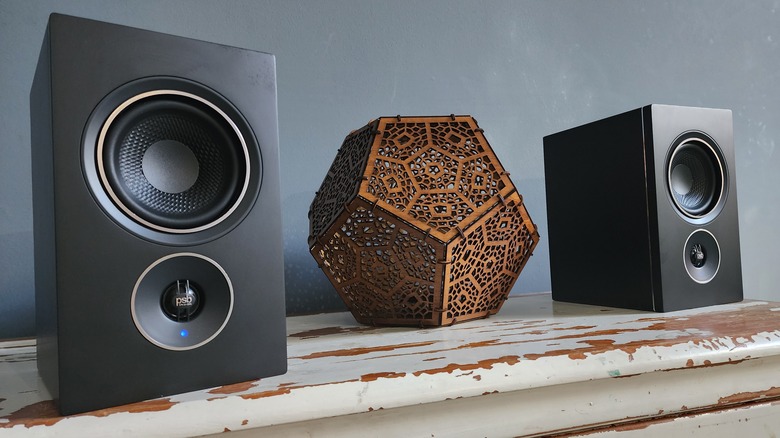 Markkus Rovito/SlashGear
As I touched on before, the Alpha iQ speakers put forth a wonderfully detailed sound that — particularly when playing MQA or other high-resolution audio — brings out aspects of music that you may not have noticed before. Frequencies are separated extremely well, so instruments in different ranges may pop out like you hadn't noticed before. The intricacies of multiple guitar parts playing together, the inclusion of "ear candy" sound effects, or the slight variances in high-hat strikes that suggest Hot Chip uses a real drummer rather than a sampler all exemplify the type of aural delights that music aficionados can expect when they listen to audiophile-grade speakers like the Alpha iQ.
The "garbage in/garbage out" rule does still apply here, however. While Alpha iQ speakers sound much better than, for example, my $300 Mackie Bluetooth speakers regardless of the audio source, if you're not going to listen to high-resolution audio on the Alpha iQ, you'd essentially be spending a lot for not enough in return. Whether it was comparing streaming MQA audio to standard compressed 320kbps streaming audio or comparing uncompressed WAV and lossless files to MP3s from a USB drive, the Alpha iQ's sound shines the brightest when playing high-res music. The bass is that much cleaner; the high-end is that much more vibrant, and the sonic detail is just incredible.
These speakers are compact — 5.7 by 9.7 by 7.6 inches — each with a 0.75-inch, aluminum-dome tweeter and 4-inch rear ported woofer. That makes them great for fitting them into small or cramped spaces — but does not give them a ton of oomph in the bass department. That said, they are punchier in the low end than I expected from speakers of this size, but it doesn't have the gut-punching thump that real bass heads crave from hip-hop, trap, electronic dance music, and even a large portion of modern pop music. For that reason, there's a subwoofer output on the back panel.
Loudness and other performance aspects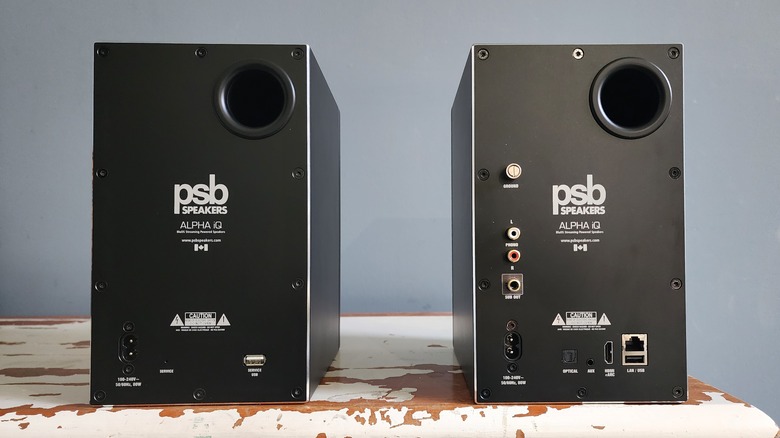 Markkus Rovito/SlashGear
Not only do the Alpha iQ speakers punch above their weight class in terms of bass power, but they can also get quite loud, packing more than enough decibels to fill up bedrooms or small to mid-size living rooms. The tweeters are 30W each, and the woofers are 60W each, giving a stereo pair a total of 180W. While PSB does not list a decibel amount for the Alpha iQ's max SPL, they got loud enough to start to hurt my ears from 12 feet away at about 80% of the maximum volume. More importantly, they maintain the integrity of their sound at the loudest levels, without noticeable distortion.
My biggest complaint about this pair stems from the resetting process that ensues every time you unplug one of them. If you plan to place these speakers somewhere and never move them again, you won't have to worry about it, but if you unplug one for any reason, the speakers have to be reset when you plug them back in. That entails a look at the manual for learning a sequence of button presses that is not overly complicated. However, resetting also means that you have to re-pair the speakers to your network, and you'll lose any playlists and other saved settings in the BluOS app.
Wrap-up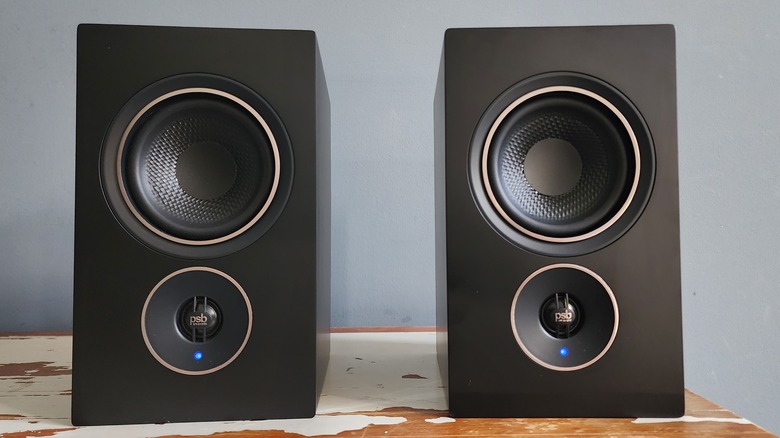 Markkus Rovito/SlashGear
At the time this review will be published, the PSB Alpha iQ speakers almost stand alone as powered speakers with the built-in DAC and other technology needed to playback MQA music, which all hardware needs to be a part of the emerging, expanding BluOS ecosystem. Most of the other BluOS speakers, including Bluesound's product line, need for an additional amplifier and/or streaming unit that includes the requisite technology. The larger, more powerful Dali Callisto 2 C are also high-end powered speakers for audiophiles with BluOS technology built-in, but cost about $2,500 a pair. 
For that money, you'd get larger, more powerful speakers, but that's another order of magnitude of investment over picking up the Alpha iQ pair for $1,499 from PSB's Amazon store. Other brands like Monitor Audio and Peachtree Audio are actively expanding their BluOS integration and may include powered, compact speakers like the Alpha iQ, but that remains to be seen.
For now, PSB Speakers Alpha iQ presents a unique opportunity for music lovers who care about audio fidelity to adopt high-resolution streaming audio and play it back on a set of worthy speakers. They are small in footprint yet throw out a formidably loud sound, and a beautiful, highly detailed sound at that. There's no need for cable clutter other than two power cords, but if you want to connect other sources like a turntable and a TV, you have that option. Essentially, the Alpha iQ speakers suit audiophiles who don't want to compromise. They can have the convenience of wireless streaming audio with high-fidelity sound—as long as the monetary price is less of a concern than the psychological price of hearing compressed music.