Microsoft Bing's User Base Soars To 100M After AI Chat Launch
Microsoft's Bing search engine has just entered a new, unexpected era. While Microsoft's rival, Google, has long been the leading force — both in terms of browsers and search engines — Microsoft is rapidly gaining ground on its biggest competitor. What's the hit that managed to pull Bing out of irrelevance? Bing Chat, of course. Thanks to the new ChatGPT-based conversational AI, Microsoft can now celebrate a massive victory: 100 million active users.
Microsoft is a force to be reckoned with, and one of the biggest players in the technology sector. When it comes to operating systems, its only real competitor is Apple with MacOS. However, looking at its signature browsers and search engine tells a different story. For years now, Microsoft has been trailing behind Google in browser market share.
For a long time, Microsoft has bundled Windows with a browser — first Internet Explorer, now Microsoft Edge. With the retirement of Internet Explorer, Microsoft's full focus has been on Edge, but Google's dominance is undeniable. Despite Microsoft's attempts, many people use Edge just once — to download Chrome (which takes up over 65% of the internet browser market share). However, with the way Microsoft is now integrating Bing and Bing Chat into Edge, Google might have a serious battle ahead of it.
Microsoft is celebrating a huge milestone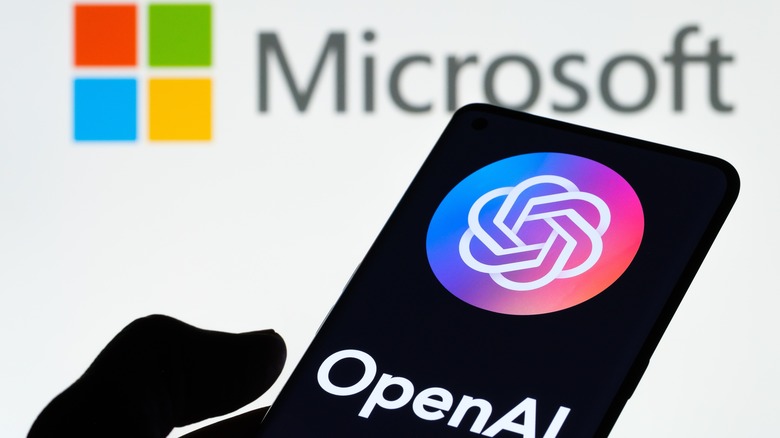 Ascannio/Shutterstock
Microsoft's Bing Chat is definitely making the rounds all over the news. Powered by the same (but improved) model that runs the ever-so-popular ChatGPT, Bing Chat is a handy tool that's still in beta. However, as Microsoft increases the number of users that can access it, the AI gets tested by more and more people. Seeing as it's part of Bing, it's no wonder that the search engine is seeing such a huge uptick in active users. The AI-powered Bing can even be added to Skype group chats in preview, where members of the group chat can prompt the AI with questions, just like in Bing Chat.
The company shared the news in a blog post. It's unknown how many daily users Bing had prior to the release of Bing Chat, but Google most likely never had to worry about Bing overtaking its impressive number of one billion daily users. It doesn't have to worry now either, but the 100 million milestone is definitely a big deal for Bing. As the number of people allowed to try out Bing Chat increases over time, Microsoft stands to see even larger gains if everything goes well.
Microsoft is also integrating Bing Chat into more than just the Bing search engine. It's closely connected to Edge, which could also help Microsoft boost the numbers for its signature browser. The tool is now also built into Windows 11 itself, where it can be accessed in the search bar by those who have access to it. It's possible that the era of Bing has only just begun.