4 Cars That Prove Chuck Berry Had Great Taste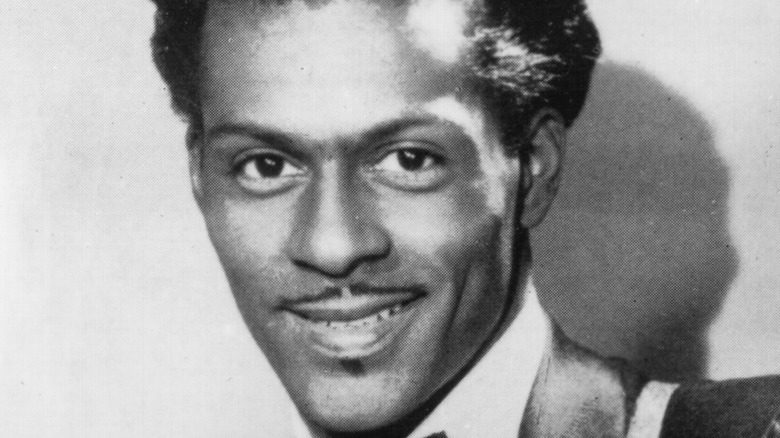 Michael Ochs Archives/Getty Images
Chuck Berry's influence on our modern world can't be overstated. The singer was a true storyteller, weaving autobiographical facts into the worldbuilding that his melodies carried. Fictional characters took shape and danced into the homes and automobiles through countless radios across the country. Chuck Berry was a journeyman of sorts; before launching his musical career, he spent time working as a carpenter, auto plant janitor, and hairdresser. 
However, his real gifts lay in the musical world: "for my money, Chuck Berry is the primary sonic architect of rock 'n' roll," Kevin Strait, a Smithsonian curator told NPR in 2011. Berry was well-known for tapping into the mythos of post-war American iconography, while inventing twists on classics and even words themselves (like "motorvated"). Much of his invention in song bridges the gap between historical Black and White America — a realm of even greater tension during his youth and musical heyday.
Berry's magnetic personality and his titanic contribution to American musical history place him in the company of other transformative performers like Jimi Hendrix, Bob Dylan, or Bruce Springsteen. The latter shares an additional flourish with Berry: A love of classic cars (as well as a 1995 joint appearance with the "E Street Band" in a Rock 'n' Roll Hall of Fame concert). 
Chuck Berry famously collected a variety of Cadillacs along with many other stylish rides. Here are some of the most tasteful additions that found their way into his garage over the years.
1973 Cadillac Eldorado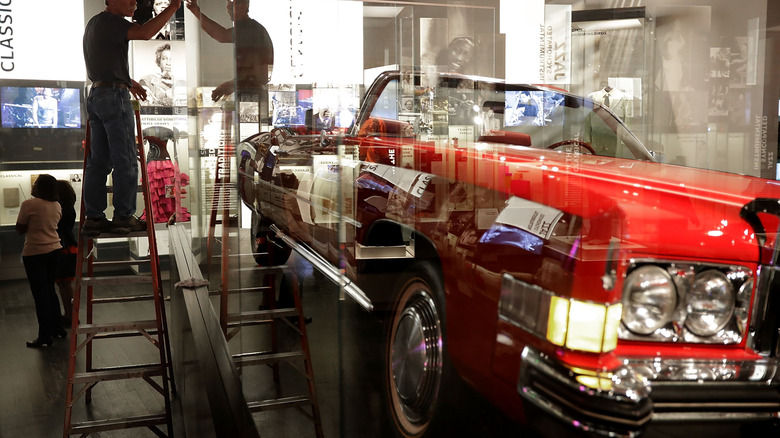 Chip Somodevilla/Getty Images
Chuck Berry's Cadillac Eldorado now sits in the Smithsonian's collection, and was acquired through the "last-mile" effort of Kevin Strait (after Berry initially considered keeping the car). His cherry red convertible is part of the Smithsonian National Museum of African American History and Culture. 
This particular vehicle is infused with rock 'n' roll and African American history. It was the car he rode on stage during the documentary "Hail! Hail! Rock 'n' Roll" in 1987. Specifically, this performance was delivered at Fox Theater in St. Louis, a venue that had refused him entry as a Black child growing up in 1930s America (he was born in 1926). 
The car remained in immaculate condition, even before getting a restoration treatment from the Smithsonian's team. His Cadillac still had the original hood ornament, and the chrome grille remained in excellent shape. The Eldorado is a standalone marvel in its own rite. The vehicle is powered by a massive 8.2L V8 engine that produces 365 horsepower and 535 foot-pounds of torque. The 1973 model year set a new record for production, with 304,839 total Cadillac vehicles produced. As well, the Eldorado from this year was the official pace car for the 1973 Indianapolis 500, showcasing its prestige with even more flair.
1934 V8 Ford
Chuck Berry was an avid car collector, and sang about even more vehicles. One tune, "No Money Down," was inspired in part by his own first car — albeit a vehicle purchased with $10 down. In his autobiography, Berry regales his first automobile — a 1934 V8 Ford.
This is a classic: the Model 40 V8 was available as a three or five window coupe, a two door roadster, and a two door cabriolet. The V8 was officially either the "Model 40" or "Model 18," but both quickly earned the moniker "V8" because of the engine found under the hood. 
This was a departure from the standard engine configuration at the time, with V8s gracing only luxurious models until 1932. These vehicles became a magnet for owners looking to make modifications after the end of World War II, and the resulting product was the birth of the "hot rod." The ease of access that Ford gave a wider swath of buyers acted as a jump-start to the later era of car enthusiasm among the masses.
The Model 40 from 1934 weighted 2,250 pounds and was priced between $500 and $605 at the time. The vehicle provided 85 horsepower with a 90 degree V8 engine. The measured displacement of the vehicle was 3,622cc. Ford produced 563,921 Model 40s in 1934 (across the range of available body styles and configuration options), and incorporated a three-speed manual transmission.
[Featured image by Riley via Wikimedia Commons | Cropped and scaled | CC BY 2.0]
1977 Cadillac Fleetwood Brougham
In a short video clip that appears to feature at the end of the "Hail! Hail! Rock 'n' Roll" documentary, Chuck berry stands in his garage and talks through a few of the Cadillacs he has preserved under plastic sheeting in the background. One that catches his focus is a 1977 Cadillac Fleetwood Brougham. 
"This is a '77 I bought in California, had it all goosed up," he says to the camera. "I'm an all-American boy!" Berry coos as he playfully exits the frame. All-American indeed, as his car style reflects a time when American automotive production was at perhaps its most dramatic. These vehicles are highly sought after in today's marketplace as marvelous collectors' items, and Berry certainly seems to know it.
The '77 was a new turnover model for Cadillac, "designed for the contemporary changing world," according to Notorious Luxury. This model year marked the 75th anniversary of the Cadillac brand, and the company spared nothing in the construction of their newest addition. 
The interiors were immaculate and sported the latest in interior climate controls, comfortable seats, and a radio entertainment system. Under the hood, these vehicles came stock with a 7.0L V8 engine that produced 180 horsepower, with a boost to 195 if adding the optional electronic fuel injection customization. The car was driven with a three-speed automatic transmission.
[Featured image by Paulhavranek via Wikimedia Commons | Cropped and scaled | CC BY-SA 3.0]
1989 Lincoln Town Car
Chuck Berry also owned an '89 Lincoln Town Car. The vehicle was sold in 2008 to a couple that had always loved the iconic squared-off face of older model Lincolns. The pair told The State Journal-Register, "in '90, Ford started to round off the corners to give it a more European look ... It looked like a Mercury." 
The car they eventually found was a single-owner model being sold by a man who was simply too young to have been the car's original owner. The seller? Chuck Berry's nephew. Apparently, Berry had driven the vehicle for a few years and then given it to his sister, explaining how it had fallen into the younger man's hands.
The Lincoln Town Car is an icon in the automotive world. The term was initially applied to specialized vehicles built by Henry Ford in the 1920s, but the Town Car that spectators know and love entered the market in 1980. Lincoln Town Cars offered a similar luxurious ride to a limousine, but packaged this elegance within a daily driver vehicle as well. 
Throughout the '80s, the Town Car was built on the Panther chassis platform, with later models diverging toward the rounded body already mentioned. Lincoln Town Cars built within the Panther decade were run on a 4.9L, fuel injected V8 engine — the first of its kind in the North American market — that produced 130 horsepower.
[Featured image by Michaelulrich17 via Wikimedia Commons | Cropped and scaled | CC BY-SA 4.0]