The Nintendo DS Had A Glucose Monitoring Accessory Designed By Bayer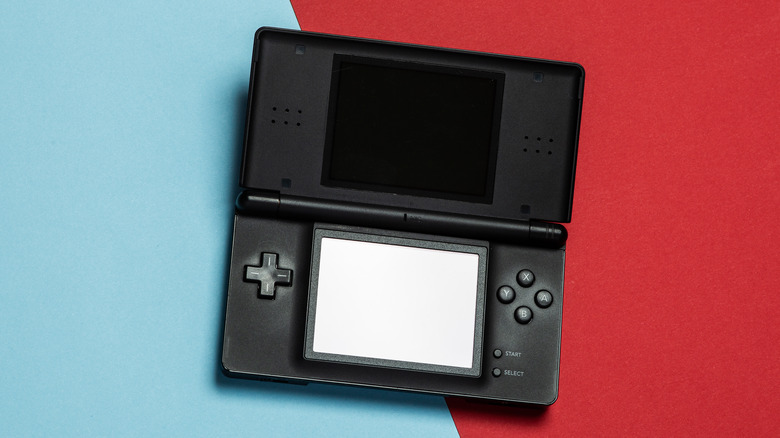 Stas Knop/Shutterstock
There are certain small tasks that we become used to performing regularly as part of our everyday lives. Morning and night-time ablutions and preparing meals, for instance, all become part of the humdrum activities that make up our lives. One additional little step that millions of people around the world must take is regularly monitoring their glucose levels. According to Diabetes.co.uk, the condition is so prevalent that approximately 640 million people around the world are projected to have diabetes by the year 2040.
Diabetes management revolves around having blood tested frequently, as well as being careful to keep active and eat well. Such routines, naturally, can be difficult for children to both develop and stick to. To help young kids form the potentially life-saving habit of regularly testing their blood sugar levels, an intriguing Nintendo DS peripheral was introduced: Bayer released a glucose monitor that was compatible with the gaming system.
Making your glucose-testing routine fun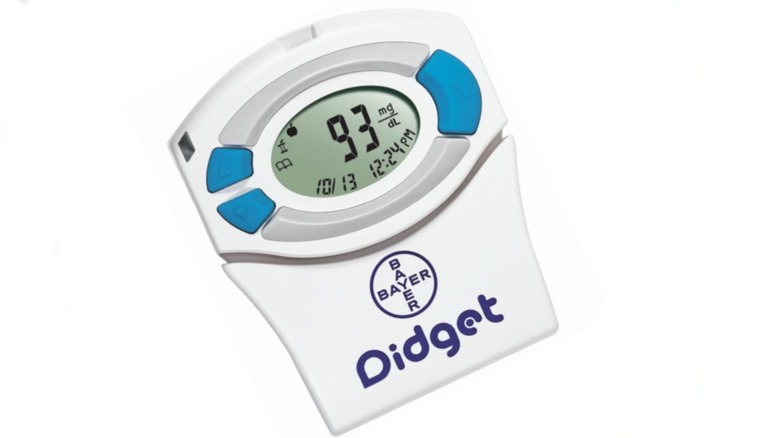 Bayer
The Nintendo DS was released in 2004, and it boasted the unique creativity Nintendo has become renowned for. As with older Nintendo handhelds, that unique creativity was also seen in some of the system's enormous range of add-ons and accessories. One such example was the Bayer DIDGET. The device was touted as "the first and only blood glucose meter for children with Type 1 diabetes that connects directly to Nintendo DS and Nintendo DS Lite." 
The accessory came to be after Bayer Diabetes Care found 57% of parents surveyed said children had more success in developing a monitoring routine for themselves if the process was made more enjoyable. The oblong-shaped system boasted a plain, white, rather clinical design, and plugged into the Nintendo DS via a port at the bottom. Despite its association with the system, it was not a toy. How did Bayer's DIDGET fare at helping Nintendo DS users to learn about and control their glucose levels?
DIDGET rewarded Nintendo DS players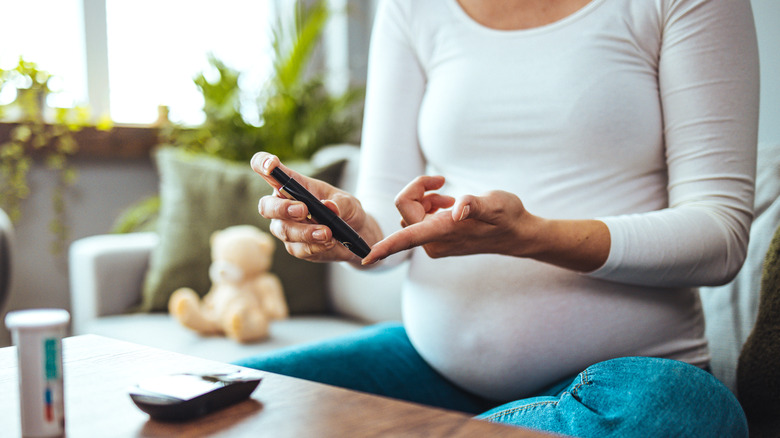 Dragana991/Getty Images
A 2011 study published in the "Journal of Diabetes Science and Technology" tested the effectiveness of DIDGET using the results of 123 subjects, with both diabetes type 1 and type 2. On comparison against results achieved by a Yellow Springs Instruments glucose analyzer, the researchers determined that "DIDGET BGMS provided accurate test results across all age ranges in children, teens, and young adults with diabetes." Very impressive indeed — not only practical but potentially life-saving. DIDGET, then, was powerful and accurate, yet simple for younger users to operate via a lancet and drop of blood. 
The true masterstroke was the way that it encouraged frequent use. It was not to be used for testing while plugged into the Nintendo DS, but rewards were earned by testing up to four times daily, and the results were transferred to the game system. DIDGET included the game "Knock 'Em Downs: World's Fair," which allowed users to spend the points they had accrued. It was priced at £29.99 (approximately $36.30 today) in the United Kingdom, with some proceeds from sales going to the Juvenile Diabetes Research Foundation.