The Game Boy Color Had An Actual Sewing Machine Add-On (But Why?)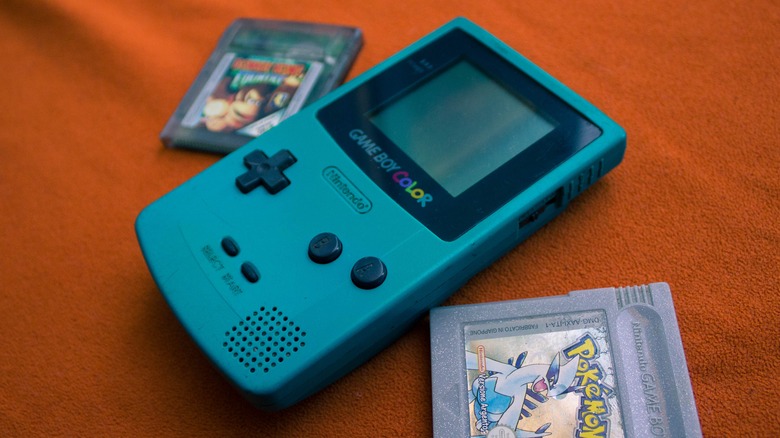 Trippinpizza/Shutterstock
The Game Boy family of systems, by any metric, was a sales sensation with around 118.69 million units sold. Game Boy Color's tremendous support was backed by quite a heavy advertising campaign, with one commercial building a bold and bright map of the United States out of differently-hued Game Boy Colors, for example. It stands to reason, then, that other manufacturers wanted to try and piggyback on the handheld's cachet.
In September 1999, the U.S. company Singer Sewing Machines declared bankruptcy. A lack in demand for the sewing devices and a surge in interest in the stylish new Game Boy Color — which was released in October 1998 in Japan — seem like entirely disparate events, but it appears that some saw the potential of combining the former with the latter. This opened up opportunities for selling more Game Boy Colors and reviving the increasingly lost art of sewing at home at the same time.
At the time, sewing machines had a significant barrier to entry beyond their rather niche appeal: the technology that was used in their primitive displays made them expensive to create and purchase. The idea, then, was to deploy the later much-modified Game Boy Color as an input. In both Japan and the United States, some very unique sewing machine models were created that took advantage of this idea.
Using a Game Boy Color as a sewing machine's brain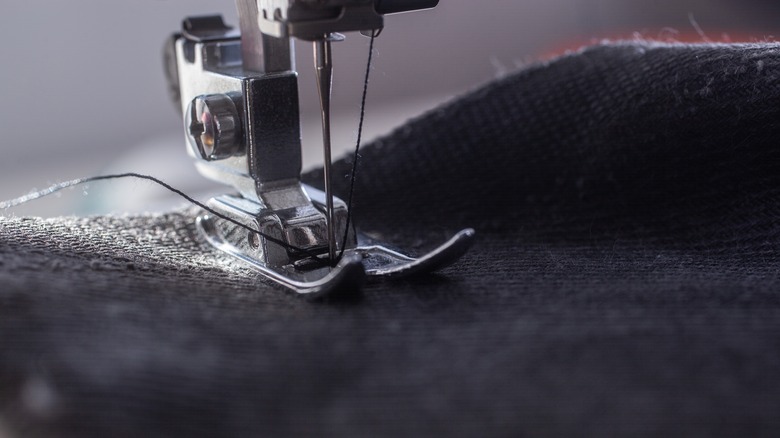 Drum Dream/Shutterstock
In January 2001, the Washington Post reported that Japan's Jaguar International launched the Jaguar Nu-Yell, a very special sewing machine, the previous year. It was followed by a North American Singer release, the Izek. The models, explains Kelsey Lewin on YouTube, were largely identical. They boasted a unique colorful section of casing that had become a popular aesthetic at the time (and remains so) and worked just as a conventional sewing machine would. A bold and eye-catching casing is certainly an effective way to draw attention to a product. This alone wouldn't really boost the appeal of sewing machines very much, though. What was so unique about the Izek and the Nu-Yell, however, was that they were essentially powered by a Game Boy Color.
Some models of these sewing machines connected to the Game Boy Color by means of the Game Link Cable. Via this cable, the little Nintendo handheld became the display and the brains of the machine. It was a very cheap brain too, relatively speaking: the system's MSRP was $79.99 upon its North American launch in November 1998. Meanwhile, Lewin explains, "Digital interfaces for sewing and embroidery machines were still fairly new technology, with the earliest models in the 1980s selling for tens of thousands of dollars." This concept, then, made sewing more appealing, more fun, and infinitely more affordable.
How did the Game Boy Color sewing machine models work?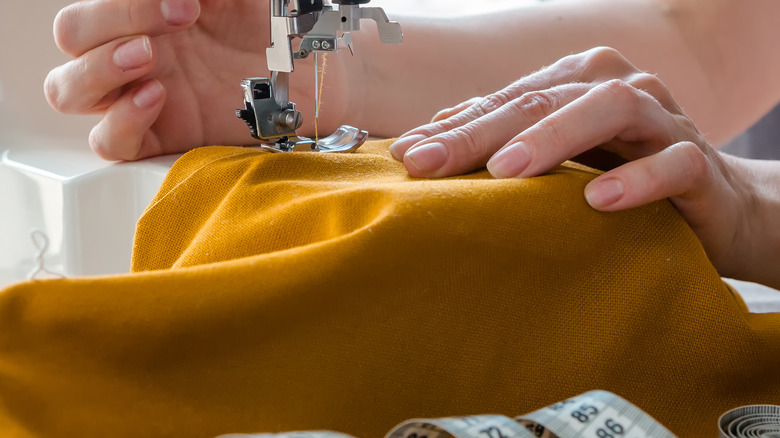 Shyntartanya/Shutterstock
Though they were essentially powered by a Game Boy Color, the machines weren't just gimmicks. They could, of course, be used for plain sewing, no family-friendly "Super Mario" elements required. At the same time, the crossover did allow for just that as well. The "Jaguar Mishin Sashi Senyou Soft: Mario Family" Game Pak let users engage in numerous Nintendo-themed sewing projects, and was the last to hit these Jaguar sewing systems. The Jaguar JN-2000 model truly incorporated Nintendo's handheld into its body, being directly inserted into a special tray for use. Its simple interface then allowed users to select functions and so on.
Naturally, the machines can be considered collectors' items today, owing to their seemingly bizarre nature. Curious as the concept may be, it's an early example of Nintendo's dedication to making gaming and their products more accessible. It did the same for sewing machines, too. Whether you're experienced with sewing or simply beguiled by the idea of embroidering Mario and his friends onto your pants, there's no denying that this was an intriguing little collaboration in Nintendo history.