Apple's 2023 Mac Plans Could See The iMac Getting The Attention It Deserves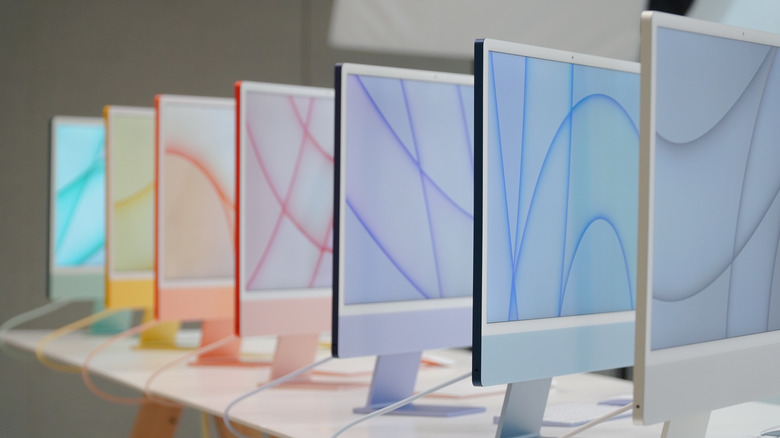 Jack Skeens/Shutterstock
Apple appears primed to introduce an updated iMac armed with its third-generation in-house silicon later this year. According to Bloomberg's latest PowerOn newsletter, an iMac refresh could very well hit the shelves this fall. The iMac currently on sale was introduced in April 2021 rocking a major design overhaul; it marked Apple's desktop switch away from Intel to its own ARM processor. The machine didn't get the yearly chip refresh that many expected with the M2 series processors, but it appears that Apple has bigger and more meaningful plans for the successor.
The latest report claims that in the spring-summer window, Apple is planning a trio of new Mac devices, but the iMac won't be one of them. Instead, Apple's all-one-desktop has reportedly entered the pre-production stage internally known as the engineering validation test. By the safest estimates, the model reportedly will only enter production after three months, according to newsletter author Mark Gurman. The expected release date for the product is based on Apple's product launch timeline over the past few years.
More than just a cosmetic upgrade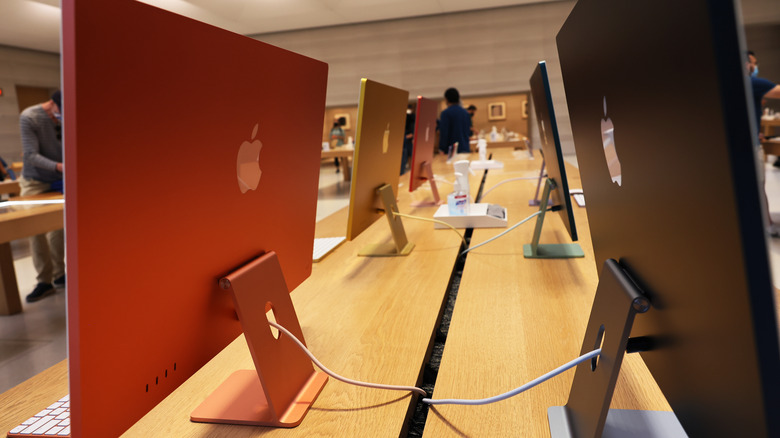 Michael M. Santiago/Getty Images
Bloomberg's report goes on to claim that the upcoming iMac will stick to the 24-inch screen size format; there is no mention of a more powerful 27-inch iMac Pro that has been making rounds in the rumor-verse for a while now. The design will likely remain the same, but some of the internal components will reportedly be redesigned and their positions have also been shifted under the chassis, according to Gurman. As for the color options, Apple is said to be sticking to the same shades as the 2021 model.
The biggest change, however, will be the chip inside. The 2023 iMac will reportedly be one of the first Mac computers to come armed with the M3 processor, skipping the M2 generation entirely. The M3 series processors will reportedly be fabricated on TSMC's 3nm tech, bringing some notable performance and efficiency improvements over the M1 generation, which is based on the 5nm process. The 3nm-based silicon is said to feature up to four dies that would allow up to 40 compute cores, indicating that the vanilla M3 would be a solid upgrade over the current-gen M1-based iMac.