The Heavy-Lifting, High-Flying Helicopter Used In Combat And Disaster Relief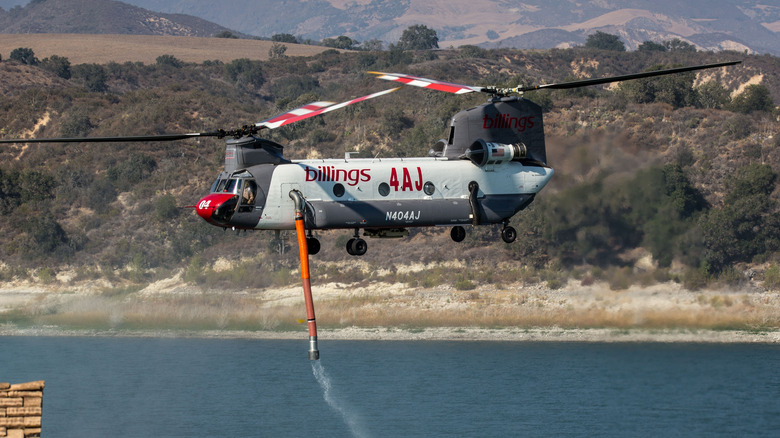 George Rose/Getty Images
In combat operations, moving people, ordnance, or supplies, is one of the most important aspects of keeping a fighting force effective. During World War II, troops, Jeeps, and foodstuffs were moved overseas in large transport ships (sometimes converted cruise ships). Once troops arrived in the designated theater of operations, they traveled in a long convoy of vehicles or dropped into combat on propellor-driven planes like the Douglas C-47 Skytrain. 
Nowadays, troops are moved long distances by jet-powered cargo planes like the C-17 Globemaster III, C-5 Galaxy, or C-130 Hercules. If you need a vehicle that can get in and out of combat fast or land just about anywhere, however, helicopters are the way to go. The Sikorsky Blackhawk Helicopter was for decades one of the U.S. military's mainstays for getting soldiers and supplies where they need to be. But when you need heavy lifting capability, the seating capacity of a school bus, and the speed to get a job done quickly, look no further than the Boeing CH-47 Chinook. 
Go anywhere, lift anything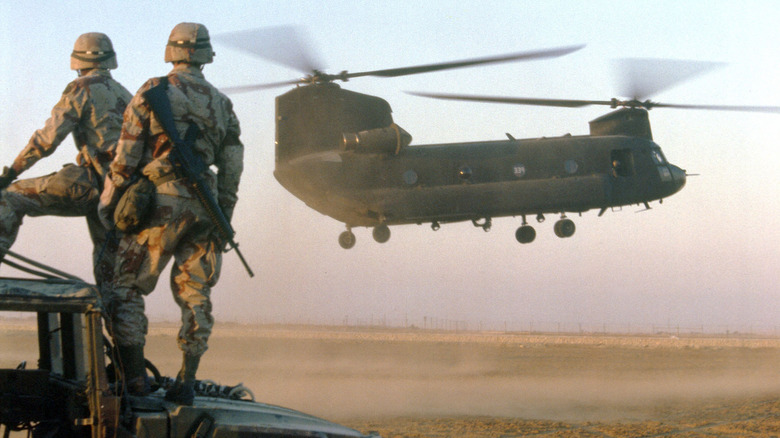 Dod/Getty Images
The CH-47 is an odd-looking aircraft. It has a tandem rotor configuration, meaning it has two rotors instead of one, and it's sized like a cargo van that can fly, which is hardly a tactical look. But with the ability to carry 36 troops and a massive supply payload, it's quite useful. The Chinook, which has been in continuous service since 1962, derives its longevity from what it can carry. Through a series of hooks underneath, the CH-47 can carry almost 48,000 pounds, be that in the form of Humvees, howitzers, or hoisting people out of harm's way. Outside of combat, Chinooks have been deployed to help with natural disaster relief, or help with search and rescue operations too.
The U.S. military's flying semi truck is powered by two Honeywell T-55 engines. In addition to allowing the helicopter to lift the weight of roughly ten cars, the engines give the Chinook a top speed of 196 miles per hour, making it the fastest military helicopter in the world, Honeywell notes.
According to Boeing, the CH-47 flies for of 19 countries's militaries, and it doesn't plan on slowing down anytime soon as the current modernization program plans on keeping the chopper in service until at least 2060.