This Hydrogen-Powered Plane Just Made A Record-Setting First Flight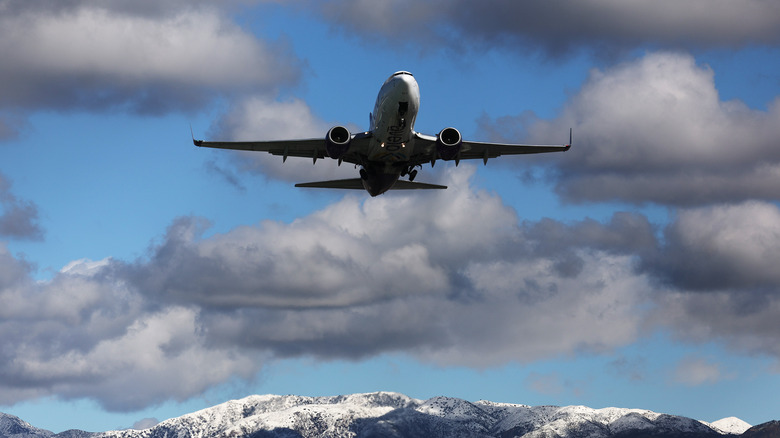 Mario Tama/Getty Images
On March 2, 2023, A De Havilland Canada Dash 8-300 was flown around an airfield near Moses Lake in Washington to great fanfare. The aircraft had been outfitted with a cutting edge new engine and corresponding fuel source that may just revolutionize the way we collectively think of air travel. 
The plane was operated by Alex Kroll, a test pilot and retired Air Force flyer, along with two additional crew members. The plane lifted off the ground at 8:41 a.m., and quickly reduced power to one of the engines, flying primarily under the power of a single hydrogen-powered engine.
The craft is the brainchild of Universal Hydrogen, a startup based in Los Angeles that's seeking to transform the emissions levels produced through typical, commercial air travel. "If we don't have a decarbonization solution as an industry we're going to have to curtail traffic volumes, we're going to have to curtail industry growth for the first time since the birth of the jet age," Universal Hydrogen's CEO Paul Eremenko told The Seattle Times.
This aircraft is certainly special. It utilizes a traditional aviation fuel-powered Pratt & Whitney engine under one wing, and a motor that's powered by electricity created by a liquid hydrogen fuel cell attached to the other. Kroll noted that not only did the plane perform without incident essentially under the power of just the hydrogen-fueled engine, but "all the noise was coming from the left side," housing the traditional engine.
Hydrogen power may be the way of future flight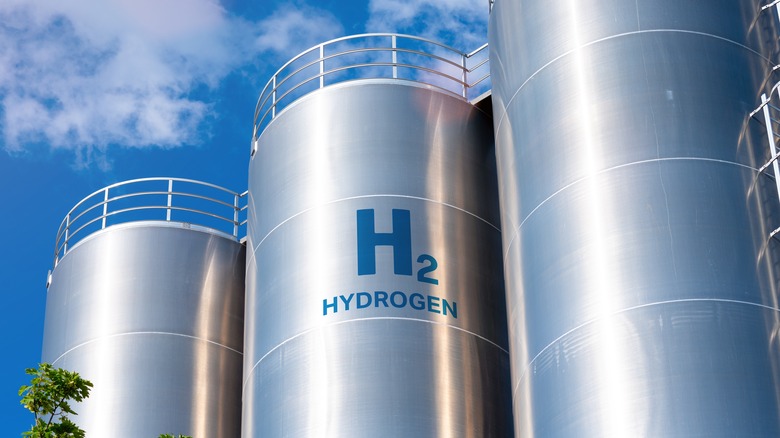 Audio und werbung/Shutterstock
This isn't the first hydrogen-fueled test aircraft. In 1988, Soviet engineers built and flew a Tupolev model (a Tu-155) with one engine outfitted with a hydrogen fuel cell. However, this aircraft didn't attempt to cruise on the single engine, making the Dash 8 flight this month the "largest to cruise principally on hydrogen," according to Paul Eremenko. 
Universal Hydrogen's CEO also noted that hydrogen, thus far, remains the only viable avenue for the aviation industry to rely on in pursuit of compliance with emissions reduction targets from the Paris Climate Agreement. Hydrogen fuel cells emit water vapor and warm air, reducing harmful carbon byproducts to zero, and drastically transforming an industry that accounts for 2.5% of global CO2 emissions. Even so, there are detractors, namely citing safety concerns and effective production capacity for the fuel.
The engine also brings something else to the table that can't be matched by conventional aviation power. "Once we hit cruise, we throttled back and we flew almost exclusively on the right-hand engine. It was silent," Alex Kroll added. The quiet operation would reduce noise pollution in historically affected neighborhoods around airports. 
The National Institutes of Health have reported that airport-related noise disturbances have been linked directly to lesser academic performance, worse sleep, and potentially even an increase in cardiovascular disease among nearby residents. Eremenko sees a future of commercial use for this technology, with single-aisle jets potentially in routine passenger operations by 2030. The environment would potentially be improved in a multiplicity of ways.
It's a fuel that spacefaring vessels are also experimenting with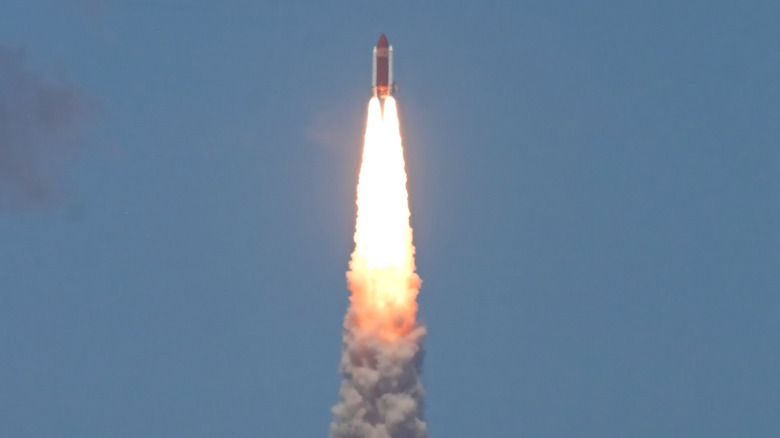 Tomasz Szymanski/Shutterstock
NASA has been utilizing hydrogen gas as an effective rocket fuel for decades. However, new processes for creating hydrogen fuel are just coming into focus now. SpaceX is a major player in this space, and in coordination with another hydrogen-field startup, Green Hydrogen International, looks to transform the way we think of rocket launches as well. 
GHI estimates that it can create and store around 3 billion kilograms of green hydrogen fuel per year. This is an order of magnitude greater than the most productive plant currently in operation (Air Liquide's Quebec facility that produces 300,000 kilograms per year).
These are exciting developments in both space travel and commercial air transportation, to be sure. The shift to hydrogen fuel for commercial vessels is more daunting than those in the space sector, but Eremenko's goal of single-aisle jets in the next decade isn't actually a stepping stone to something more substantial. He notes that single-aisle aircraft account for more than 50% of all aviation emissions in the commercial space.