These US-Made EVs Could Soon Be Delivering Your Mail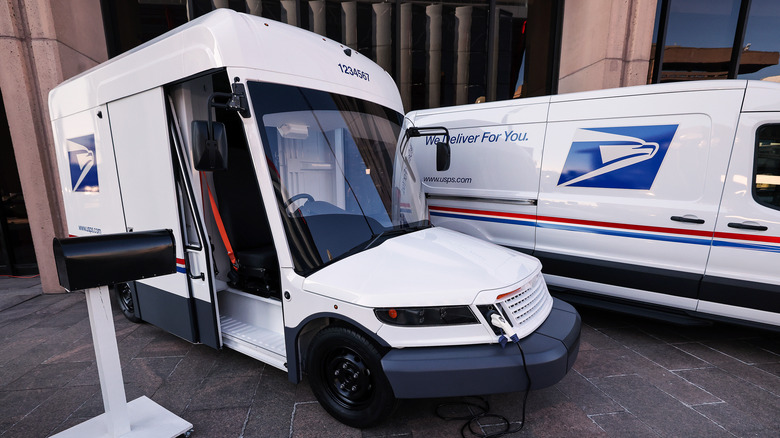 Kevin Dietsch/Getty Images
In December 2022, the United States Post Office (USPS) revealed its ambitious plan to deploy tens of thousands of electric vehicles by 2028, revolutionizing its fleet of mail delivery vehicles. During that announcement, the USPS said that it plans for its fleet to reach at least 60,000 "purpose-built" vehicles, which it calls Next Generation Delivery Vehicles (NGDVs), by 2028. Of those 60,000, the agency expects at least 45,000 of them will be battery-electric vehicles, more commonly called BEVs. 
That effort will involve buying another 21,000 or so BEVs for mail delivery purposes by that 2028 deadline, with the USPS noting at the time that this effort will include "a mix of commercial-off-the-shelf vehicles." Fast-forward to February 28, 2023, and the USPS has expanded upon these plans, revealing that it has tapped America's most iconic automaker to provide 9,250 of those commercial-off-the-shelf BEVs. Joining this effort will be thousands of additional charging stations to be deployed at USPS destinations across the United States, providing the means necessary to keep these next-gen mail trucks up and running.
The USPS has tapped Ford for commercial-off-the-shelf EVs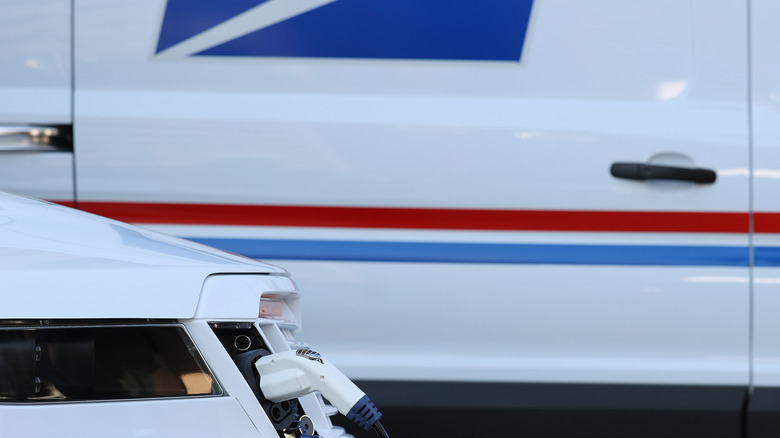 Kevin Dietsch/Getty Images
In its latest update on the matter, the USPS said that Ford has received a contract to supply 9,250 of its E-Transit EVs for use as commercial-off-the-shelf delivery vehicles. Because these units are BEVs, they're powered solely by electricity, which will be delivered using charging stations deployed at USPS mail facilities. As part of this announcement, the agency also revealed that it will be rolling out at least 14,000 charging stations sourced from a trio of unspecified suppliers. Little information is provided about where these charges will be installed aside from "at the facilities from which the delivery vehicles will operate," according to the USPS.
Of note, this is only a piece of the pie that is the USPS' plan to acquire 21,000 commercial-off-the-shelf BEVs. It's unclear which vehicles will be tapped to nudge the agency closer to that number. As it stands, all of the NGDVs the USPS acquires starting after 2026 will be of the BEV variety. This initial acquisition — which is set to be delivered starting in December 2023, pending the completion of certain necessary milestones — is only the first step toward that conversion from the USPS' current fleet of aging mail delivery trucks to ones that operate entirely on electricity. 
The move is not only necessary in order to update the agency's increasingly old vehicle fleet, but also to keep pace with private competing companies. In 2021, for example, FedEx announced plans to switch over to an entirely electric fleet, though it has given itself a generous timeline for doing so with the goal post being as far out as 2040. UPS has also been teasing various electric delivery vehicle concepts for several years, including the unique eQuad electric bike that looks nothing like an actual bicycle.