The 10 Best Sublimation Printers For Beginners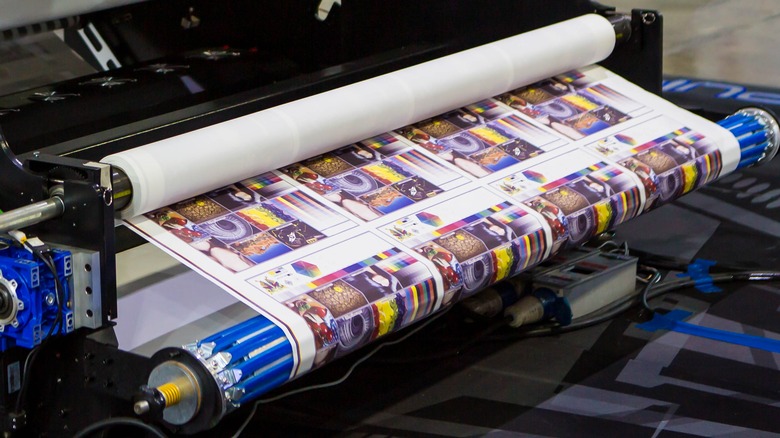 Itsanan/Shutterstock
We may receive a commission on purchases made from links.
Whether you're a crafty individual looking to take your hobbies to the next level or an emerging entrepreneur who's taking their small business up a pay grade, sublimation printing can be an invaluable tool in a designer's toolkit. These printers are fantastic for creating products customized with unique images for both commercial and personal use. As e-commerce and advanced types of printing like 3D printing are becoming increasingly important factors in the business sector, launching your own Etsy, Shopify, or Weebly store to sell sublimation print products can make for a great side gig. But beyond the business side of things, sublimation can also be great for making personalized gifts or expressing your creativity and craftiness.
However, when it comes to dipping your toe into the world of sublimation, there can be a lot of different technical and creative elements worth considering, particularly if you're a beginner. The higher the grade of the printer, the more expensive the process becomes. That's not to mention that some of the top-tier sublimation printers can be excessively complicated and difficult to parse for someone new to the concept. Luckily, there are some fantastic sublimation printers out there that have a variety of different price points and capabilities.
Sawgrass SG500 Sublimation Printer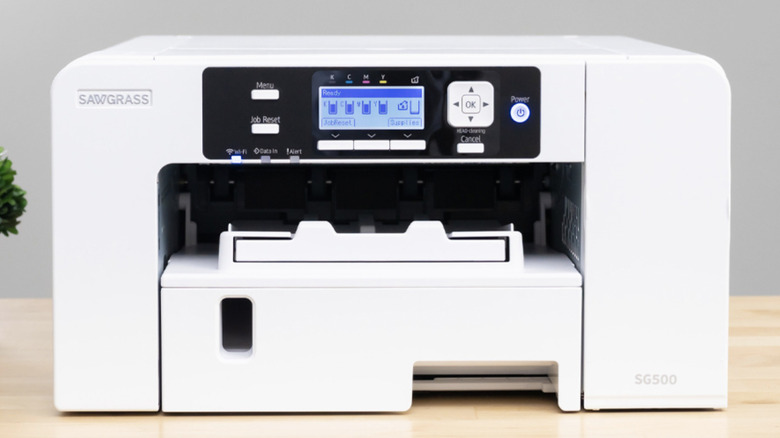 Sawgrass
Many of us have experienced that devastating moment where we feel in over our heads. We buy something we think we can handle, and then find out all too late that the barrier to entry is going to be extremely high. However, the Sawgrass SG500 Sublimation Printer has become widely known as one of the best "entry-level" sublimation printers. For starters, this printer has a pretty small footprint, making it ideal for desktop and home use. Additionally, compared to a variety of top-tier sublimation printers, the Sawgrass SG500 has a great middle-tier price point considering its capabilities and ease of use.
While the SG500 is slightly more expensive than most at $629 on Amazon, this printer is still perfect for beginners who are looking to start small, both in terms of product and output. The Sawgrass SG500 is great for making smaller items like mugs and jewelry, and also has special outputs designed for printing on difficult-to-sublimate materials like light cotton. Compatible with special papers that allow for this type of printing, this model also comes with fantastic tech support, vibrant HD image output, the CreativeStudio Online Designer feature, and highly energy-efficient settings. This model also performs its own automatic maintenance cycle, which is a great benefit for those of us who don't want to end up dismantling our printers frequently. For beginners, the Sawgrass SG500 is one of the most ideal jack-of-all-trades, entry-level sublimation printers out there.
Epson WorkForce WF-7720 (with conversion)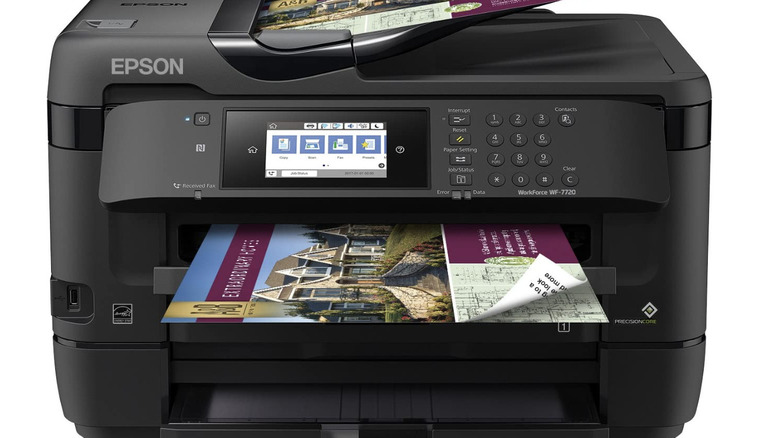 Epson
There are also times when it's easy to go for the cheaper option and find yourself left in the lurch. For beginners who want both ease of use and a reliable, high-functioning sublimation printer, the Epson WorkForce WF-7720 is another fantastic option. Though undoubtedly more expensive at $1,290 sold by Amazon, this printer has also served as a great starting place for a lot of sublimation newbies. It has multiple trays, can print up to 13 x 19 inches, and also produces incredibly high-resolution images (4800x2400 dpi). Having multiple trays can often be ideal for smaller operations that handle a wide variety of different sublimation products in the same way that having a printer that works on the go can be perfect for micro businesses. 
The only downside to the Epson WorkForce is that it does have to be converted to a sublimation printer. This process is done by buying refillable cartridges in addition to a sublimation ink kit. But, if the process of converting a printer to perform sublimation printing sounds intimidating, it's quite easy to find a variety of YouTube videos or tutorials online that can walk you through the process. A lot of the time, these tutorials are hand-crafted for the printer you're working with as well, so you don't have to worry about winging it. Overall, because of its amazing capabilities, the Epson WorkForce WF-7720 is a great option for those of us just getting started or even looking to up their sublimation capabilities.
Epson EcoTank ET-15000 (with conversion)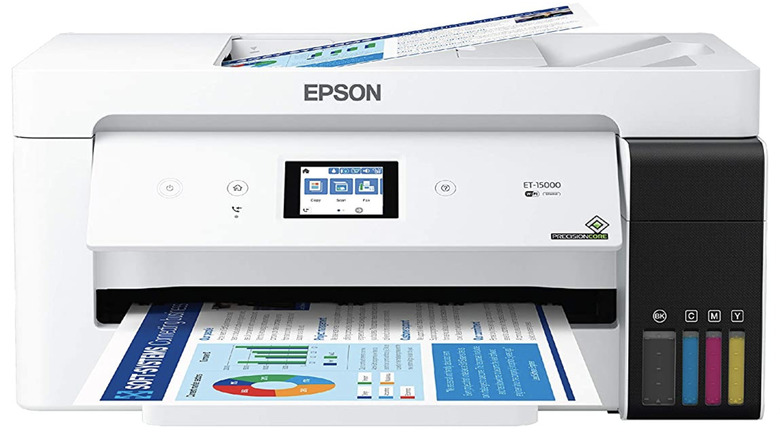 Epson
It's no secret that sublimation ink, printer ink, or even just printing, in general, can be really costly for the environment. For those of us who want to get into sublimation printing but are wary about the ecological pitfalls that come with that process, the Epson EcoTank ET-15000 is another fantastic option. Like most Epson printers, this one does also have to be converted to sublimation printing. However, similarly to the WorkForce printer, there are plenty of tutorials available online for conversion. The ET-15000 ranges in price from used at $675 to new at $745 as listed on Amazon.
One of the real highlights of this printer is that it uses something called PrecisionCore Technology that's heat-free and much better for the environment. Like many of its fellow EcoTank siblings, the ET-15000 offers cartridge-free printing. This also lowers overall power consumption, which can save you up to 90% of your typical sublimation ink consumption depending on your needs. And yet, the PrecisionCore Technology also creates excellent image detail and output. The EcoTank also has a relatively small footprint, making it ideal for home use as well. The EcoTank also has rather large refillable ink tanks, joining the ranks of several other Epson printers in feeling like they have nearly "unlimited" printer ink. 
Sawgrass Virtuoso SG1000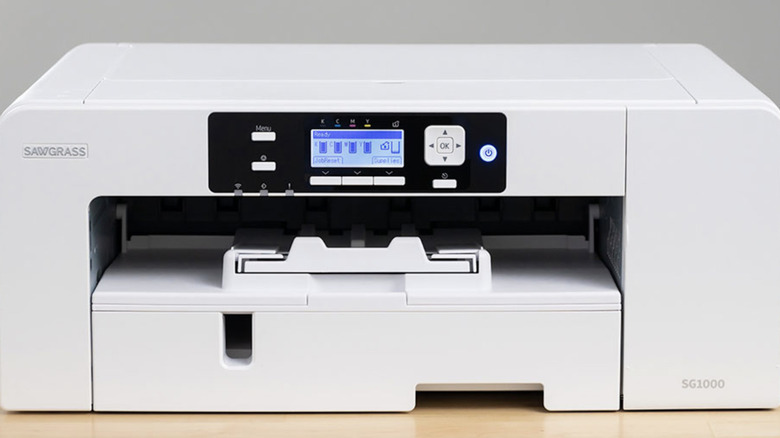 Sawgrass
If you're willing to spend a little more money and are perhaps wary of converting your printer for sublimation purposes, this next one might be the ideal choice. Frankly, some of us want something that's a bit more turnkey and don't want to have to worry about sourcing ink kits or conversion. The Sawgrass Virtuoso SG1000 can be purchased with a complete set of Sawgrass Sublijet-UHD Ink Cartridges and Sublimation Paper. You can even get completely complimentary one-on-one onboarding if you're a bit nervous about the setup process. The Virtuoso is ideal for small businesses looking to grow and can print media up to 11 x 17 inches with the standard tray. It's perfect for apparel and other small or medium-sized products.
Like most of the Sawgrass printers, this one also has a self-maintenance mode, continuing with the trend of Sawgrass printers being highly manageable from a technical perspective. A new and improved function of this printer also includes a highly increased print resolution of 4800 x 1200 dpi as compared to its previous model, meaning images will have undeniable clarity. The Virtuoso is also print compatible with a variety of polymer-coated hard substrates like ceramic or metal, solidifying its reputation for versatility. With a standard installation kit, the SG1000 can be found online, sold by the brand on Amazon for $1,710.
Epson SureColor F570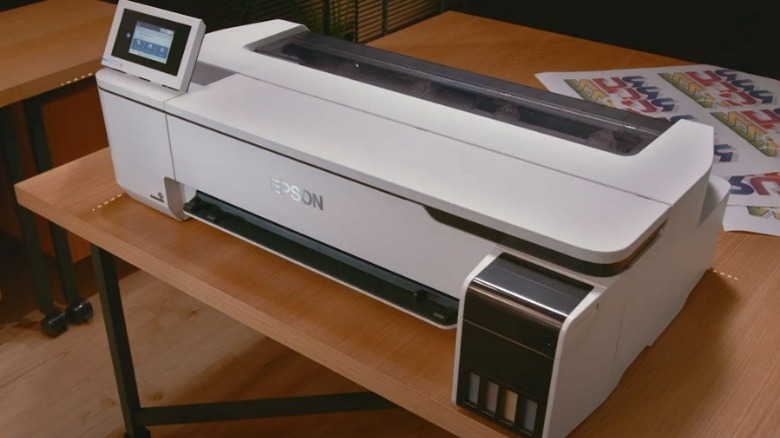 Epson
The Epson SureColor is another similar option that is definitely more expensive, but even more turnkey-ready from the get-go. For many of us, dealing with printer-related computer crashes or other technical issues is enough stress without having to worry about conversion. Luckily, this printer does not have to be converted to sublimation printing. This model also has incredibly high-capacity ink bottles that need to be replaced far less than most other printers. Additionally, though its footprint is a bit wider than some of the other printers on this list, it is still relatively sleek given its capabilities and can sit on a larger desktop.
One of the standout features of this printer is that it can accommodate sheets that are 24 inches wide, and comes with a built-in cutter for when your sublimation skills eventually level up. The Epson SureColor also comes with some great supplementary software including Epson Edge Print Pro software with Adobe PS3 and PDF Print Engines. This software can help tremendously when it comes to making your products look as professional as possible. Additionally, the SureColor is compatible with specialized transfer paper for both rigid and soft media. One final thing that's relatively singular about this printer is its great user interface. The SureColor has a 4.3-inch LCD color touchscreen that makes interacting with the model really streamlined and simple. Though it has been discontinued, the printer can typically be found for sale for roughly $2,500, as can its successor at $2,895. 
Brother MFC-J995DW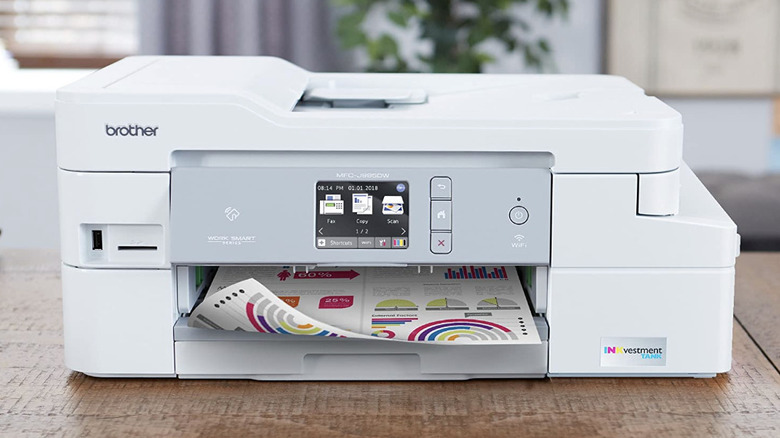 Brother
When it comes to sublimation printing, there's definitely a trend regarding price-point and turnkey sensibilities. The more middle-priced printers, on occasion, need to be converted or updated to suit the user's needs, while the more high-cost options tend to be more turnkey. Back in the middle of the pack, another excellent option for sublimation is the Brother MFC-J995DW. Once again, the ultimate downside of this printer is that it has to be converted to sublimation printing. However, given its price point at $589.99 from Brother on Amazon, its max resolution is high (1200x600 dpi) and is very well-suited to someone who only takes on smaller sublimation projects.
The one great highlight of this model is its brand-name Inkvestment Ink Cartridges, which allow for a hefty amount of ink storage and cut back dramatically on the need to be constantly refilling the printer. This is relatively unique to Brother printers and makes it a standout on this list. However, one downside is that the overall output of the printer is relatively low on a monthly scale. Roughly speaking, the Brother MFC-J995DW has a 300-page per month output. Again though, given its price point, this could be a great option for smaller makers or people who employ sublimation as a hobby.
Epson SureColor F170 Dye-Sublimation Printer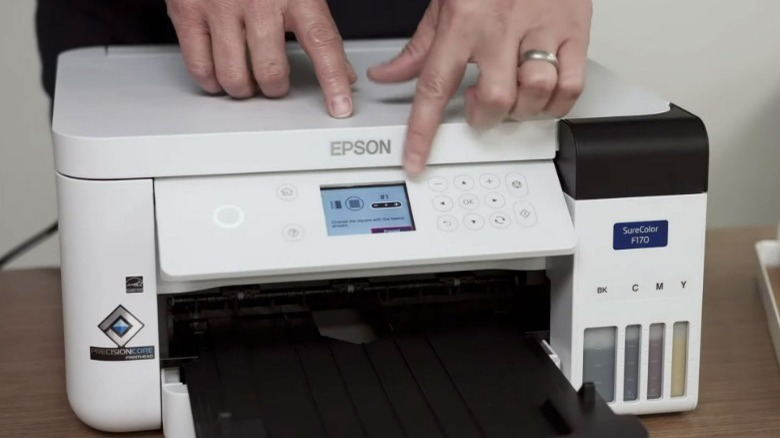 Epson
So far, most of the printers on this list have either been in the higher price range, or need some additional work to get them ready for sublimation printing. However, this is one of the only models on this list that is, essentially, turnkey ready and cost-effective. The Epson SureColor F170 Dye-Sublimation printer has one of the lowest price points out there at $399.99 as sold by Epson itself and does not need to be converted for sublimation. This printer is also extremely compact (13.7 x 13.7 x 7.4 inches) and definitely can fit on almost any desktop space. It also has a great maximum print resolution of 1200x600 dpi.
The primary downside of this printer is its output capabilities. Again, given its price point, the Epson SureColor F170 is definitely more suited to customized gifts or home projects than small businesses. The F170 has a 150-sheet auto-feed tray and a maximum paper width of 8.5 inches, meaning the types of projects you pursue with this model may be relatively limited in terms of size and scope. However, if your goal with sublimation printing is primarily focused on personalizing items or home crafting, the F170 is really an excellent option for beginners that's also one of the more cost-effective options on the market.
Epson ET-2720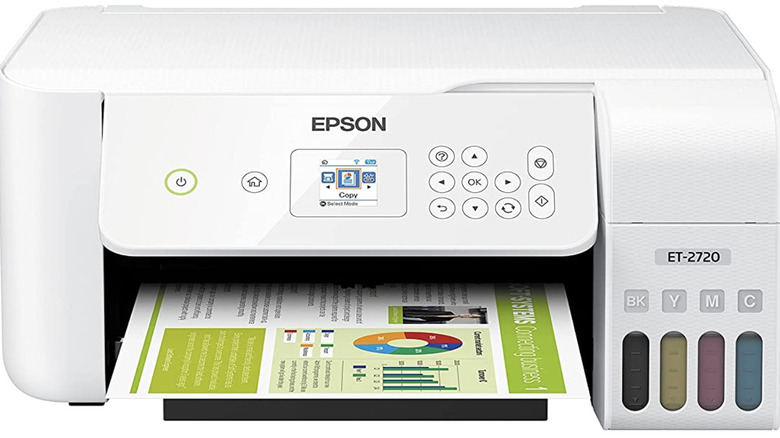 Epson
For those of us who think they might be up to the task of sublimation conversion, but definitely need a bit more hand-holding, the Epson ET-2720 might be one of the better options out there. This printer is relatively cost-effective at $289 as sold through Amazon. But, again, does have to be converted in order to be used for sublimation projects. However, there are some really great YouTube tutorials online that are under 10 minutes long. Undeniably, this one is relatively easy to convert as compared to some of the options out there.
Some of the other great aspects of the ET-2720 include cartridge-free printing, fantastic wireless printing capabilities, and even voice-activated printing. This also boils down to this model being a really cost-effective option that can also double as a home printer. Since the ET-2720 is also another model that has a relatively small, desktop-compatible footprint, some of the printing capabilities are a bit limited. Its print page output size is 8.5 x 11 inches, so this one is really primarily suited for smaller projects. Additionally, it has a rather small paper tray that holds just 100 sheets. The overall monthly output of this printer is also relatively low compared to some of the other options on this list, meaning this might not be ideal for beginners looking to expand a small business operation.
HP Envy Photo 7855 (with conversion)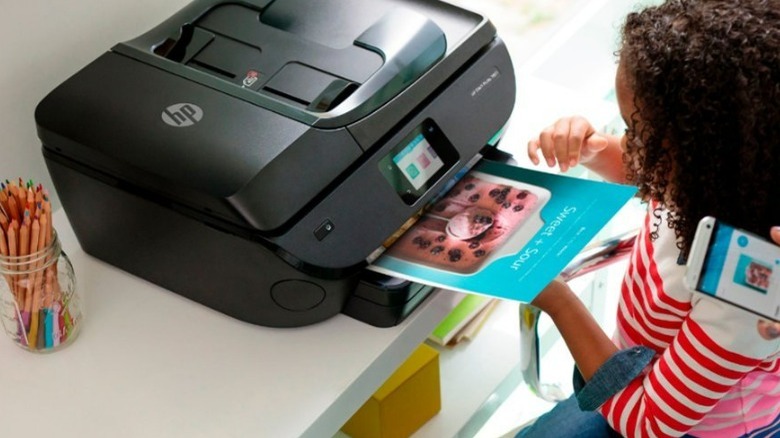 HP
The next printer on this list has the overall lowest price-point but definitely requires some craftiness on behalf of the user. The HP Envy Photo 7855 is an incredibly compact printer that can often be found online at $169 via stores using Amazon. This model does have to be converted for sublimation printing. However, the interesting thing about the HP Envy Photo 7855 is that this is one of the only printers out there that does have to be converted but comes with specific instructions from the manufacturer. HP has a tutorial online that guides users through how to convert and prepare this printer for iron-on heat transfers on objects like T-shirts. Additionally, this printer has one of the lowest cost-per-page outputs around, with each page costing roughly 5 cents.
There are some downsides to this low-cost option, however. The printer does only accept HP 64 ink cartridges, so you are rather limited when it comes to the type of ink you can use. Additionally, the printer is really only ideal for certain types of sublimation (like for use on T-shirts) and doesn't have a great variety when it comes to the types of projects you can tackle. Again, this is one of those models that's probably ideal for someone just starting to dip their toe into sublimation and primarily interested in the craft for personal use. 
Epson WorkForce WF-7710 (with conversion)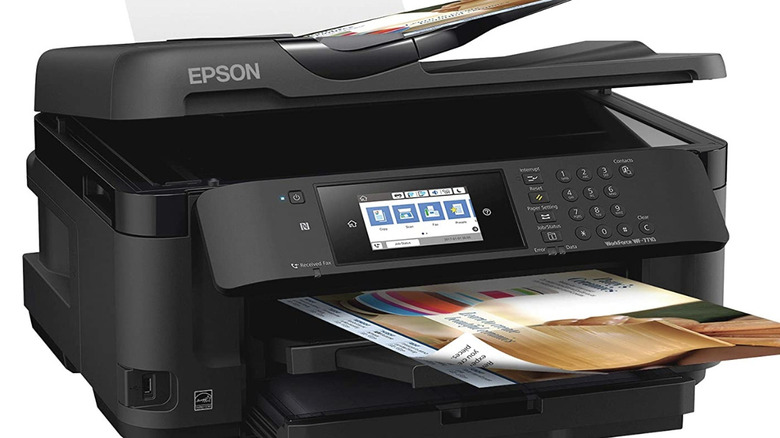 Epson
Lastly, we have one final Epson model that may require a bit of craftiness but has some fantastic functionality overall for sublimation printing. The Epson WorkForce WF-7710 can be converted to sublimation with ease, and there are actually certain sites that offer sublimation conversion kits that are designed specifically for the 7710 model. Compared to the 7720 model, this printer has slightly fewer bells and whistles, but still a great amount of functionality overall.
The Epson WorkForce WF-7710 has one paper tray and a 250-sheet capacity. However, the 7710 also has a rear feed ideal for specialty paper. Similarly to the 7720, this printer also has a wide print margin and can handle prints up to 13 x 19 inches, making this option ideal for someone who deals with specialty projects. This model is also highly energy-efficient and is powered by the same PrecisionCore heat-free technology that generates both excellent image resolution and detail. While at full price, the 7710 costs $1,165 sold by Epson through Amazon, oftentimes, you can also find this printer used for a much cheaper price point than some of the other options on this list, given that the original model is discontinued.
Which Sublimation Printer is Best For You?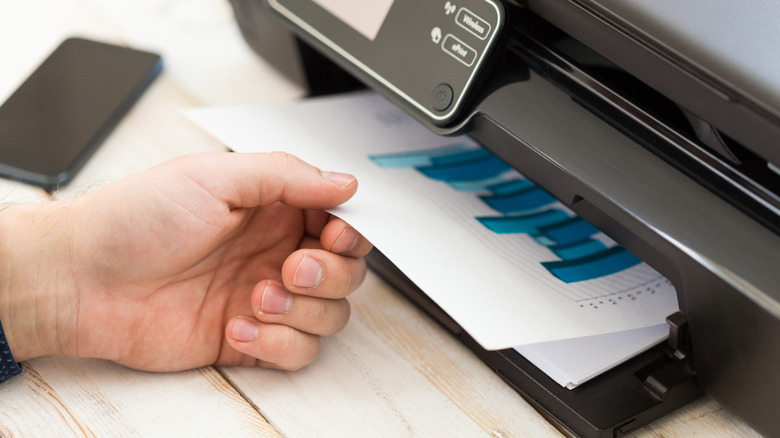 Fabrikacr/Getty Images
There can be a lot of different reasons why someone begins to get interested in sublimation printing. Ultimately, the best sublimation printer will always depend on project needs, ease of use, overall output, and cost. However, there are a couple of options on the above list that tend to sit at the intersection of all these concerns. And ultimately, these options are really the best for beginners, which is perhaps the most important concern worth highlighting.
Overall, the Epson SureColor F170 is likely the most ideal option for most beginners out there. While its project output can be limiting based on print size and more, this Epson model is ultimately one of the most cost-effective options out there, does not need to be converted, and works great for a decent variety of products. Additionally, the Sawgrass SG500 Sublimation Printer is also relatively cost-effective and comes turnkey ready. For the higher price point, you also get a decent upgrade in terms of print capabilities, both in terms of image quality and print size. Furthermore, the SG500 also boasts a lot of product variety in terms of the types of items you can create, making it ideal for small businesses.