Epson EcoTank printer changes everything, ditches ink cartridges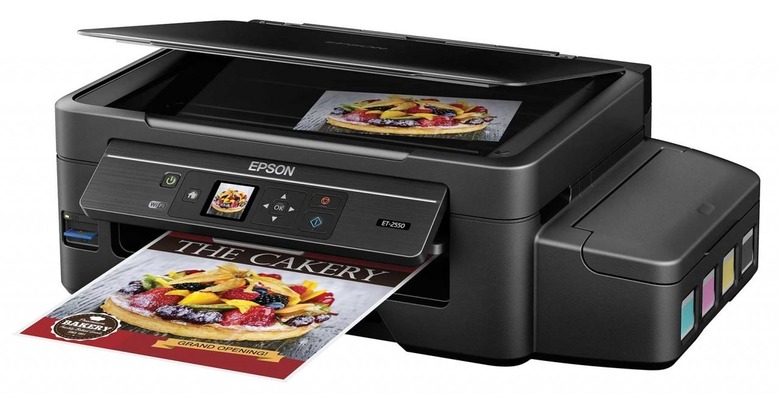 Whether you buy an expensive printer or a cheap printer, those ink cartridges are going to run out sooner than you'd like and replacing them will — in some cases — cost as much as the printer itself. Though we haven't be able to completely do away with printers yet, the need for them has decreased greatly enough that many people, faced with the high cost of ink, elect to run to the nearest library when they do need to print something. Only a shift in how printers work could potentially change this, and it looks like Epson is the one to bring about that change.
Today Epson introduced a new batch of printers called Epson EcoTank. There are five models total in the EcoTank lineup so far, each tailored toward a different type of user, but each with the same unique feature: large ink reservoirs rather than small ink cartridges. Epson says these are "Supertank" sized, and they come pre-loaded with ink.
Depending on how frequently you print, the Supersize ink reservoir could last for up to two years before needing refilled. This has several benefits: the overall cost is reduced, the ink doesn't have to be replaced as frequently, and there's less total waste over the years of ownership. Depending on the model you choose, an EcoTank's reservoirs are equivalent to about 20 ink cartridges.
When it does come time to refill the printer, a bottle of ink will start at $12.99 USD, which is in many cases cheaper than an equivalent ink cartridge.
The four printers are as follows:
- WorkForce Pro WF-R4640 EcoTank All-in-One for small businesses ($1,199 USD)

- WorkForce ET-4550 EcoTank All-in-One for home offices ($499 USD)

- WorkForce ET-4500 EcoTank All-in-One for home offices ($429 USD)

- Expression ET-2550 EcoTank All-in-One for home use ($399 USD)

- Express ET-2500 EcoTank All-in-One for home use ($379 USD)
All models launch next month.