10 Reasons The BMW E30 Was Such An Awesome Car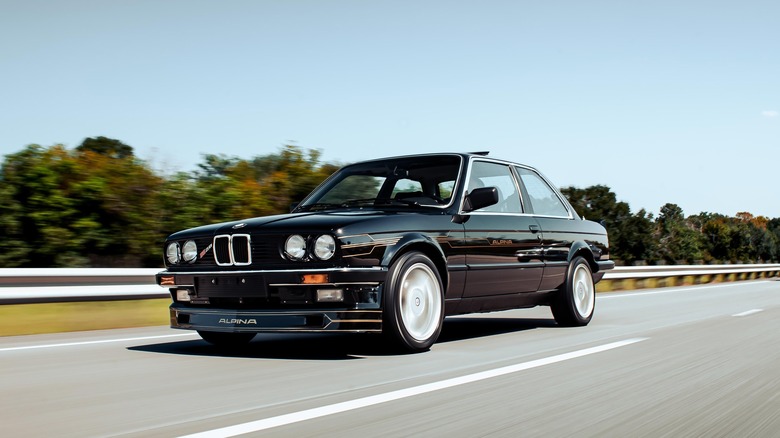 Jarlat Maletych/Shutterstock
Many enthusiasts believe the E30 to be one of the greatest BMWs ever built. That's quite a compliment, as it concerns one of Europe's top marques that was founded in 1917 and has produced such lauded models as the M2, M3, and X5. With a 12-year production run between 1982 and 1994, this compact executive car inspired drivers thanks to its superb handling and high-revving inline-six engine.
As the second generation of the BMW 3-Series after the E21, the E30 dispensed with some of the curves and the shark-nosed grille of its predecessor and went with a more angular, sleeker profile that was more befitting of a performance coupe, using computer-assisted design and wind tunnel testing in its creation. The result stayed true to its original design principles despite its many different iterations, which included multiple engine configurations, racing homologation cars, and four-door saloon, convertible, and sedan versions.
To understand what all the fuss is about, you'd have to sit behind the wheel and work through the manual gearbox as you accelerate through straights and manage corners effortlessly, taking advantage of its stiff chassis, light back end, and low curb weight that made the little car easy to handle and a joy to drive. Incredibly, this generation of the 3-Series almost single-handedly instated BMW as the leading luxury car brand in the American market when up against stiff competition from European rival Mercedes. Here we look at ten reasons why the E30 remains BMW's most successful touring race car.
1. It is highly collectible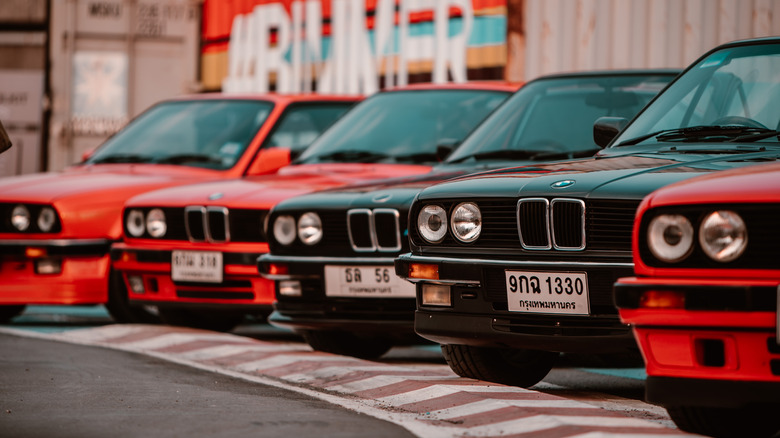 Chawapon Wongchuen/Shutterstock
The BMW E30 has become something of a legend among car collectors as a practical and stylish classic that lives up to its hype. In its day, however, there was a stigma around BMWs as the ultimate "yuppie car" — often the choice of elite young professionals. History forgot this societal stereotype. BMW and the E30, in particular, are taken at face value for their many qualities. While over 2.3 million E30s were produced, not many remain in good condition, with some rarer models fetching astronomical prices. Even in today's market, a well-looked-after E30 fetches an average of $30,000, with the M3 version, of which only 786 units were produced, going for around $76,000.
Another reason that the E30 is collectible is that it was highly popular with tuners and enthusiasts, meaning that the aftermarket community produced a variety of customization options, including cosmetic modifications and performance upgrades. As a result, collectors can find unique and personalized models that fetch good prices at auction.
More than anything else, it is the historical significance of the E30 that inspires collectors. It was BMW's most long-standing product line that was the first to use the M3 badge, which was attributed to the brand's high-performance vehicles, and it had iconic status due to its history as an aspirational road car that was highly successful on the racing circuit.
2. It had fantastic build quality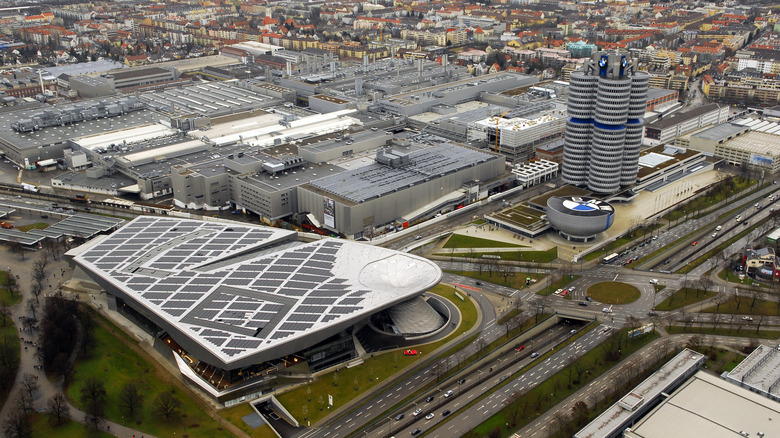 StefanoM88/Shutterstock
Even as far back as 1982, the then-West German brand was seen as a leader among automobile brands that was known for its high standards of engineering and manufacturing processes. The E30 was constructed using high-quality materials and precision assembly techniques in both its Munich and South African plants resulting in a car that is known for its durability and longevity.
The designers at BMW always intended this to be a driver's car. They paid close attention to certain design elements of the E30, like the suspension, brakes, and steering, meaning that it maintained longevity as a fun and practical machine, even when compared to modern vehicles. It also had an excellent overall fit and finish, making the E30 experience enjoyable for both driver and passenger.
At the time of the E30's conception, BMW was known for its rigorous quality control methods. Its testing and inspection processes verged on the obsessive, which stood its products in good stead, sealing the E30s reputation as a well-built and reliable car that could go the distance, as has been proven with some lasting well over 30 years.
3. It performed very well, indeed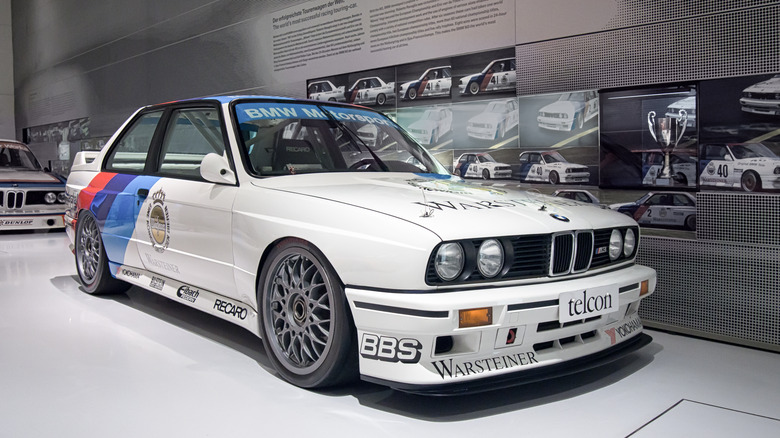 Roman Belogorodov/Shutterstock
By today's standards, the E30 wouldn't stand up well next to its modern equivalent 3-Series. But it had some of the best driving dynamics and handling for its time including excellent balance and precision, and its stiff chassis and light back end meant that it responded well to being thrown around, provided you knew what you were doing, as the 89-horsepower engine was punchy, even on the standard model.
Things got even more exciting with the introduction of the powerful M3 variant in 1986. This racing-tuned model was intended for use on the track, where it enjoyed considerable success and won many accolades. Its engine was switched from an inline-six to an inline-four-cylinder engine with a 2.3-liter capacity, which delivered an impressive 238 brake horsepower and propelled the car to 146 miles per hour.
The E30 is widely accepted to be one of the best-performing cars of its era. With its almost perfect weight distribution, finely-tuned suspension, and rear-wheel-drive setup, it handled well on turns. Meanwhile, its various engine models all performed well within their class, and it was known to brake well, making this compact car a comprehensive package and an excellent all-rounder.
4. It had great engines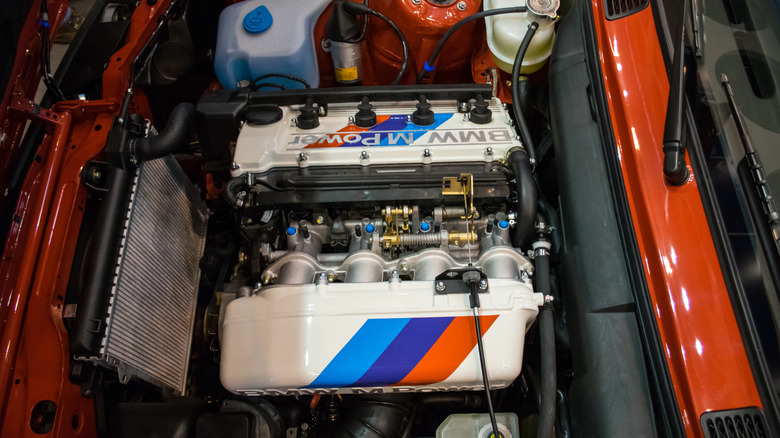 Agitator/Shutterstock
The BMW E30 had several options when it came to engines. These include the aforementioned four- and six-cylinder variants, with several different engine capacities and power outputs. There was practically an E30 for every occasion, whether you liked a cabriolet, tourer, sedan, or sports car, and most came with a different engine configuration.
The naturally-aspirated inline-6 engine of the E30 was a powerhouse. While it wasn't nearly as gutsy as the S14, inline-four engine in the special homologation M3, it packed plenty of punch, nonetheless. However, when you reached the upper echelons of the E30 M3, you were greeted with a racing-tuned, high-revving beast with exceptional power delivery that was responsible for this model becoming one of the most successful touring cars ever to grace the race track.
Other notable engines included the six-cylinder M20 engine and the four-cylinder M10 and M42, which came in several different displacements. On balance, the E30's engines provided power when you needed it, plus reliability and efficiency over time, making the car a popular choice among the roadgoing public and car critics alike.
5. It was a real looker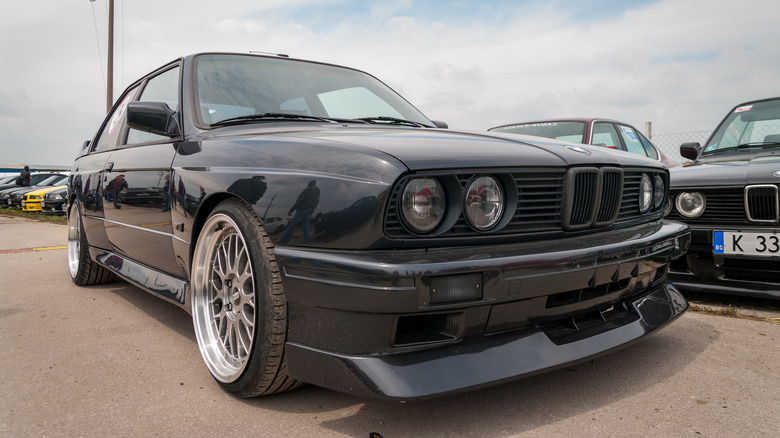 ivantdimov/Shutterstock
While the wedge-shaped cars of the 1980s appear dated over forty years later, the E30 is still admired for its looks. Along with its convertible and Sedan versions, it had many of the pleasing aesthetic characteristics that BMW 3-Series cars retain today, including the double-fronted grille, cutaway rear windows, gently-sloping rear, and twin headlamps on either side. It is easy to see the evolution of the 3-Series when looking at the E30, as this successful design was the box-spring that launched all subsequent models (its successor, the E36, wouldn't appear until 1990 and was groundbreaking in its own right).
The E30 provided the perfect transition between the boxy cars of the 1970s and the more streamlined, aerodynamic cars of the 1990s. It had a long, low hood and a compact trunk to the rear, which made it look sporty, along with its lowered side profile. Yet its proportions were just right, making the car seem at once practical and competitive, flashy but not ridiculous. You could take it touring on vacation or show it off around town.
Of course, appearances are subjective, but the fact that the E30 ticked all the boxes without appearing overly dramatic was a real benefit (not counting the heavily-modified E30 cars that would spring up over the years). It could be seen as both classic and modern in retrospect, which undoubtedly added to its universal appeal.
6. It consistently beat its rivals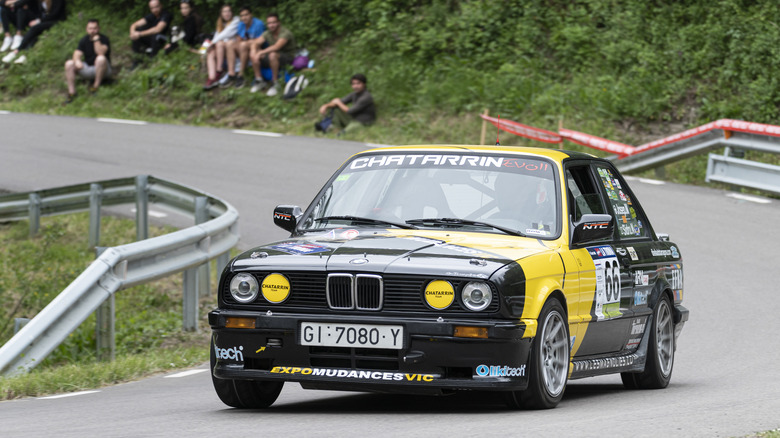 Wirestock Creators/Shutterstock
The E30 went head-to-head with rival Mercedes in the German Touring Car Masters (DTM), where roadgoing vehicles are converted to race cars. The result was the E30 M3, which became a dominant force in motorsport, especially in touring car competitions, where it excelled in the European Championship, winning in three successive years from 1987 to 1989, and also winning the Australian Touring Car Championship in 1987 and 1988
In rally competition, the E30 M3 shone in the Group A category. BMW entered a factory-backed team in the World Rally Championship (WRC) of 1987, winning the Tour de Corse in France that year.
In addition to its successful racing career, the E30 was selling well in the showroom in competition with rivals Mercedes, as BMW dominated the luxury compact car market. Its popularity can be attributed not only to its racing pedigree, elegant styling, and solid build quality but also to the fact that it was available in different models to suit an individual's needs. These included the 318i, 325i, and M3 versions, which had varying levels of sportiness versus luxury, and of course, the convertible and touring classes.
7. It was seen as a premium car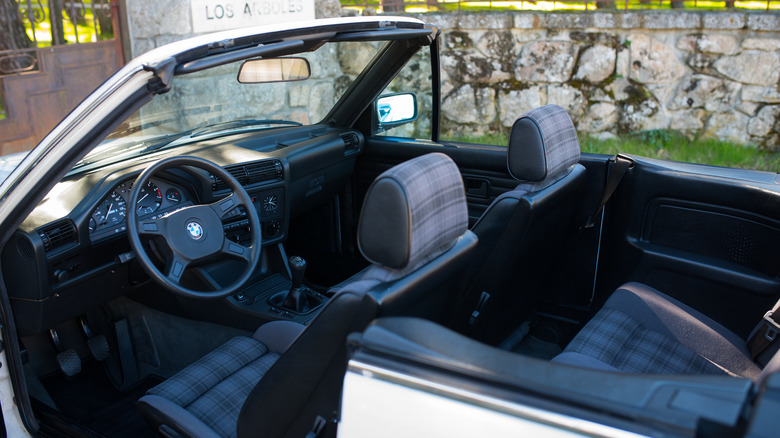 FernandoV/Shutterstock
The E30 was an aspirational car in its day and was positioned as a high-end model within BMW's lineup. All of its variants were designed to offer a combination of sporty performance, luxurious comfort, and advanced technology in varying degrees.
As mentioned previously, the E30 was known for its excellent build quality and refined driving dynamics, but it also had many advanced features, such as ABS brakes, air conditioning, and power windows, which were not commonly found on other cars of its time. It also had a reputation for being a reliable and durable car, which added to its premium appeal.
Great luxury almost always carries a great price tag, and the E30 was more expensive than many of its competitors, such as the Ford Mustang, Chevrolet Camaro, and Volkswagen Golf, which further positioned it as a premium car. The top-of-the-line E30 models, such as the M3, were especially sought-after (and remain so to this day) and came with a price that reflected their high performance and luxury features.
8. It had racing in its blood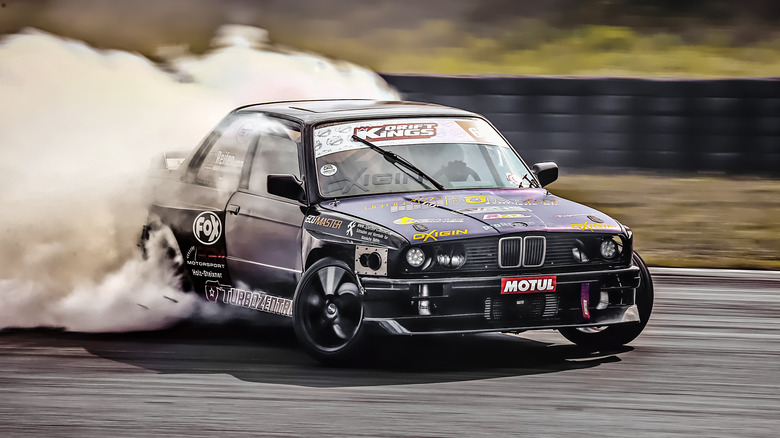 Michele Morrone/Shutterstock
While the E30 was a great daily driver, it was also BMW's most successful car in competition. It was such a natural racer that in the U.S., the National Auto Sport Association created the Spec E30 to encourage low-cost competition among modified production cars. Yet, it was when competing with other brands that it really excelled.
In touring car racing, the BMW E30 had great success in the European Touring Car Championship (ETCC) and the World Touring Car Championship (WTCC), helping to establish BMW's reputation as a manufacturer of high-performance cars. The E30 was also successful in rallying and was a popular choice for amateur and privateer rally teams. The E30 was a popular choice for club racing and track day events thanks to its agile handling, strong engine performance, and easy availability of parts and aftermarket upgrades. Additionally, they were commonly seen in various amateur racing series, including SCCA Club Racing, BMW Club Racing, and time attack events and drifting.
The BMW E30's racing success is a testament to its solid build quality, excellent handling, and firm performance characteristics. It is truly a sum of its parts, carefully crafted in BMW's Munich, Bavaria plant, with great attention to every detail. The high-end BMWs we know today owe a lot to the E30 and its development, as it came at a time of significant technological advancement for the car industry as a whole and for BMW in particular.
9. Many versions were produced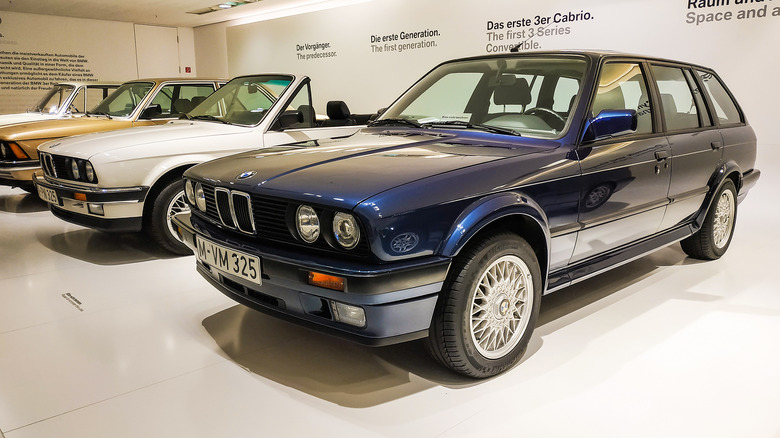 Nykonchuk Oleksii/Shutterstock
The E30 was released in inline-four and inline-six versions with various engine capacities. In chronological order came the 316 and 318, produced from 1982-1991; the 320, from 1982-1991; the 325, from 1985-1991; and the M3 and 325ix, from 1986-1991. Additionally, some regional variations were introduced for specific international markets based on these models, such as the 320is, which was produced to circumvent Italian and Portuguese taxes on large engine capacities.
There were also a few different body styles created for the E30. The four-door Sedan expanded upon the regular two-door E30 model as a practical daily driver that could comfortably seat five people, whereas the five-door wagon had a family-friendly large hatch and significantly increased storage potential. The convertible was both luxurious and effortlessly cool. While all these cars were markedly different from the original two-door compact saloon, they retained the E30s trademark good looks and performance characteristics, helping to extend the E30s production run by appealing to a much broader section of the car-buying public.
Engine power for the E30 varied between 90 horsepower for the original 316 to 238 horsepower for the M3 Sport Evolution model, which was one of the last E30s to be created, with many variations in between to suit the more than 40 different models produced over the course of the E30s long and successful production run.
10. It was never equaled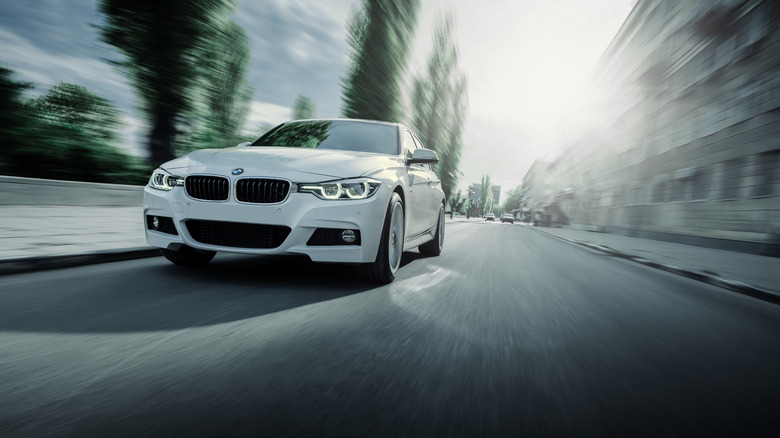 Ivan Kurmyshov/Shutterstock
BMW never reached the same universal acclaim with the 3-Series as it did with the E-30, although the E36, E46, E90-92, and F30 were also produced in high-performance models and versions to suit different practical applications. The E36 328i took the rather boxy lines of the E30 and molded a sleeker, curvier model that was a popular compact executive saloon with trendsetting aesthetics. It had a 2.8-liter inline-six engine that produced 190 horsepower and, like its predecessor, was known for its excellent handling and performance. The E46 M3 was produced between 2000 and 2006 and sold almost 86,000 units. As an update of the previous-generation E36 M3, this was a high-performance version of the E46 platform. It had a 343 horsepower, 3.2-liter inline-six engine and could go from 0-60 in just over five seconds. 
Sticking to the 3-Series' winning formula, the F30 340i had a relatively short production run between 2015 and 2018. It featured a turbocharged 3.0-liter inline-six engine that produced a whopping 326 horsepower and went from 0-60 in 4.8 seconds. 
Far from simply being an aspirational, luxury car that catered to the emerging nouveau riche of the 1980s, the E30 enjoyed a long-lasting career in competition. This was a car that looked equally at home while parked on a suburban forecourt as it did in a racing paddock or outside a millionaire's mansion. It is remembered as a practical, stylish, functional car with excellent performance, that was also lots of fun to drive.