The Strange Honda Touring Bike That Looks Like It Was Built For Batman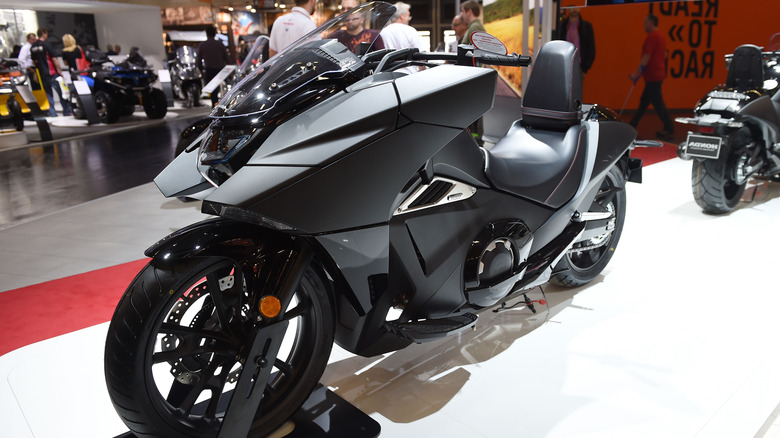 Marc Pfitzenreuter/Getty Images
Batman would probably not be into touring bikes. Cruising beautiful backroads aboard a comfortable, long-range machine, savoring speed, and taking in the sights sounds too chill for everyone's favorite bat-themed vigilante. His noted love for wonderful toys aside, when Batman breaks out a Bat-bike, it tends to be either a stripped-down streetfighter or a bizarre custom beast that could work nowhere but a special effects studio's drawing board.
If you squint a bit, however, you might see a bit of similarity between the Batcycle (yes, that's its official name) and an actual production motorbike.
Debuting in 2014, the Honda NM4 Vultus was a wild experiment of form and function. Per Canada Motor Guide, Honda said of the Vultus that its "outrageous anime appearance represents the vision of a young, skunkworks design team from deep within Honda R&D."
Sounds like a perfect match for the Bat-motorpool. As for how the Vultus did in the real world, read on.
The dark bike returns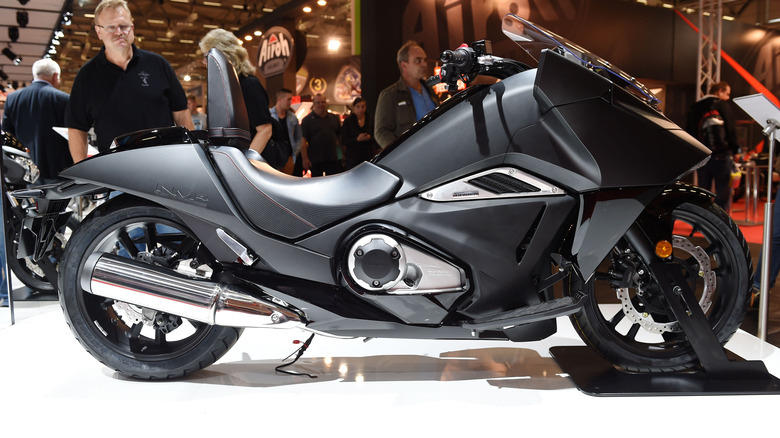 Marc Pfitzenreuter/Getty Images
Making its first appearance as a concept at the 2014 Osaka Motor Show, the Honda Vultus NM4 entered production that year and is still available. As Cycle World reports, the Vultus is fundamentally a redesign of the aesthetics of one of Honda's best recent rides, the NC750. Per a review at the same publication, the NC750 was an excellent all-rounder, a small, efficient bike that could still handle touring tasks thanks to high fuel efficiency and extensive storage.
Ironically, its NM4 Vultus cousin looked more like a tourer and, according to many reports, performed worse at the actual things touring riders want. Swathed in black plastic, the Vultus gave up significant cargo room and made other quality-of-life concessions. To quote reviewer Phil West at Motorcycle News, "the front storage compartments are gimmicky and too small, as is the tank, and the mirrors are slightly too wide for comfortable traffic splitting." West also rightly points out that the Vultus comes in more than $2,000 more expensive than a stock NC750, which is a serious chunk of change for what is basically some extra plastic.
Still, motorcycles are toys for big kids — looks matter. West and others note that the Vultus retains the quick pickup and satisfying ride experience of the NC750, with bags of style that turn heads as quickly as the bike turns corners.
Besides, Bruce Wayne has money. Maybe he can pick up a Vultus or ten to keep demand high.