YouTube Is Testing An Enhanced 1080p Mode For Premium Subscribers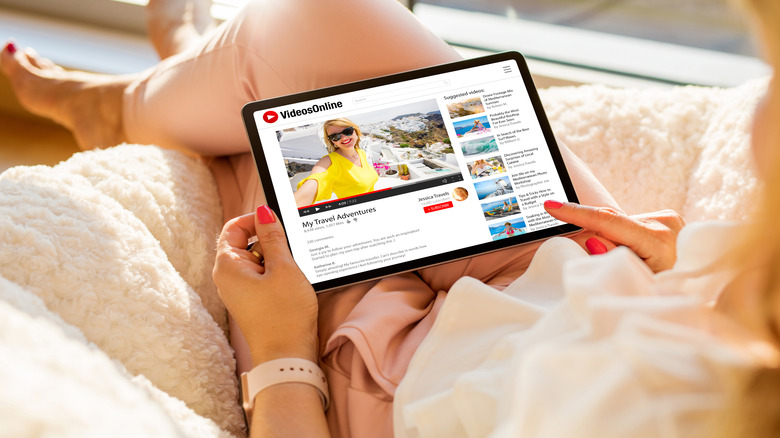 Kaspars Grinvalds/Shutterstock
YouTube is planning on bringing a premium 1080p streaming experience to its YouTube Premium subscribers. YouTube obviously already offers 1080p resolution viewing, and has been for some time. The current 1080p service is unaffected, with the company playing down suggestions from some Reddit users that the free version will be "nerfed" to make the upcoming paid "Premium" 1080p more appealing. 
Speaking to The Verge, YouTube spokesperson Paul Pennington said, "1080p Premium is an enhanced bitrate version of 1080p which provides more information per pixel that results in a higher quality viewing experience. There are no changes to the existing quality offerings for 1080p (HD) resolution on YouTube." A bit of concern is also understandable, as YouTube has previously pushed users towards lower bitrate streaming.
Currently, it could be argued that YouTube Premium doesn't offer much for the money. Your YouTube experience will be ad-free and can play in the background on a phone or tablet, even if another app is being used. You can also download videos and watch them offline. YouTube Music is also bundled into the package, which brings some value to the $11.99 price tag. 
Even if you're currently a YouTube Premium subscriber, you're unlikely to have noticed anything different as things stand. The trial is only available to a very small number of subscribers. But if the feature tests well, it's likely to make a big difference to how premium subscribers view the platform.
What's special about YouTube's premium version of 1080p?
Things like 1080p and 4K refer to a video's resolution — specifically the number of pixels you can expect to find on screen. Obviously, the more pixels you have, the sharper an image will be. But that's not the whole story, the bitrate also has an effect on the quality of an image. Bitrate refers to how much data is being transferred per second, and a 1080p video with a high bitrate can even end up looking better than a low bitrate 4K video.
The standard bitrate for 1080p YouTube videos comes in at less than 10 Mbps, while a screenshot from a Reddit user suggests that the new premium version is coming in at around 13 Mbps. That said, the bitrate for YouTube videos does vary anyway, and the speed you get relies on various factors. 
It's currently unknown what the exact parameters are, and how much of a difference they will actually make. It's also fair to assume they will change during the testing process, so we'll likely have to wait for a full release and an official announcement before the whole picture becomes apparent.