Here's Why The DeltaWing Coupe May Be One Of The Ugliest Racecars Ever Made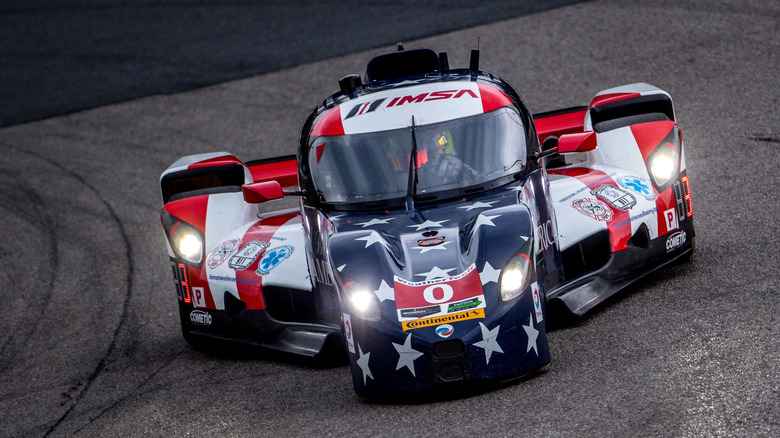 Brian Cleary/Getty Images
There's a reason why legendary aircraft like the Concorde and the Space Shuttle have delta wing designs. According to the U.S. Centennial of Flight Commission, those triangular-shaped wings are more efficient in high-speed flight. It's also the reasoning behind the DeltaWing racing car, an exclusive member of the most unusual oddities ever to hit professional racetracks. 
Born in the eclectic mind of car designer Ben Bowlby, the first DeltaWing concept appeared at the 2010 Chicago Auto Show. The DeltaWing was supposed to be the next-gen IndyCar, but fate had other plans.
The DeltaWing caught the fancy of American Le Mans Series head honcho Don Panoz, who successfully pitched the car for the 24 Hours of Le Mans. The car made its professional racing debut in 2012 at Le Mans with some help from Nissan, Michelin, and All-American Racers (AAR), but didn't finish after getting knocked off the track by a Toyota. Still, Road & Track said the DeltaWing blew away the crowd at Le Mans for its otherworldly styling.
Beauty is in the eye of the beholder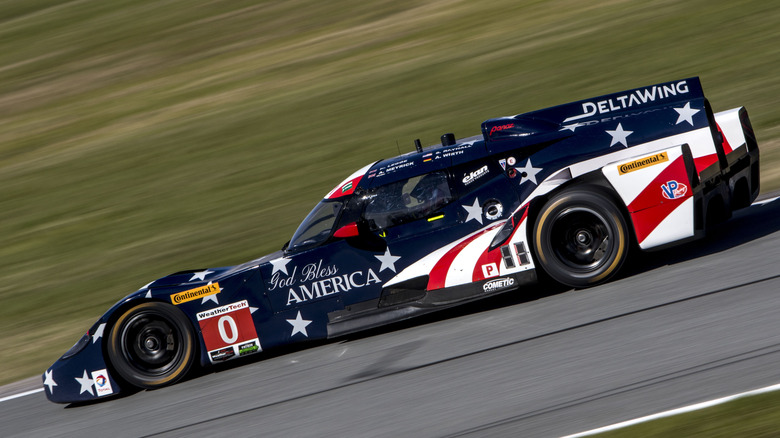 Brian Cleary/Getty Images
The spectators at Le Mans were crushing on the DeltaWing primarily for its space-age design. It's like a Concorde's wing, but has two wheels in the front and wider-set rollers in the rear. We've seen weird race cars like the Ferrari 250 Breadvan and the six-wheel Tyrell P34, but none are like the DeltaWing. Despite its unusual design, the DeltaWing promises to offer a breathtaking pace, while consuming half the fuel with only half the power. It has a 300-horsepower, 1.6-liter turbocharged four-cylinder engine, and the entire car tips the scales at just over 1,000 pounds.
Even though the spectators at Le Mans were initially fascinated with the original roofless DeltaWing, the love affair was short-lived when the car grew a roof to comply with changing regulations. The change was revolting enough for Goodwood to nominate it as one of the seven ugliest racecars the world has ever seen. Moreover, gaining an aerodynamic front splitter made it look more unfavorable to the eye despite its striking livery.
The short-lived DeltaWing Coupe may be the ugliest, but it's one of the most innovative and forward-thinking designs to grace a racetrack. According to Automoblog, DeltaWing coupe #001 went on sale in 2017 for about $375,000. The other surviving member (DeltaWing chassis #003) is now at the Panoz Museum Collection. Meanwhile, DeltaWing #002 was totaled at the 2016 Daytona Rolex 24.