Vivo X90 Pro Review: Well-Balanced With A Few Quirks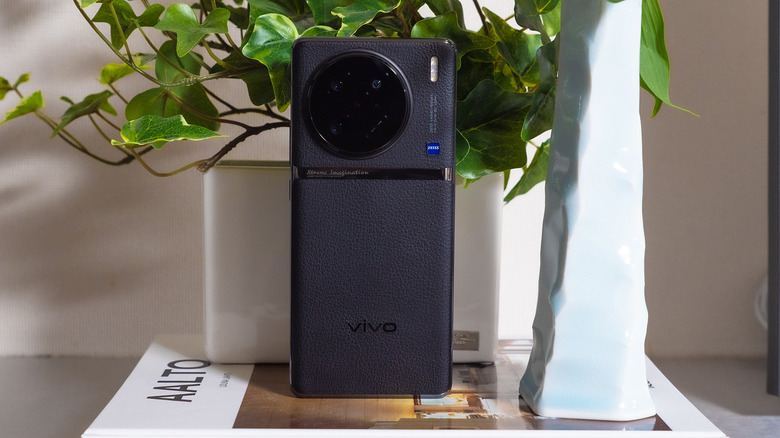 Ewdison Then/SlashGear
The smartphone market on the Android side of the fence is littered with so many names and models (outside of the U.S., anyway), that your average consumer can't make heads or tails of what to buy when the moment comes. Many offer nearly the same list of specs and features, some even looking like one another, sometimes betraying familial traits that cross company boundaries. Admittedly, brands have started to build up their own identity, whether it's through a distinctive design language or some core feature that persists through generations. Once in a while, you do come across something that stands out from the rest, either visually or through some prominent branding; and then there are all those labels and logos that want to send a message that these smartphones are backed by some even more famous brand.
The Vivo X90 Pro easily falls in that bucket, with a design that quickly grabs your attention, one way or another, at least when you turn it on its back. Whether you find it attractive or otherwise is up for debate, but it at least gets you thinking long enough to give it a closer look. Its spec sheet also looks like any other, with a few highlights that would give avid photographers of all skill levels pause for thought. But is it just a looker, or does it deliver on what all the labels promise? We give Vivo's newest global flagship a spin to see if it's all that it's cut out to be, especially when bearing a heavyweight name in the photography scene such as Carl ZEISS. 
Vivo provided us with a Vivo X90 Pro for the purpose of this review.
Design and Display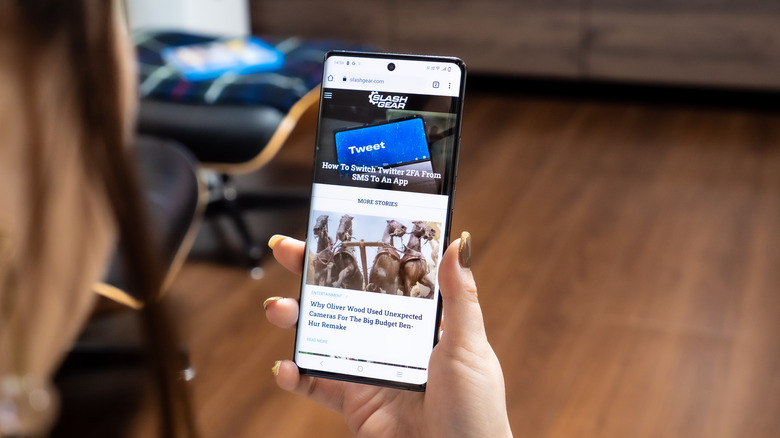 Ewdison Then/SlashGear
Like the Vivo X80 Pro before it, the X90 Pro comes with a large circular camera design that is admittedly no longer shocking by today's standards. You might think that such a large protrusion would make the phone wobble when placed on a desk, but the circle is thankfully wide enough to prevent that from happening.
Unlike the typical glass surfaces of most premium phones, Vivo opted to use vegan leather to cover the X90 Pro's back. There will be debates on whether it can really be considered "vegan" or, at the very least, sustainable, but there's really no argument that it gives the phone a more premium look and a textured surface for an easier hold. Even with the large circle taking up the upper third of the phone's back, this material alone would have elevated the Vivo X90 Pro to design perfection. Sadly, for some unfathomable reason, Vivo's designers opted to put a strip of metal across the width of the phone, just below that camera island. That strip serves no purpose other than another place to etch some branding, and it only serves to ruin the otherwise stylish look of the phone.
The 6.78-inch AMOLED display is as beautiful as you might expect, with its sides curving down to meet the phone's metal frame. Its colors are lush and vibrant, and though it isn't the brightest panel in the market, it serves its purpose well enough. The curved edges might feel like a holdover from a time when such design elements marked premium phones. These days, even the more expensive handsets go flat, so the Vivo X90 Pro looks a little dated in this regard.
Performance and Battery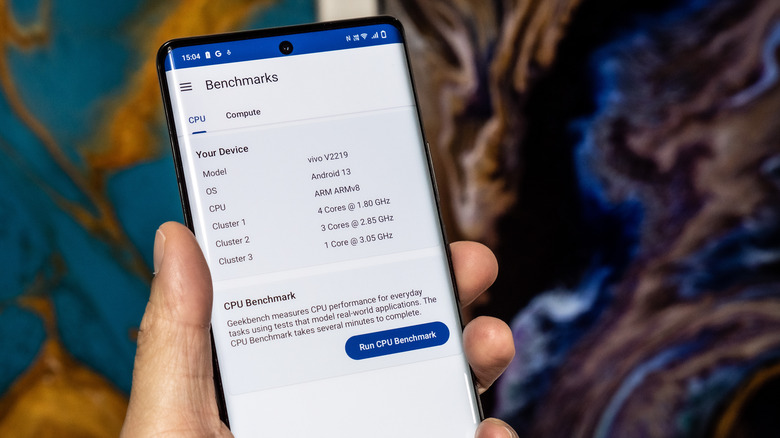 Ewdison Then/SlashGear
Vivo opted to use MediaTek's newest Dimensity 9200 5G chipset in its global flagship. The chip maker has come a long way and can almost stand head-to-head with Qualcomm's equivalent Snapdragons. While benchmark scores show it falling a little behind, the gaps are pretty marginal. In real-world testing, the Dimensity 9200 is capable of handling anything you throw at it, and the 12GB RAM on the review unit made sure that apps don't get killed too early and too often.
Combined with the colorful 120Hz screen, the X90 Pro makes quite the portable entertainment machine. The stereo speakers provide adequate volume and audio quality such that you won't feel the need to connect headphones except for privacy. The one caveat is that the display's 2800x1260 resolution means you can only enjoy native 1080p content, which is pretty much still the standard for games and streaming anyway. All-in-all, the Vivo X90 Pro offers a decent and enjoyable experience for any type of content.
The phone's well-balanced weight makes it feel almost too light, yet it packs a large 4,870 mAh battery. With all battery optimization options in play, the X90 Pro can last more than just a single day on a single charge. The phone supports an incredibly fast 120W charging speed, and it can go from zero to full in just 30 minutes. There's an even faster charging mode that fills up the phone by 50% in just 8 minutes. 
The Vivo X90 Pro isn't alone in many of these features, but it does have a few perks that help it stand out. It doesn't skimp on the phone's durability, for example, bringing an impressive IP68 dust and water resistance grade to the table.
Cameras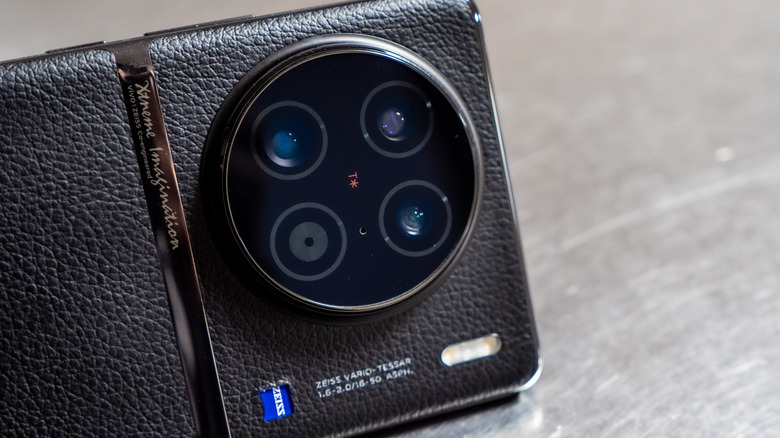 Ewdison Then/SlashGear
As the camera bump and ubiquitous branding suggest, the X90 Pro's raison d'être is really its camera array. Not only does it have its own V2 imaging chip, but it has also teamed up with camera expert ZEISS for the entire photography experience.
In terms of hardware, the 50MP Sony IMX989 which has a large 1-inch sensor, topped with ZEISS optics and ZEISS T* coating. With that laundry list of specs and names, it's no surprise that you get sharp, detailed images at every tap of the shutter button. Colors are pleasant and natural, though you might get different results whether you enable the ZEISS natural color mode or not. The sensor size makes short work of less-than-ideal lighting, and Night Mode really makes the combination of sensor, ISP, and ZEISS tuning really shine.
The 50MP Sony IMX758 "portrait" camera is just as impressive, with its 50mm focal length producing excellent bokeh effects. This camera gives nearly the same quality output as a DSLR, helping put the X90 Pro above its peers. Unfortunately, this is also the phone's telephoto camera, and it is capable of only 2x optical zoom. Anything beyond that takes a sharp nosedive in quality. The 12MP ultra-wide camera, which also functions as the macro shooter, barely makes an impression in any aspect.
While the individual performances of both 50MP cameras are quite excellent, some might find some inconsistencies when switching between them, even if they have the same pixel count. Details are fairly uniform, you might observe some color shifting as you change from wide to telephoto cameras, especially on overcast days due to the different sensor sizes. Despite the large camera bump, there's really only room for one 1-inch sensor on the block.
User Experience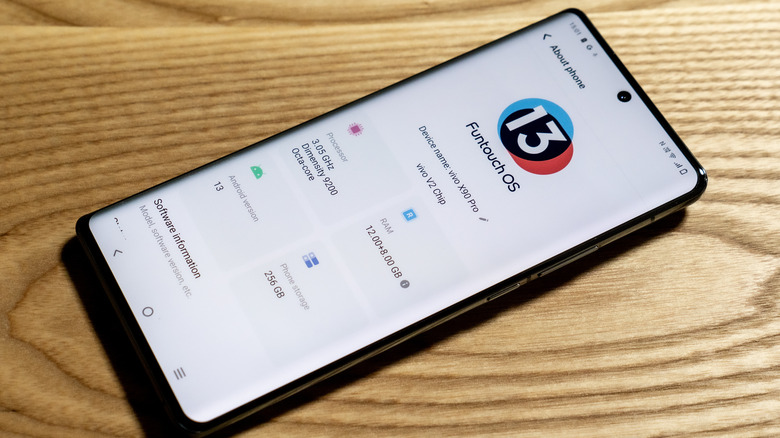 Ewdison Then/SlashGear
The Vivo X90 Pro runs the global version of the company's Android experience, namely Funtouch OS 13. This is thankfully already based on Android 13, so there doesn't need to be a long guessing game about when it will get the most current version. Of course, Android 14 is already in the works, so the next question is when this early 2023 flagship will get that update. Vivo, unfortunately, doesn't have that much of a track record when rolling out updates, so the only assurance is that the X90 Pro will at least get that upgrade and perhaps one more.
Funtouch OS remains to be one of the most heavily customized Android experiences, and it clearly sits well with the brand's fans. There are plenty of changes you can make to personalize your phone's appearance, but the least you can achieve without much effort is to adapt the color scheme based on your current wallpaper's colors, something common to all Android 13 phones. For Funtouch OS 13, Vivo also added plenty of features for its camera app, from filters to video editing.
Unfortunately, Funtouch OS is also still notorious for its bundle of apps you might never even want, otherwise known as bloatware. You at least have the option to hide or even remove some of these pre-installed apps, but they still give you an overwhelming start when you first boot up the phone. It's not a complete deal-breaker these days, but it continues to be one of the rougher edges that's admittedly common from these brands.
Final Thoughts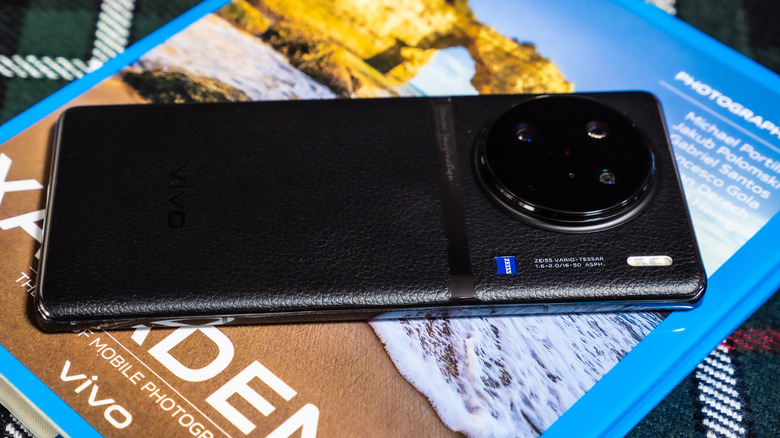 Ewdison Then/SlashGear
The Vivo X90 Pro is a well-balanced and well-designed phone that offers impressive performance and, for the most part, produces impressive photos as well. The hardware can handle browsing, streaming, and gaming without breaking a sweat, and the 50MP wide and portrait cameras are great at what they were made for. The ZEISS branding is well-deserved, though the small bit of color inconsistency can throw off more seasoned mobile photographers. The vegan leather definitely helps secure the phone in your hand, but that thin metal band completely ruins the aesthetic for no real reason. There are also a few paper cuts, like a dated curved screen design and a display that doesn't reach the 2K or 1440p mark, none of them real deal-breakers for the majority of buyers.
While the phone would normally be a good contender against the likes of Samsung and Apple, its availability and pricing could hurt its chances. It is available globally, unlike the even higher-end X90 Pro+, but only in a few select markets. The price is also a bit of a downer, close to $1,000 or a bit more, depending on the region. At that point, you could have better choices for photography, like a Google Pixel, or a cheaper option for powerful hardware, like some gaming phones. You'd be hard-pressed to find both in the same phone, though, especially in a finely-wrapped package, and that's where the Vivo X90 Pro really shines the brightest.