How To Kid-Proof An Amazon Fire Tablet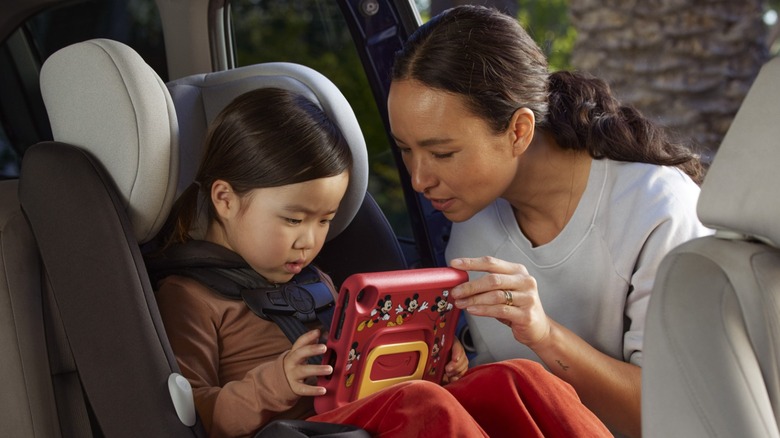 Amazon
We may receive a commission on purchases made from links.
Anyone who is tasked with keeping children busy while juggling important duties can tell you that having a mobile device assigned specifically for kid use is pretty much essential. However, leaving young users to their own devices so to speak can have disastrous repercussions like accidental in-app purchases and access to age-inappropriate content. In order to avoid any of these scenarios from happening, fortifying the parental controls is a must.
If you happen to have plans to buy an Amazon Fire tablet for your offspring — or if you have one already that you intend to let them use occasionally — you can rig it so that certain features are inaccessible to them. You can also assign a password to block any potential app purchases and downloads or even create up to four Amazon Kids child profiles on a single device, so you can choose which apps and content they can freely use.
What sort of things can I control on my kid's Amazon Fire tablet?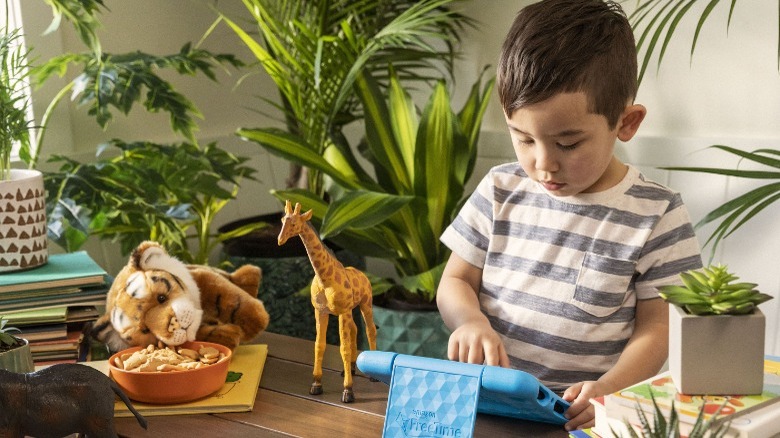 Amazon
One of the biggest hurdles that you may face when you give young children access to an Amazon mobile device is access to Amazon's massive online shopping platform. By ensuring that parental controls are enabled on your Amazon Fire tablet, you have the power to allow, limit, or completely ban the following:
Online shopping privileges: You can completely block access to the Amazon Store or the Amazon Shop app. You can also set up a password in order for anyone to be able to purchase anything through the tablet.
The ability to download content: You can set it up so only you can download things onto the device. In addition, you can also require a password to initiate future downloads.
The use of specific apps: If you're worried about your child having access to the web browser, camera, Alexa, and other apps that you personally use, you can block them while parental controls are turned on
Access to device settings: You can password-protect Wi-Fi connectivity as well as location services so they can't make any changes
In addition, you can also set a curfew schedule to control when they are allowed to use the Amazon Fire tablet as well as monitor and review their profile activity.
How to child-protect a Fire tablet using your own Amazon account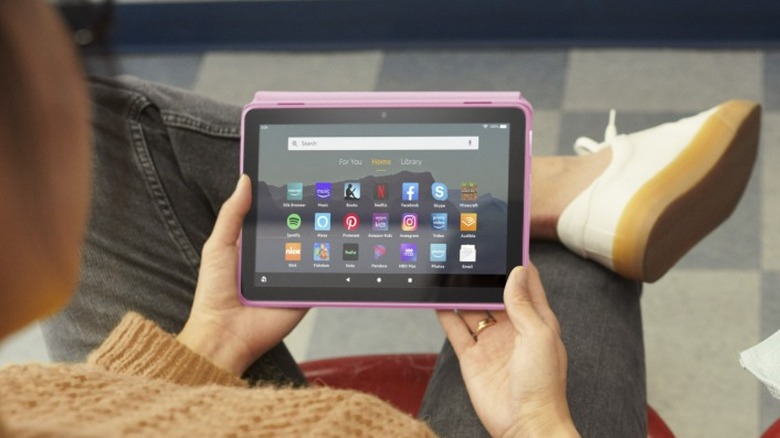 Amazon
There are basically two ways you can limit access on your Amazon Fire tablet. The first method is using an adult's Amazon profile, or the account the Fire tablet is registered to. After ensuring that the right account is logged in on the device, follow these steps:
Launch the Settings app.
Go to Parental Controls.
Switch the toggle for Parental Controls to the on position.
Choose a password (different from your lock screen password) that your child would not be able to crack. Confirm the password by entering it again.
Tap Finish.
You'll know when parental controls are enabled when you see a lock icon in the top-right corner of the device screen. While in the Parental Controls page, you can restrict your kids' access to certain parts of your profile by going to:
Amazon Content and Apps: Pick which apps to block or leave unblocked
Password Protection: Enable Wi-Fi and Location Services so your child cannot make any changes to the settings
Amazon Stores: Block purchases on Amazon Stores, excluding Prime Video
Password Protect Purchases: Turn this on to require a password to purchase, including titles from Prime Video
Social Sharing: Leave this Blocked for safety
Set A Curfew: Limit your child's time on the tablet. They'll need you to enter the parental controls password to add more time.
Monitor This Profile: Make sure this is enabled so you can review activity on the tablet
From this point on, you will need to enter the password you chose to turn Parental Controls on or off. Should you forget it, the only way to regain full access is to reset the Fire tablet to factory settings. Make sure you keep a copy of the password somewhere only you can access.
How to restrict Fire tablet access by creating an Amazon child profile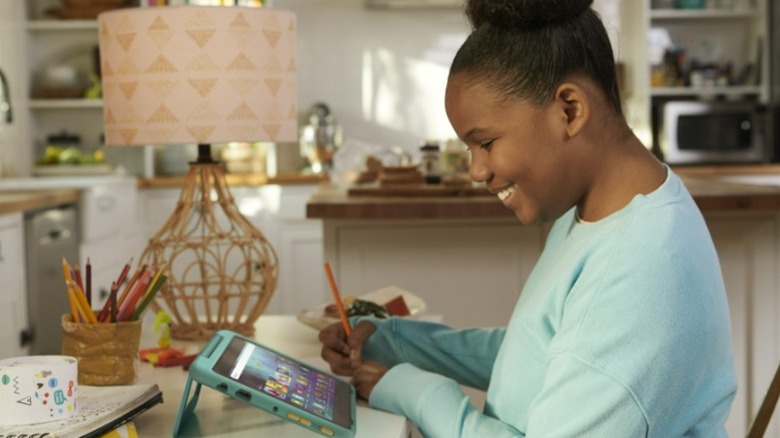 Amazon
If you find it too difficult to manually switch on parental controls every time you grant Amazon Fire tablet access to your kid, you can create a profile that's specifically for them, where they can access only the apps you want them to see. Before you do this, though, make sure that you protect your own account (with the parental controls) from them by assigning a lock screen password:
Open the Settings app.
Go to Security & Privacy.
Enable the toggle next to Lock Screen Passcode.
Pick either a numeric PIN or an alpha-numeric password. Type your chosen code twice then tap Finish.
Once you have a lock screen passcode for your Fire tablet, you can create a child's profile:
Go back to the Settings app's main page.
Head to Profiles & Family Library.
Hit "Add a Child Profile."
Type your child's name and birthdate, then tap Add Profile.
Once the profile is created — you can add up to four child profiles — tap it to access the full slate of controls you can set up. You can do a myriad of things, such as set daily time limits, assign age filters for Amazon content, add or remove content, and disable access to the camera and photo gallery. Make sure you go through each menu to ensure that your child's experience on the Fire tablet is tailored accordingly.
Before you pass along your Fire tablet for your kid to use, switch to their assigned profile by swiping down on the device screen to access the notifications tray — you might need to swipe down a second time to see the full menu —  tapping on the profile icon, and then selecting the correct child profile. You'll need to follow these steps again and enter your lock screen password to go back to your own profile. 
How to access more parental controls and kid-friendly Amazon Fire content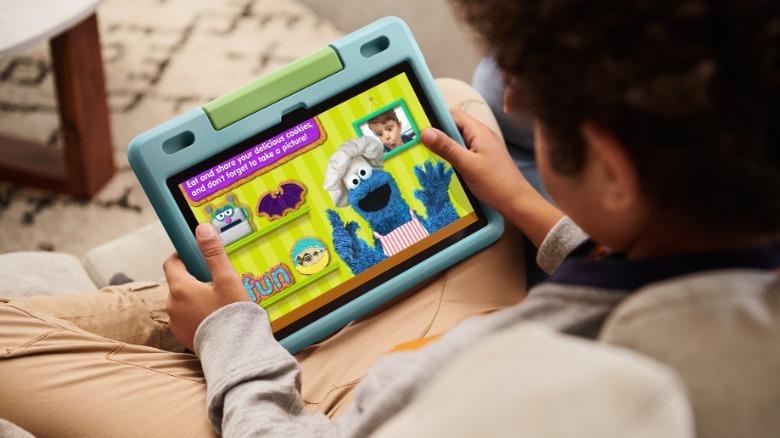 Amazon
If your child is between three and 12 years of age, you may want to consider signing up for Amazon Kids+ so that they have access to a vast collection of kid-friendly books, games, videos, and other Fire tablet content. Depending on which child profile is being used to access Amazon Kids+, you should already see content that is deemed suitable for their age. They can explore freely, and you can rest assured that they are enjoying appropriate activities on the device.
Along with a paid subscription that currently costs $4.99/month for Amazon Prime members or $7.99/month for non-Prime customers, you are also afforded access to a parent dashboard that has even more options that'll allow you to monitor your kids' activity on the Fire tablet more closely. Through it, you can set time limits specific to a certain activity — like app use, reading, watching videos — or a general total daily screen time limit. You can also set educational goals for reading and accessing educational apps or videos, including an option to restrict entertainment-related content until learning targets are achieved.
If you have an Amazon Fire Kids Edition tablet, it should include a one-year subscription to Amazon Kids+ for free. For other Fire tablet versions, a one-month free trial is available for Prime members.
How to keep track of your offspring's Amazon Fire tablet activity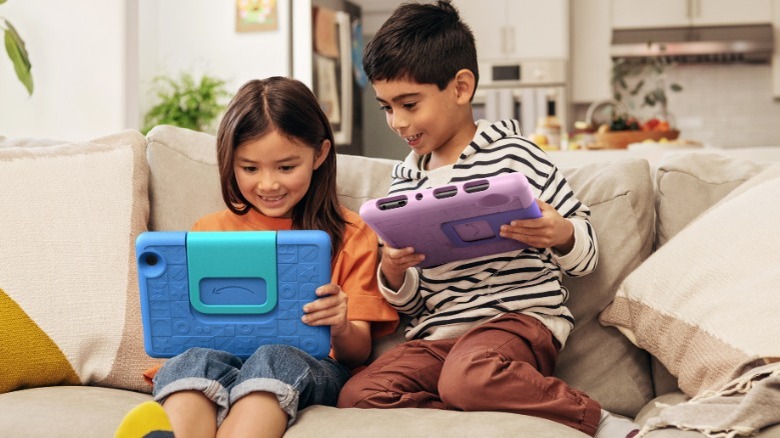 Amazon
Through an Amazon Kids+ subscription, you should be able to easily track your kid's Fire tablet activity in detail, broken down into various categories. If you haven't pulled the trigger on signing up for Amazon Kids+, you can check out activity on any Amazon device by going through these steps on a computer:
Go to amazon.com and log in.
Hover over Account & Lists in the top-right corner of the page and click Content & Devices.
Click the Devices tab and select the Fire tablet your kid uses.
Under "Activity center," you should be able to see activity reported for the tablet. If you don't see any listed, go back into the Fire tablet's Parental Controls settings and enable Monitor This Profile.
If you set up a child profile on the Fire tablet that allows access to the web browser, you can check out the websites they've visited:
Launch the Settings app.
Go to Profiles & Family Library and select your child's profile.
Under the Web Settings section, tap View Your Child's Web History.
You should see all the websites they've accessed listed on this page. If they tried to check out a blocked website, there may be a tab called Attempted that shows any URL that you've restricted.