Google One Users Get Pixel's Magic Eraser Feature For Their Photos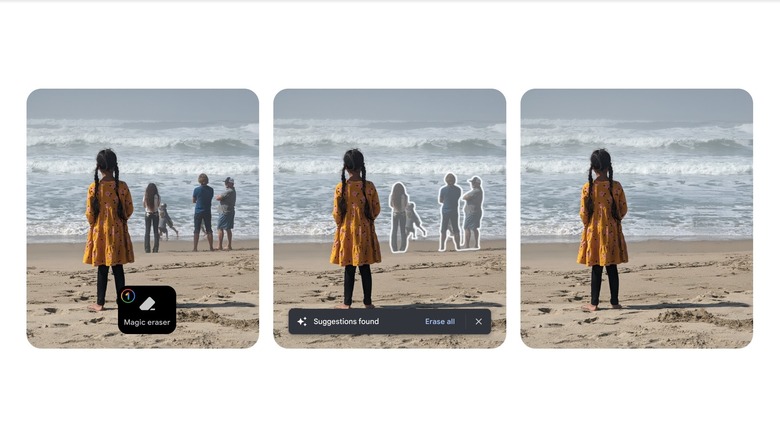 Google
Google One users are about to get a powerful new photo-editing feature. From today, they will be able to edit photographs with "Magic Eraser" — the company's cutting edge photo-editing feature. Back in 2018, Google One started out as a subscription service that offered users extra digital storage space in Google Drive. More features have been added as time went on — including a VPN service, cloud backup, and a discount on items purchased through the Google store.
There are currently three tiers of pricing for Google One. The lowest starts at $1.99 per month, but doesn't add many features beyond extra storage. Users will get 100 GB instead of the 15 GB they receive with a free account. The second tier, priced at $2.99 per month, doesn't add much either. It simply takes the storage up to 200 GB and offers a 3% Google Store discount. 
Members really see the difference with the $9.99 per month service, adding a 10% store discount, access to Google Workspace Premium, 2TB of storage, and a VPN service, alongside the benefits available on other tiers. All of the plans are also available at a discount if users make an annual payments instead of subscribing month-to-month.
Now the service is getting Magic Eraser, a tool Google has been lauding for quite a while now — and it isn't just available with the premium package. The company says that all Google One subscribers will have access to the tool, alongside a wider array of features.
Magic Eraser is one of Google's most powerful tools
Google is pretty proud of its magic eraser tool. So proud that it made it one of the main selling points of its flagship phone, the Pixel 7. Showing off the feature formed a reasonable portion of the company's Pixel Event held late last year — and the feature even cropped up in the company's 2023 Super Bowl ad.
The premise of the magic eraser is quite simple: If you have a photo that has been ruined by a photo bomber, unfortunate t-shirt slogan, or former friend you'd rather forget about, you can crop them out. Simply highlight what you want removing, and the AI-powered tool should handle the rest. It's essentially Google's take on Photoshop's Content Aware Fill tool — but far more accessible.
Magic Eraser can do other things, too. If there are no large objects ruining the photo, you can still remove smaller annoyances by swiping at them with your finger. There's also a "Camouflage" setting, which doesn't remove objects but instead alters their colors so they blend in better with the background of the image. 
Magic Eraser is a formidable tool, and exciting enough on its own, but the expansion to Google One doesn't stop there. A bunch of other photo-related bonuses are coming to the subscription platform.
Other features added to Google One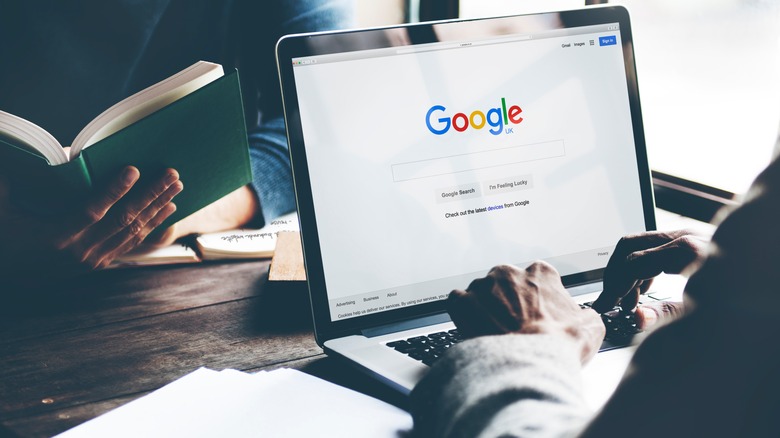 Rawpixel.com/Shutterstock
Google has also added a bunch of extra photo and video-related features to the Google One platform. If you store your pictures there, you'll have plenty of enhancement options from today. 
A simple one is the expansion of the HDR effect, something you may already have on your phone's camera app. The HDR effect, which enhances brightness and contrast across photos and helps make the fore and backgrounds stand out, can now be added to video. The Google Photos app's collage editor also gets some new designs and options. Single photos can have styles applied to them, and when you're compiling multiple photos to make your own collage, you now have more options than ever. 
Finally, for people who like to own things in the physical world, you can save a bit of money when it comes to getting your Google Photos printed. Customers who are based in the United States, Canada, the European Union, and the United Kingdom can now have their orders shipped free of charge with a Google One subscription. So you'll save a few bucks every time you get a photo printed, splashed onto a canvas, or an entire album compiled.
The new features are free to Google Pixel owners and all tiers of Google One subscribers. If you don't use Google's phone and haven't signed up to the subscription service, they'll also be offering a free trial from next month which will give people a chance to test it all out. It looks like an impressive leap forward, though some will argue the photo service still isn't as good as it used to be.