Here's How The Most Expensive Royal Enfield Still Remains Affordable
If you've been around motorcycles, you've no doubt heard of Royal Enfield. The English motorcycle brand claims the title as "the world's oldest continuous production motorcycle company," with motorcycle production dating back as far as 1901. Production began in India with a factory opening there in 1955, and it was eventually purchased by Eicher Motors, an Indian company, in 1994.
Unfortunately, as its last place in SlashGear's reader survey shows, the motorcycles that Royal Enfield produces have a reputation for being unreliable. In 2017, production returned to England with the opening of a Technology Centre near Leicester, U.K., turning the page for Royal Enfield. As part of the brand's resurrection under new CEO Siddhartha Lal, it would go on to release a brand new platform it calls the 650 Twins — a platform that is slowly restoring the motorcycling community's faith in Royal Enfield.
The Royal Enfield Continental GT 650 and Interceptor 650 have become part of the brand's recent success story and revival, thanks to delivering excellent value, despite the Continental GT 650 being Royal Enfield's most expensive motorcycle, coming in at $6,349. 
The Continental GT 650 is about no-frills fun
If you take a look at the modern crop of middleweight motorcycles with similar displacement, like the Suzuki SV 650, Kawasaki Z650, and Yamaha Mt-07, you're likely to find a healthy helping of technology, not to mention price tags starting at between $7,299 and $8,199. From full-color TFT displays with smartphone connectivity, to rider modes, traction control, and even adjustable suspension, retro-inspired modern motorcycles are packed to the brim with measures to keep riders safe. The Royal Enfield Continental GT 650, by comparison, is rather spartan, but that's not to say it's ill-equipped. The GT 650 comes with the essentials — fuel injection, ABS brakes provided by ByBre, an analogue speedometer and tachometer, and a moderately comfortable seat. There are no rider modes, no traction control, no corner-aware ABS functionality, and very limited suspension adjustment. The wheels on the Continental GT 650 aren't even tubeless or tubeless-ready, making punctures a hassle. 
The Continental GT 650 is all about style, emotion, and fun, rather than performance, and the motorcycle's standard equipment reflects that rather well. The one amenity buyers of the GT 650 do get, though, is a slipper clutch for smooth downshifts and a light clutch pull.
A dependable motor in a basic frame and trimmings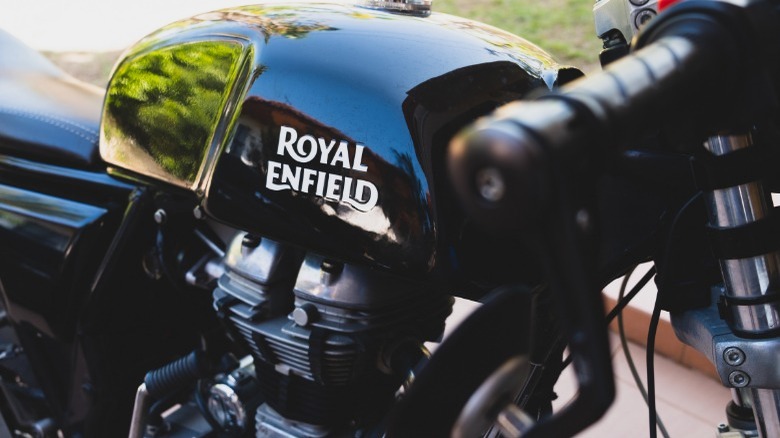 justplay1412/Shutterstock
The oil-and-air-cooled 649cc parallel twin motor found in the Continental GT 650 is nothing to scoff at, but it's also nothing to write home about, putting out a maximum of 47 bhp and 38.3 lb-ft. of torque. Compared to something like the ever-popular Suzuki SV 650, which produces 75 hp and 47 lb-ft. of torque, the Continental GT 650 is outclassed in terms of performance as it produces far less power and torque than its contemporaries in the same class, despite having the same displacement. This means the engine isn't as stressed, and doesn't need to be of the high-performance variety, so it can be built with less expensive materials.
All-in-all the Continental GT 650 is a basic motorcycle with a robust, simple motor that earned its place as one of the brand's best-selling international bikes thanks to its charm and retro appeal more than heart-racing performance. Even the Continental GT 650's frame is on the basic side — there are no bolt-on sub-frames or removable passenger foot pegs here, meaning that damage to the subframe or a bent foot peg results in a new frame or complicated work with a welder and grinder. 
The basic instrument cluster, sparse feature-set, inexpensive plastic lighting, and basic steel frame all work together to make the Continental GT 650 affordable, fun ride that mostly compromises in non-essential areas.  
A shared platform spreads the cost to multiple rider classes
Perhaps one of the most important cost reduction strategies implemented by Royal Enfield when producing its 650 platform was its plan to use the motor in multiple different motorcycles. This started with the Interceptor 650 and Continental GT 650, but the company has since launched the Super Meteor 650 cruiser — based on the same engine platform — in international markets. Developing one platform for multiple motorcycles is a common strategy in the motorcycle world — you need only take the example of Yamaha's CP2 motor that's found in both the MT-07 and the Ténéré 700.
Royal Enfield seems to be taking this approach even further in the future if rumors are to be believed. Leaks from the likes of Zee News seem to suggest that the 650 Twins platform will spawn a number of new models, including a scrambler, adventure-tourer, and another cruiser similar to the Classic 350. This will allow the brand to sell the Continental GT 650 at slightly lower margins, knowing that the investment cost from tooling will be recuperated in future models and that the motor platform will have a long lifespan.