Why Oliver Wood Used Unexpected Cameras For The Big Budget Ben-Hur Remake
Oliver Wood, the noted cinematographer whose credits include blockbuster hits like the "Bourne Trilogy," "Face Off," and "The Fantastic Four" has died at the age of 80. Wood was born in London but established himself after moving to New York in the late 70s. Much of the work he is closely associated with is in the action genre, and the scenes in those movies require camera work that can do them justice. While many of his most iconic shots may have involved drawn out fights, work in tight areas, or capturing large explosions — a remake of a classic movie could have produced one of the photography director's biggest challenges. As well as the issues that come with filming a particular scene, there is also the film's legacy to grapple with. You don't just have to do it well, you have to do it better.
The original "Ben-Hur" might not be the one you're thinking of. It was actually a short film released in 1907. A remake was made in 1929, which was still before movies came with sound included, and starred Ramon Novarro. "Ben-Hur's" most famous edition is actually another "remake"; starring Charlton Heston, it came out in 1959 and was characteristic of the epic Hollywood blockbusters of its time. In short, the film has a strong cinematic legacy, and each edition has had some pretty large shoes to fill.
Hollywood blockbusters don't always need expensive cameras
One of the movie's most iconic scenes centers on a chariot race around Jerusalem's circus maximus. The sequence is fast-paced, heavy on action, and filmed in an awkward location. It's also something a director of photography has to absolutely nail if they're going to put their stamp on a movie. Wood managed to capture the shots he was responsible for in a unique way, using cameras that are more common than you may believe.
Obviously things had advanced somewhat between 1959 and 2016, and so the chariot race scene in both movies differs. CGI is obviously used in the more recent version. It is usually included to save on costs and capture shots that would be incredibly difficult to film with conventional methods. But in the "Ben-Hur" remake it is minimally used, and mainly there to protect the horses. Those same horses, four of which were attached to each chariot, also helped out with the filming.
The horses pulling the chariots had GoPros attached to their heads, according to LA Business First, which offers a unique perspective of the action during the sequence. The movie's director, Timur Bekmambetov, also used some modern spectacles to help make the ancient race more accessible for a 21st century audience, taking cues from NASCAR, Formula One, and street racing footage. As a result, other cameras were placed in the sand, which allowed for close up shots of the chariot wheels and horse's hooves that would be difficult to capture otherwise.
Despite the cheap price, the GoPro was probably an ideal choice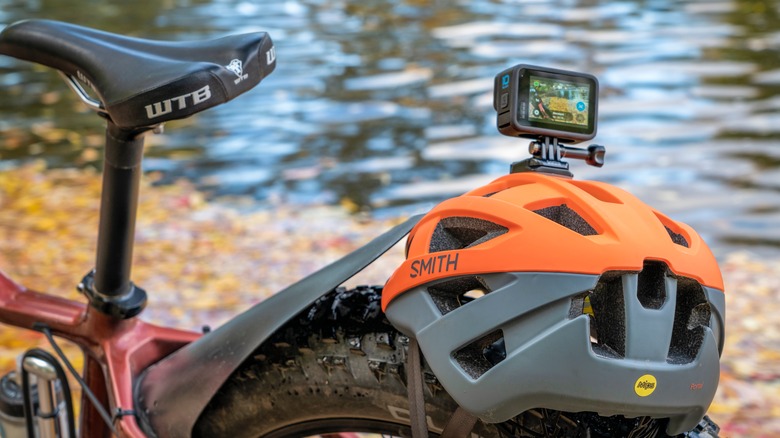 marekuliasz/Shutterstock
The humble GoPro, which is a favorite of many hikers and extreme sports enthusiasts, provided Wood with a unique way of capturing the high paced action the scene demanded. Despite the very expensive, and very advanced, equipment Hollywood has at its disposal, a GoPro is actually pretty ideal for the job. The small cameras are light enough to strap to a horse without risking harm to the animal. They are also capable of shooting ultra-HD footage — and this was the case even close to ten years ago.
Curiously enough, the cameras were not just used for their video recording capabilities. The audio from the GoPros also made it into the movies, due to the way people subconsciously associate it with footage of extreme sports. "We used GoPro cameras not only for picture but also for sound," Bekmambetov told MotionPictures. "The microphone records a very specific type of sound that people associate with extreme sports videos of people on bikes or jumping off mountains. When you hear that sound it feels real because you think 'documentary.'"
This kind of use of mainstream technology and equipment in big-budget movies could also become more common. Cameras, chipsets, and the software that backs them have advanced greatly in recent years. While smartphone specs may be marginal between releases, a lot of effort is put into keeping the devices' cameras at the cutting edge: most recently, Samsung put a heavy emphasis on the Galaxy S23 Ultra's potential cinematic applications during the device's launch, and things are likely to continue advancing as the years go on.