Bigscreen VR Just Launched The Sleekest, Best Looking Virtual Reality Headset Yet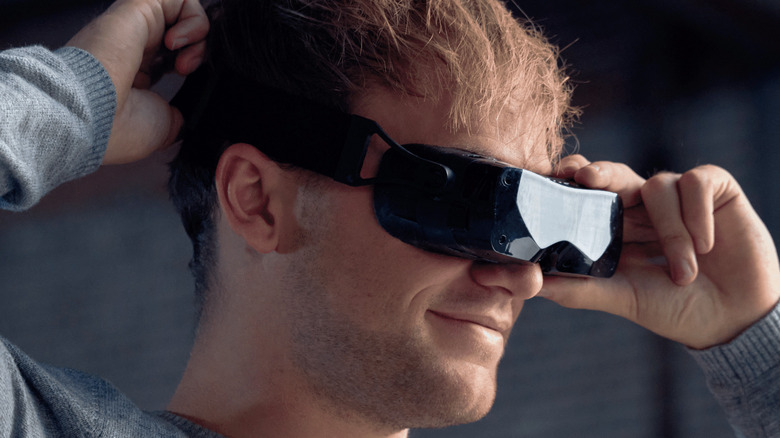 Bigscreen
California-based Bigscreen has launched what it calls the world's smallest VR headset. Called the Beyond, at the heart of its optical wizardry is the pancake optics system — the same kind of hardware fitted by Meta inside its pricey Quest Pro headset — that ditches the regular Fresnel lens mechanism that was once mainstream for XR headsets. Another huge advantage of Bigscreen's offering is that it is custom-tuned to the buyer's facial contour, promising "uncompromising comfort." The company relies on an iPhone app that uses its TrueDepth sensor to perform a 3D scan of your face, down to sub-millimeter accuracy.
Bigscreen's team then uses this 3D map information to make the face cushion for customers' Beyond units. A critical advantage of a custom-fitted cushion is that pressure distribution is more even across your face, which means the person wearing won't have to live with an uncomfortable headset that could also lead to headaches. Plus, a custom fit also stops ambient light leakage, ensuring a distraction-free immersive VR experience. Bigscreen will even make a few custom-tuned cushions for other friends and family members, and thanks to the magnetic snap-on design, you won't have to lose your mind swapping them. The company says it can ship its VR headset in a total of 15 sizes, which is quite unprecedented. On the flip side, the company says all this custom-fitting work might take anywhere between a few weeks to months before your order lands at your doorstep.
High-end specs with a palatable price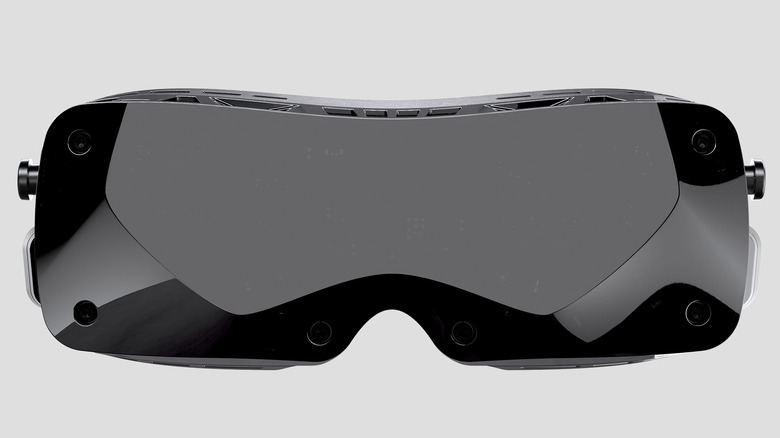 Bigscreen
The biggest draw, of course, is the form factor, which essentially looks like a single-piece optical lens assembly tethered to a minimalist fabric strap instead of the bulky hardware VR headsets are known for. If one were to describe these headsets more accurately, the Beyond looks like a slightly fatter version of Jedi Knight Obi-Wan Kenobi's sleek binoculars that he's seen rocking in the eponymous Disney series. The headset weighs just under 4.5 ounces, which definitely sounds like a relief for your muscles.
Today, we're excited to announce Bigscreen Beyond, the world's smallest VR headset

Pre-order now: https://t.co/WcUy2nAuSw
Watch the trailer: https://t.co/2yfMLXygE9 pic.twitter.com/6OdPyXuUcw

— Bigscreen (@BigscreenVR) February 13, 2023
In addition to the regular single-wrap soft strap, Bigscreen also offers an audio strap that features bassy speakers for each ear. The display unit is an OLED panel that offers a respectable resolution of 5120 x 2560 pixels, translating to a pixel density of 28 pixels per degree. For comparison, the Meta Quest Pro offers a pair of LCD panels, with each one offering a resolution of 1800 x 1920 pixels per eye. Notably, the display refresh rate on Bigscreen's sleek VR headset maxes out at 90 Hz, ensuring smoother frame transitions and a more pleasing viewing experience.
The Beyond can also accommodate prescription lenses, which are again custom-made to each buyer's specifications. The company also claims nano-second-level response time and is also touting a respite from well-known woes like shadow artifacts, motion blur, and screen-door effect. BigScreen's VR headset is now up for pre-order starting at $999 and will start shipping in 2023's third quarter.