Tesla Critics Put A Harsh Spotlight On FSD In Super Bowl 2023 Commercial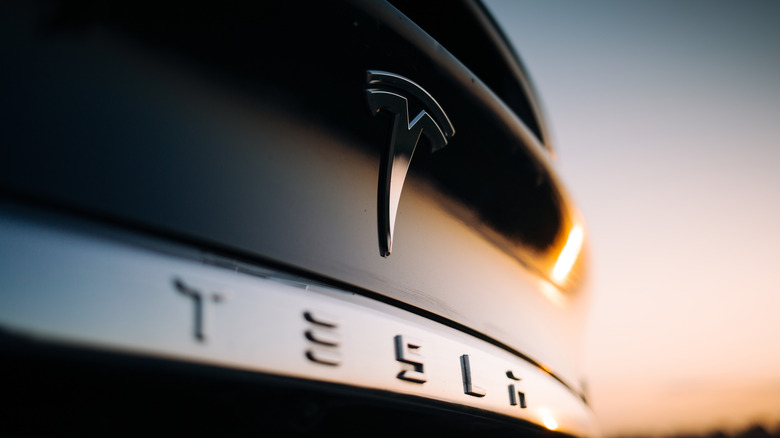 BoJack/Shutterstock
Super Bowl ads are usually flashy, high-budget, rammed with Hollywood stars, and promoting something people can't really afford. They're as much of an entertainment spectacle as the game itself, and many people tune in just to see what big companies have done with their multi-million-dollar 30-second spots. But, as absurd as it sounds, it isn't always about commercialism. Some organizations use the Super Bowl as an opportunity to get millions of eyes on their particular causes. 
One of those is The Dawn Project, which has set the bar high in terms of demands. The organization claims it is "making computers safe for humanity," and demands "software that never fails and can't be hacked." Not too objectionable as far as demands go, but certainly impractical considering current technological limitations. However, software security companies can rest easy for today, as The Dawn Project's ire is directed elsewhere at the moment.
Like many motor companies, Tesla doesn't seem to have put forward an ad this year, but its vehicles are still getting a mention. Unfortunately, the ad in question isn't carrying a message Musk and Co. are likely to approve of; it has been paid for by a group called The Dawn Project and seems to be aimed at banning Tesla's Full Self-Driving feature. You could argue the plot and production values aren't on par with what you'd expect from a Super Bowl ad — they're far closer to what you'd see from a high-school student's film project. But the ad is certainly unique and entertaining.
The ad doesn't hold back
The Dawn Project's ad opens with the claim that "Tesla Full Self-Driving will run down a child in a school crosswalk." As this is being said, a child-sized mannequin in full costume is slowly dragged onto a crosswalk before a Tesla bursts into the shot and absolutely clatters it. Remember, this is just the beginning. We're then told a Tesla "can swerve into oncoming traffic" when left to its own devices, "hit a baby in a stroller," "go straight past stopped school buses," "ignore Do Not Enter signs," and "drive on the wrong side of the road." All of these are illustrated with footage shot from over a driver's shoulder, and the potential child in danger is illustrated by an empty stroller being hit this time.
We're then treated to another, slightly larger, child-sized mannequin getting sent to fiberglass heaven as Tesla's marketing is described as deceptive, and its engineering is called "woefully inept." This second pretend child's head also flies off. The narrator then claims 90% of the public agrees Tesla's Full Self-Driving system should be banned (without citing a source), and questions why the National Highway Traffic Safety Administration allows it — even though it's more of a Congress-level, or at least state government-level, issue. 
At least 41 states and D.C. have "considered legislation related to autonomous vehicles," while 29 states and D.C. have all enacted some type of legislation. As silly as the ad seems, Teslas left to their own devices do cause accidents — which is probably why the car will disable and lock the self-driving feature if you leave your hands off the wheel for an extended period.