70mai Dash Cam Omni Review: Ambitious And Full Of Personality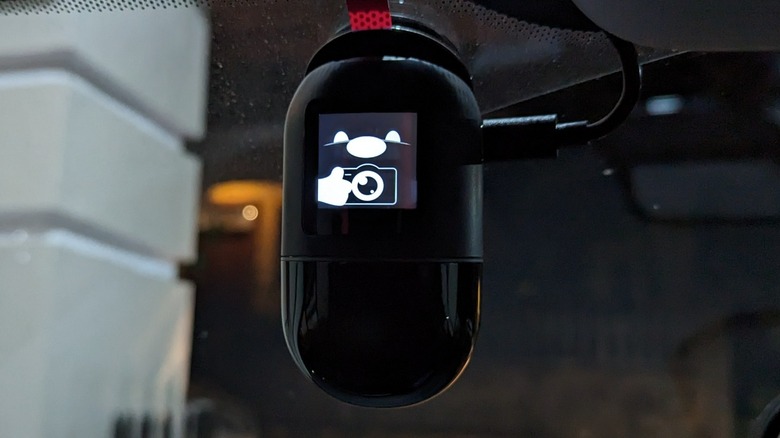 Palash Volvoikar/SlashGear
Dash cams are a tricky purchase. There are a lot of options available, yet very few are worth the investment. Dash cams aren't really complicated in terms of hardware or functionality, but they need to be very reliable since they're meant to stay operational continuously, especially in case of a mishap.
Of course, you can use your old iPhone as a dash cam, but investing in a dedicated dash cam is a good idea. There are some brands out there that have some great offerings in this space, and 70mai is one of them. The company's latest offering, the 70mai Dash Cam Omni, is quite a bit different from its other offerings.
The 70mai Dash Cam Omni is a 360-degree dash cam, making it one of the very few such offerings on the market. It has the dash cam basics covers and adds a ton of extra features, which make for a very compelling purchase. The question is, is it worth your money — or is it the best 70mai dash camera for your needs?
What you need to know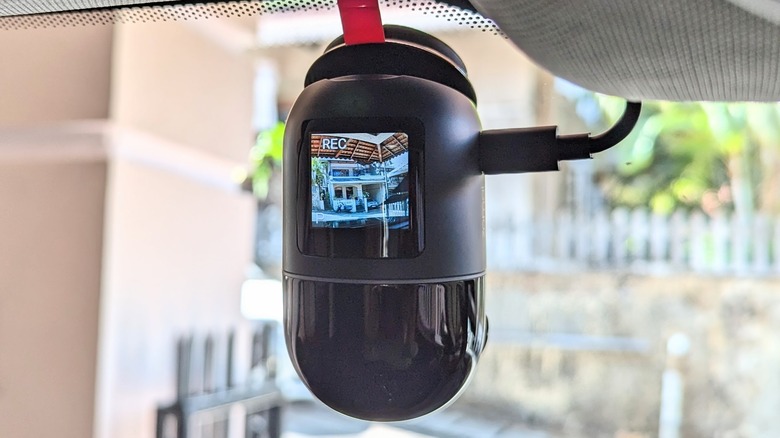 Palash Volvoikar/SlashGear
The 70mai Dash Cam Omni is a 360-degree rotating dash cam. It started off as a Kickstarter campaign, which is something 70mai has successfully executed multiple times before. This camera is just the latest in a line of cameras from Omni, promising a few extra safety and lifestyle features to differentiate from what's been available before.
The 70mai Dash Cam Omni comes in three storage options — 32GB at $139.99, 64GB at $149.99, and 128GB at $159.99, direct from the 70mai store. It comes in two colors: Black, and Red/White — making it look a lot like a Poké Ball from Pokémon. You get a 1.2-inch display on the upper half of the dash cam, while the bottom half holds the 140-degree field-of-view camera that records up to Full HD video and rotates 360 degrees.
When we see the term "360-degree camera coverage" in a car, usually this means the car's driver assistance parking cameras give a full view of the surroundings, but this isn't that. This is a 140-degree FOV camera that can rotate 360 degrees to capture footage from all sides. You also get parking monitoring, route tracking using in-built GPS, motion detection, collision detection, voice control, vlogging features (letting you take clips, selfies, and timelapse videos), and ADAS features while driving.
Installation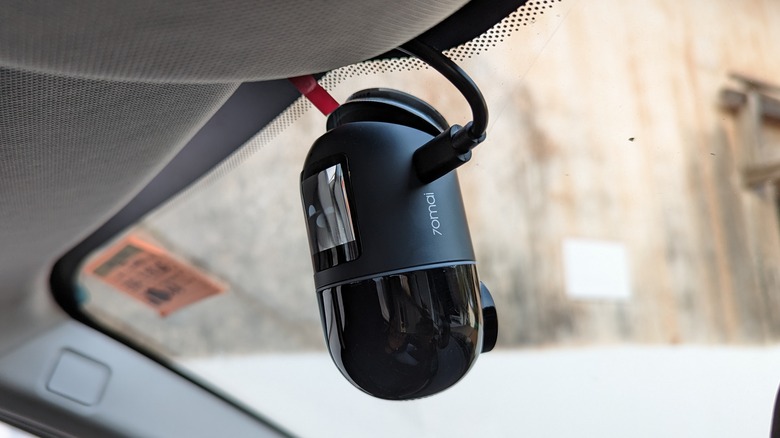 Palash Volvoikar/SlashGear
As far as installation goes, there are two ways to go about it. 70mai includes a USB-A to USB-C cable in the box, along with a car charger and a wiring crowbar. This isn't the most elegant solution, but it gets the job done, and you can use the crowbar to tuck the loose wire.
The other way is to buy a $20 hardwire kit from 70mai and open up a couple of panels in your car to access the fusebox and wire it up. This is a cleaner solution and also necessary if you want to use the parking monitoring features when the ignition of your car is turned off. You get an electrostatic sticker to apply onto your windshield before attaching the camera's adhesive end to it.
There's also a $70 (currently discounted to $42) 4G hardwire kit which is available in most of Europe and some South Asian countries, which can let you access the camera remotely.
70mai provided us with the 70mai Dash Cam Omni (Black, 64GB) along with a regular hardwire kit for the purposes of this review. While this camera was made to be simple to install with the hardware included with the device, we opted to have our unit hardwired with the help of a professional. The electrostatic sticker was not used upon recommendation of the professional since it is known to peel off in hotter climates.
Design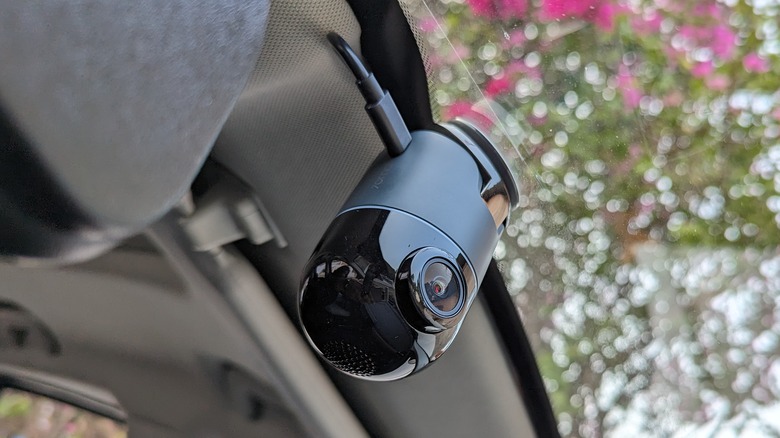 Palash Volvoikar/SlashGear
The 70mai Dash Cam Omni is probably one of the best-looking dash cams on the market right now. I had the black version in for review, which is less jazzy than the beautiful red-and-white version, which makes you, the driver, look like you're hunting down Pokémon and is absolutely the color to get unless you own a completely blacked-out car like me, and don't want to deviate from the color scheme.
You get a mounting disc at the top with an adhesive strip applied and a hinge that ensures you get some degree of adjustment after mounting it onto your windshield. There are a couple of buttons on the left of the dash cam for navigating the in-built menu. The 1.2-inch display isn't really all that useful, but it can show a tiny video feed preview, and the MaiX emoji and scenario-based animations you see on the screen are pretty adorable, humanizing a usually ignorable class of devices.
The 360-degree rotating camera is rather quick and smooth, too. It doesn't have enough motor whine to notice it while it moves, which is a great thing. You can also calibrate the motor to keep the default position of the camera as per your liking, which is great. There's an LED ring right on the separation between the upper half and the bottom half, which changes colors to indicate events. There's a nice wide perforated area at the bottom for the microphone.
Overall, using the Omni is far from boring. It looks quite sleek and is a breath of fresh air from your average dash cam.
Video Storage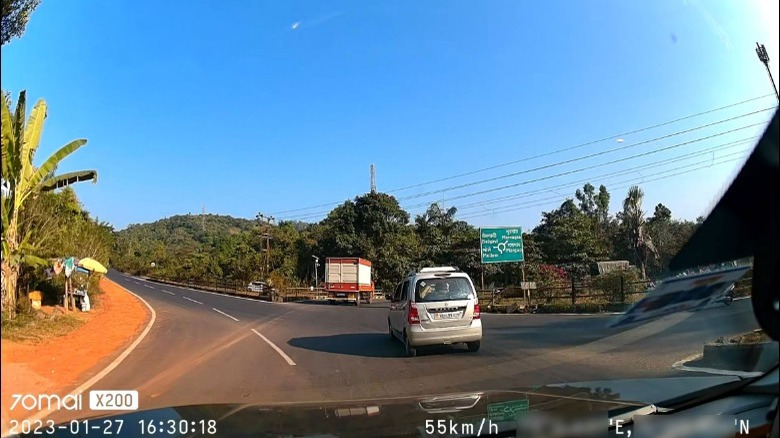 Palash Volvoikar/SlashGear
There are a few things to consider here when it comes to video quality with this camera. To begin with, this is only a 1080p camera, which isn't the best thing in the world, but it isn't the worst, either. With the video quality set to 1080p at 60fps with high compression rate enabled, and audio recording disabled, I noticed that my 64GB review unit was filling up with about a week's worth of footage, and I expect most folks to get similar mileage out of this camera.
The camera doesn't record continuous footage but short clips that can be set to up to 3 minutes in length. This is acceptable, given the processing and data transfer constraints of a device like this. The dash cam claims to have HDR video support — but only when the frame rate is set to 30fps.
Video Performance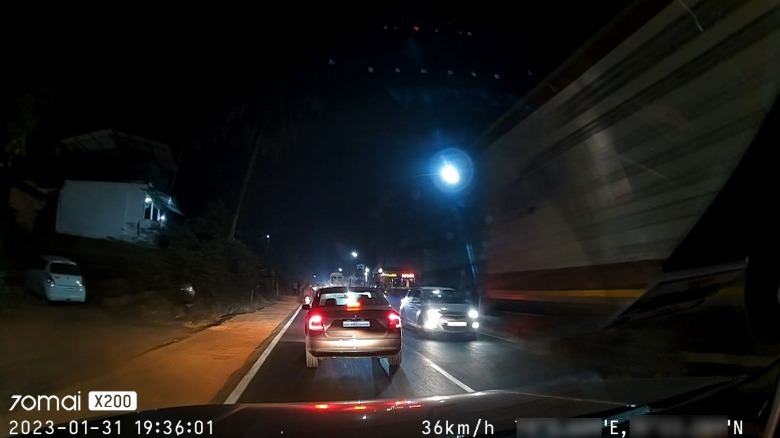 Palash Volvoikar/SlashGear
The video quality is decent. The 140-degree field of view is excellent, and the footage is clear and crisp enough. 70mai has 4K dash cams too, but those are more expensive and need more storage per clip. In comparison, the Omni is a pretty solid compromise. You can see license plates clearly in the daytime, but the 1080p resolution means they're not readable unless you're within a few feet of the other vehicle.
Night video performance is acceptable, but it can be insufficient if fast motion is involved. I say this only from the perspective of reading license plates. For example, a hit-and-run situation at high speeds in low light would be a difficult one for this dash cam, as it struggles to capture license plates. I tried this with both 30fps and 60fps modes, with HDR enabled and disabled, and the results weren't the best for this particular use case.
At the same time, this dash cam captures most details quite well, even at night time, and is mostly within expectations at its price. The low-light, fast-motion performance will likely affect only a very small percentage of your usage.
ADAS features and parking monitoring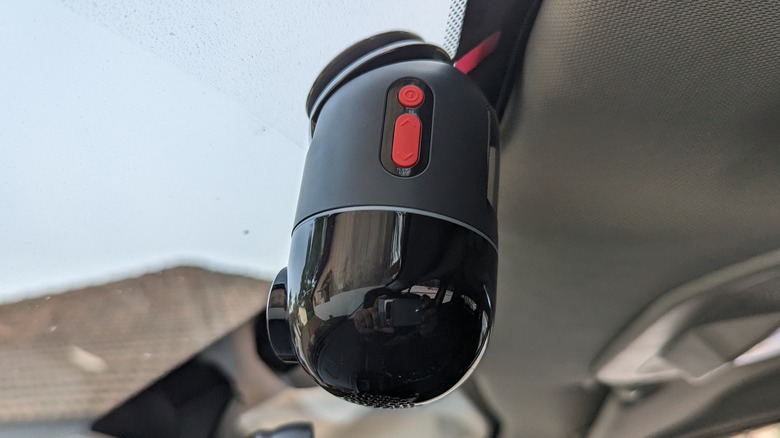 Palash Volvoikar/SlashGear
As pointed out earlier, the 70mai Dash Cam Omni packs in a bunch of extra features, which make this device a more tempting option than most dash cams in this budget range. All of these features work rather well, which isn't what I expected going in.
To begin with, the ADAS (Advanced Driver Assistance Systems) features are pretty solid. The dash cam will notify you of pedestrians, riders, and cars on the road, and it gets it right about nine out of ten times. Lane discipline features were pretty reliable as well.
Motion detection worked pretty well, too, which gives me good hopes for the collision detection feature, which I, fortunately, wasn't able to test. You'll have to adjust the sensitivity settings to your liking, but these features are a great addition to older cars with no ADAS capabilities. While I wouldn't use these myself, I see these being great for the less road-aware drivers. You don't quite expect a dash cam to excel at these things, but the 70mai Dash Cam Omni does.
My favorite feature is the parking monitoring. This requires hardwiring, and it has motion detection, which triggers the camera to record a clip when there is suspicious activity around your car. It's excellent for some like me, paranoid about parking in a less-than-ideal spot, and it uses 360-degree rotation to trace the motion. While it didn't quite help me get a clip of the cute cat that sleeps on my car overnight, it detected almost all human-sized motion around the vehicle.
Route tracking is another nice-to-have feature. GPS is built-in and allows you to do some simple tracking of trips. Mind you, this is different from turn-by-turn directions — this is more like a recording of your GPS location that you can collect after you've parked.
Voice control and the 70mai app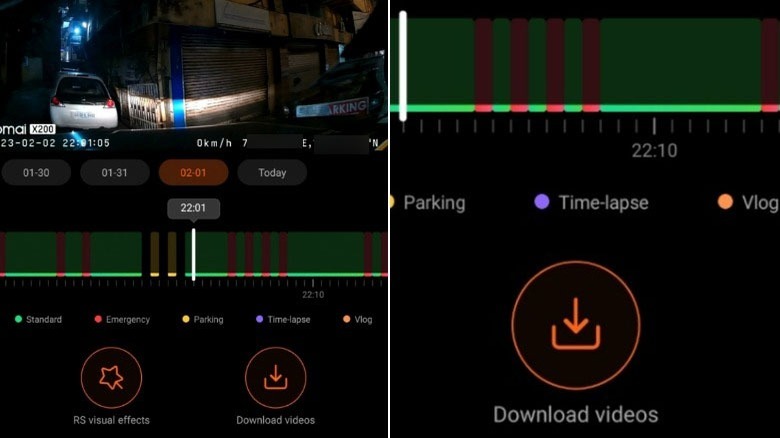 Palash Volvoikar/SlashGear
There are two main advantages of voice control, as I see it. The first one concerns the vlogging features, which are perfectly paired with voice commands. You can ask the dash cam to take a selfie, to record right, to record right, or to shoot a vlog, and it happily obliges. The record right and record left options are self-explanatory, of course, and the vlog option records a clip with the camera doing a 360-degree turn with a pause at the cabin of the car.
The second half of the voice command feature that came in really handy is the hotspot toggle command. The 70mai Dash Cam Omni uses a hotspot to establish a connection with the 70mai app on your phone for media syncing and for changing the advanced settings of the dash cam, and the voice command is a much better way to access that, in comparison to fiddling with the buttons located on the dash cam.
The app itself is pretty well-made. You get granular control over a lot of the features, and while the hotspot connection method is a bit convoluted, it doesn't hinder the user experience all that much. My only issue was that the video clips can take a long time to transfer, and I found it less than ideal to use the app for that. Thankfully, you can just use a USB-C data cable to plug the dash cam directly into your PC, and data transfer works like the average flash drive. It's a bit inconvenient, but it's the best way to transfer the dashcam videos.
Conclusion: Good camera, better brand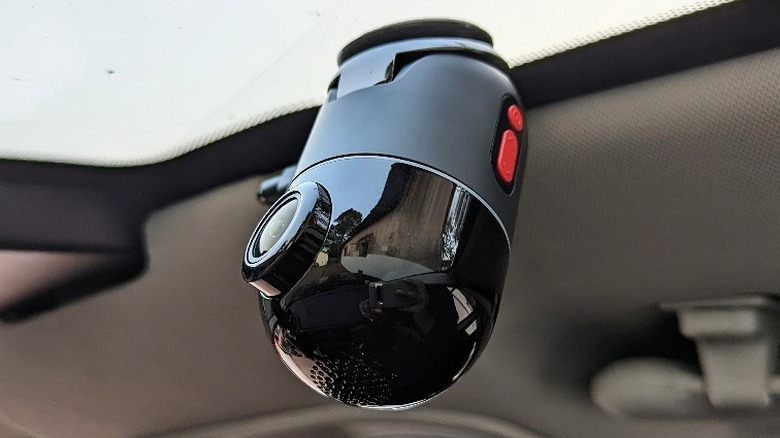 Palash Volvoikar/SlashGear
70mai is often my recommendation for folks looking for a value-for-money dashcam, and the Omni just reinforces that further.
To begin with, this is a one-piece dash cam, which means you don't get a rear camera. This is a notable downside. The dash cam has a premium price tag that matches the company's best model, the A800S, which has 4K recording and a front-and-rear dash cam system.
My other issue, as noted, is the sometimes less-than-ideal video performance in low-light, fast-motion scenarios. Both of these issues are still acceptable if you value all the additional features you get in this dash cam. If you're strictly looking for a dash cam with good video performance, one of 70mai's other options may be better worth your time.
The 70mai Dash Cam Omni would be a much better deal at a price of $80-$100, but it currently feels a tad overpriced. This is primarily due to the sheer value for money that the company's other offerings have, one of which even made it onto our recent list of the best holiday gifts for car lovers. The novelty of the 360-degree rotation and the other smart features, which are pretty well integrated, may woo buyers, but if I were in the market for a dash cam, I would pick the 70mai A800S or wait for a price drop on the Omni.
That doesn't mean the Omni is a wrong purchase for everybody, though. The 70mai Dash Cam Omni is for folks looking for something more than a dash cam. It will jazz up your car and add a bit of a modern vibe to it with both its looks and its exceptional features.