Here's What Makes The Ford Fairlane Thunderbolt Such A Big Deal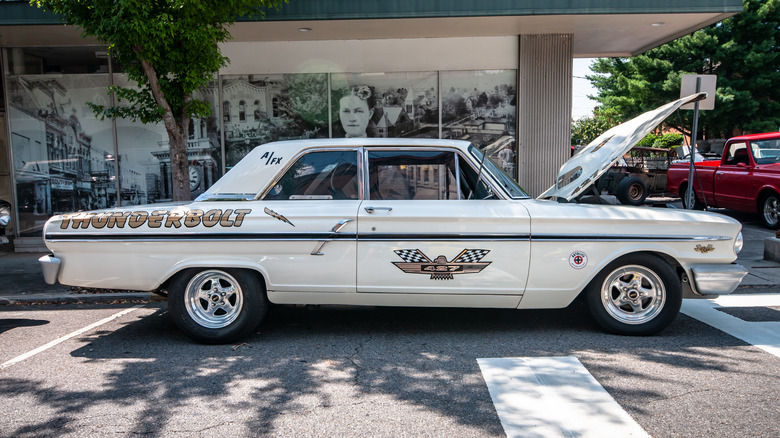 Tim Daugherty/Shutterstock
American automaker Ford was lording over Chevy and fellow automakers with its magnificent Y-block flathead V8 engine during the mid-50s. In response, General Motors and Chevrolet introduced its small-block V8 engine in 1955 — the precursor to the brand's lineup of LS V8 engines that we know today. Ford debuted its Fairlane lineup of full-size coupes and sedans that same year, equipped with an inline-six or Y-Block V8.
But as the muscle car scene grew traction in the 1960s, Ford experimented with a two-door Fairlane hardtop explicitly built for drag racing. According to Motor Authority, Ford wanted a Fairlane equipped with its next-gen FE series V8 engine that could win professional drag races and take home an NHRA title. 
Based on a fourth-generation Ford Fairlane coupe, the Fairlane Thunderbolt was born to conquer the drag strips, which it did. It won the 1964 NHRA Top Stock award in its first year of production, further cementing its reputation as the baddest of track-only 60s muscle cars.
Ford's ready to race
The 1964 Ford Fairlane Thunderbolt is a bare-bones machine typical of race-prepped production cars. It may resemble a standard Fairlane from the outside, but the Thunderbolt is a different car underneath its body shell. It had a reworked front and rear suspension with modified traction bars and asymmetrical leaf springs. It had no radio, heater, back seats, or sound insulation, and Ford engineers utilized fiberglass for the doors, hood, and bumpers to save more weight. Moreover, the initial batch of Fairlane Thunderbolts had Plexiglass windows to reduce heft (per Motor Authority).
Other mods include a trunk-mounted battery, a set of drag radials by Goodyear and Mickey Thompson, an electric fuel pump, tubular exhaust headers, a locking differential, and an aluminum scatter shield. According to Modern Driveline, an automatic-equipped four-speed Fairlane Thunderbolt ran the quarter-mile at Lions Drag Strip in November 1963 and posted 11.61 seconds at 128 mph, tremendous numbers for a factory-prepped drag car.
[Image by PMDrive1061 via Wikimedia Commons | CC BY-SA 3.0]
Rare V8 Muscle
Under the hood of a Ford Fairlane Thunderbolt is a high-rise 427 cubic inch 7.0-liter V8 engine with four-barrel Holley carburetors. Ford initially said Thunderbolt's V8 produced a conservative 425 horsepower and 480 lb-ft of torque, although the actual output is closer to 600 horsepower (per Modern Driveline). The thought of having a 600-horsepower muscle car in the 1960s is enough to make us daydream through our daily workloads, but it's not the only reason the Ford Fairlane Thunderbolt is such a big deal in the muscle car world.
Ford only made 100 Fairlane Thunderbolts during its single-year production run in 1964, making it one of the rarest and most sought-after muscle cars in the auction block. Furthermore, only 60 units are said to be alive today, and you'll need about $250,000 to snatch one from its loving owner (per Classic). The Ford Fairlane Thunderbolt's potent V8, custom style, and exclusivity have made it an elusive target for collectors and enthusiasts worldwide.
[Image by Sicnag via Wikimedia Commons | Cropped and scaled | CC BY 2.0]