Arkane's Redfall Finally Gets A Release Date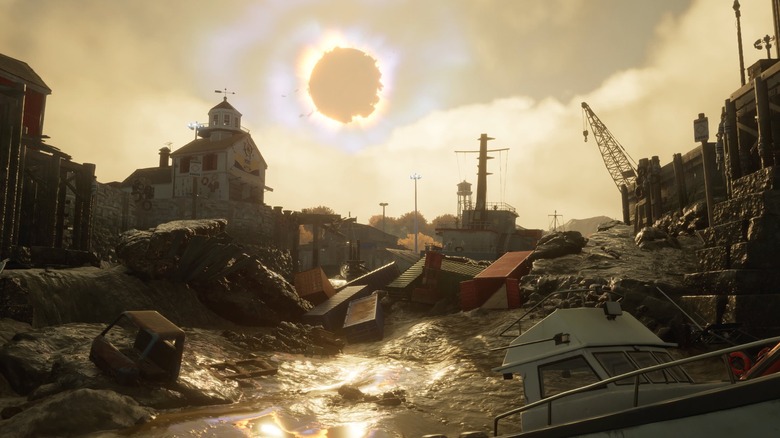 Arkane Austin
Arkane's "Redfall," the much-rumored, widely-discussed, but thus far frustratingly mysterious vampire-blasting FPS from Arkane, finally has a release date. The studio behind "Deathloop," "Prey," and the "Dishonored" series will be helping PC and Xbox gamers live out their Blade and Buffy fantasies beginning on May 2, 2023.
Arkane announced the release date of "Redfall" as part of the first Developer Direct, a streaming event co-hosted by Xbox and Bethesda on January 25. Developer Direct may be a new paradigm for developers on Microsoft platforms to showcase their work and engage with their audiences on upcoming titles. Developers shared exciting information about major releases, including new content for "Elder Scrolls Online" and "Minecraft Legends," as well as a deeper dive into the upcoming "Forza Motorsport" reboot. "Redfall" may have been the belle of the ball, however. The Arkane Austin team was on hand to share details of production and gameplay, along with extensive in-game footage. Here's what we know so far.
Bela Lugosi's dead (again)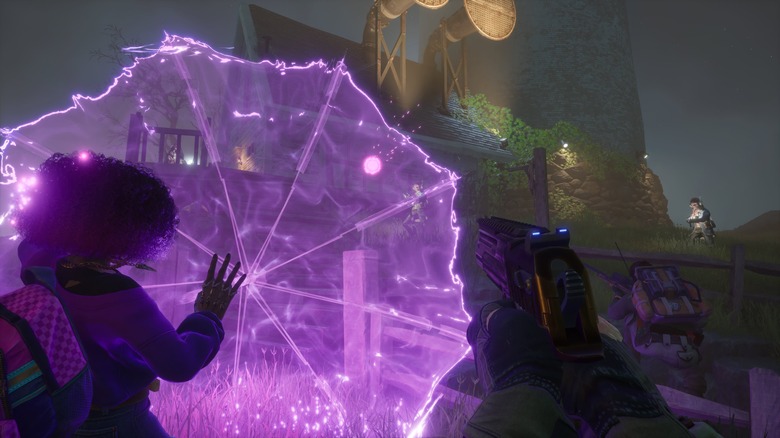 Arkane Austin
In addition to the May 2 release date, the developers at Arkane Austin shared much of the gameplay from "Redfall" with the Developer Direct audience. What we've seen so far suggests a mashup of the things Arkane does well, all finely tuned for satisfying undead destruction. Sticking to a classic FPS perspective, "Redfall" will see players blasting bats in the sensibly named community of Redfall, an ordinary town overrun by creatures of the night. Play will be possible solo or in co-op, and the game design will be classic Arkane: part shooter, part stealth, part supernatural RPG. 
While the gameplay will advance along a primary storyline, there will also be an open world map spanning the whole community of Redfall, rich with side adventures and random encounters. There will also be set pieces committed to retaking the town neighborhood by neighborhood, with each community offering its own dangers, unique bosses, and lovely loot.
As with "Prey" and "Dishonored," Arkane intends for "Redfall" players to have maximum freedom in customizing their build and play style. Four different main characters will be available, each with unique abilities and skill trees, giving players the chance to tinker with everything from magic and stealth to high-caliber weaponry. Some encounters will even occur in hallucinatory "psychic landscapes," vampire-controlled mass delusions where the laws of reality differ from regular play. In short, there will be plenty to do in "Redfall." We haven't even touched on the "Left 4 Dead"-style unique breeds of vampire, the Vampire Gods and their champion, the monstrous Rook, or each character's abilities and companions. Gamers will take on all of the above and more on May 2, 2023.