Apple iOS 16.3 Released: What's New On Your iPhone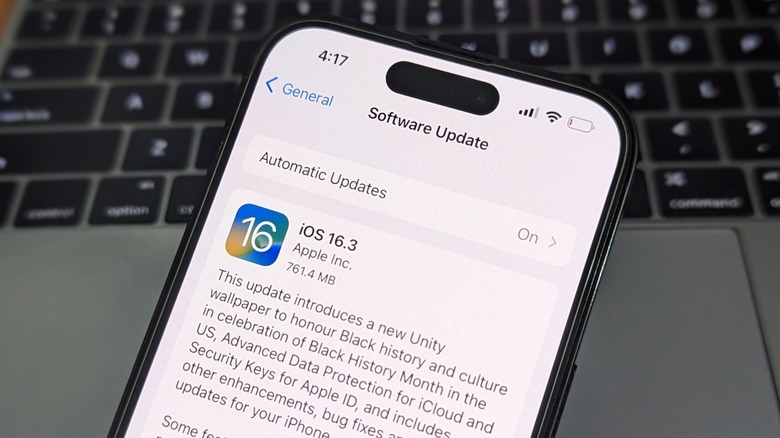 Nadeem Sarwar/SlashGear
Apple has just released the stable build of iOS 16.3 for all compatible iPhones, and it brings a few notable features. The first and most important change of them all is support for hardware security keys to protect your Apple ID. A security key is an external device that looks like a USB thumb drive but serves the critical job of identity verification. These keys are mostly deployed as an added layer of protection in the same vein as two-factor authentication, but the idea here is that instead of receiving a two-factor code on your registered mobile number or email address (which can be intercepted by a bad actor), a security key handles two-factor verification at the hardware level.
So, if you want to protect your Apple ID from unauthorized logins, just plug the physical security key into your iPhone's port and it will handle the two-factor authentication using a complex system of security protocols stored on a chip. When you enter your Apple ID credentials and the two-factor authentication prompt appears on the screen, plug the security key drive into your iPhone and it will verify your identity. Right now, a physical security key is the most fool-proof system for protecting your accounts and wallets because it is always in your possession. Using a physical security key is an optional feature on iPhones.
How to use security keys with an iPhone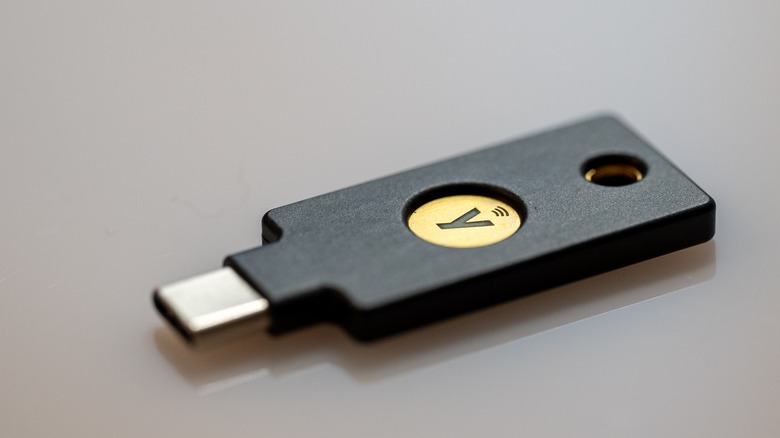 I. Hajek/Shutterstock
There are a bunch of Lightning-based physical security keys out there, but Apple recommends those sold by Yubico and Feitan. But if you're looking at other brands, make sure that they're FIDO-certified. In order to use a security key, first enable two-factor authentication on your iPhone. Once done, just follow these steps to set up a physical security key to safeguard your Apple ID:
Install the iOS 16.3 update on your iPhone.
After installing the software update, open the Settings app and tap on your name at the top.
Tap on Password & Security, followed by Add Security Keys.
Follow the on-screen prompts, select your devices linked to the same Apple ID, and you're good to go.
Next in line with the iOS 16.3 changes is support for the second-gen HomePod smart speaker, as well as a wider rollout of the Advanced Data Protection feature that now encrypts 23 types of data (photos, notes, etc.) stored in your iCloud storage. New Unity wallpapers honoring Black History Month are here, as well. Apple has also tweaked the button gesture for activating an SOS alert on iPhones. You will now have to hold and release the power + volume button combo to call an emergency helpline. Earlier, users were only required to long-press these buttons, which led to accidental SOS calls.