5 Things Reviewers Liked And Disliked About Apple's 2023 MacBook Pro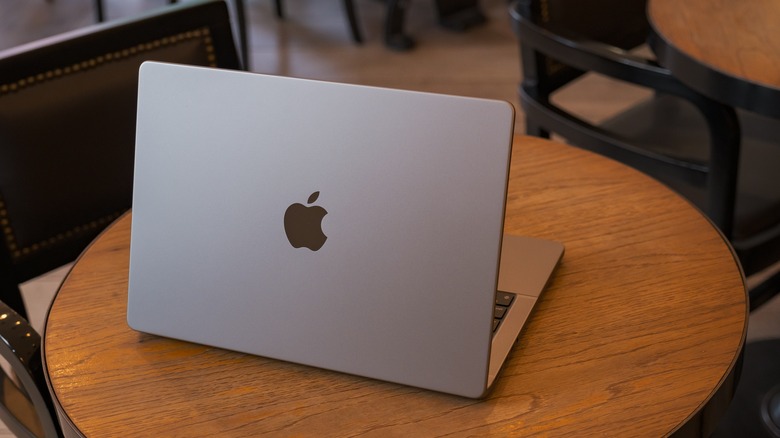 tinhkhuong/Shutterstock
It wasn't until 2020 that Apple announced a whole new legion of Mac hardware that builds on the tide-turning success of the M1 chipset — the first Apple-crafted silicone to grace its personal computers. The M1's benefits were numerous and significant, chief among them being vastly improved battery life, and stunningly efficient performance in a thin, cool wafer.
Apple followed that up with the M2 chipset, which couldn't boast the same massive, generational leap that its predecessor made over the older Intel-based systems, but still managed respectable performance gains. Now, we're being treated to the M2 Pro and M2 Max that Apple packed inside of the latest MacBook Pro.
The early reviews are in, and you're probably wondering whether it's worth the upgrade. Spoiler: If you're still on an Intel-based Mac, dive in. However, if you have any of the M1 models, you'll want to consider your personal needs very carefully for the relatively steep purchase you'll be asked to reprise.
CNET's Lori Grunin thinks its external display connectivity options are the biggest benefit, particularly for high-level creatives. The upgraded, full-sized HDMI 2.1 port supports 4K at up to 240Hz, and 8K up to 60Hz, both buoyed by variable refresh rate. These are the pros and cons of Apple's latest Mac hardware.
The MacBook Pro is still outrageously expensive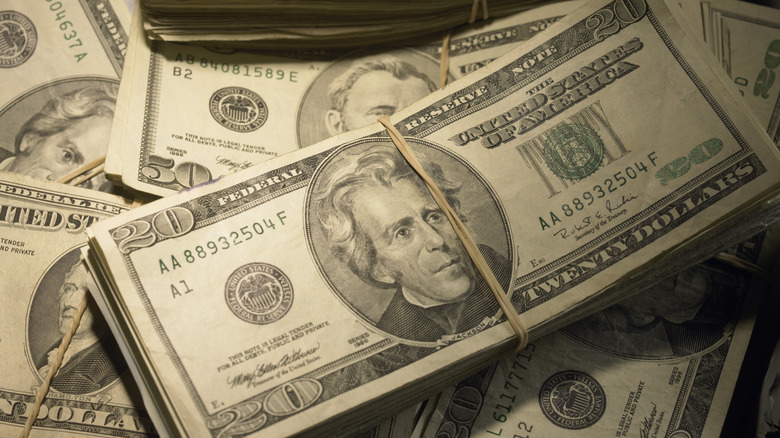 Adam Gault/Getty Images
If you were hoping for a price break with Apple's maturing hardware, then we have some bad news for you: the MacBook Pro — starting at $2,000 for the 14-inch and $2,500 for the 16-inch — is still exorbitantly expensive, albeit justifiably so. Some may see it as a benefit that the M2 Pro and M2 Max models cost nearly the same as last year's variants despite the performance gains, though the price delta flips depending on the configuration you're after. The Verge's Monica Chin notes "you'll be paying 14 percent more for a 15–20 percent increase in multicore CPU power."
That's not to say you shouldn't buy one, especially if you anticipate your needs growing over time. This is the sort of workstation that gives you ample room to grow with, and its hardware will hold up to the latest demands for years to come. But if you aren't doing the sort of creative work that these machines were intended for, you'll likely want to hunt for steeper discounts on older models.
Performance is better than ever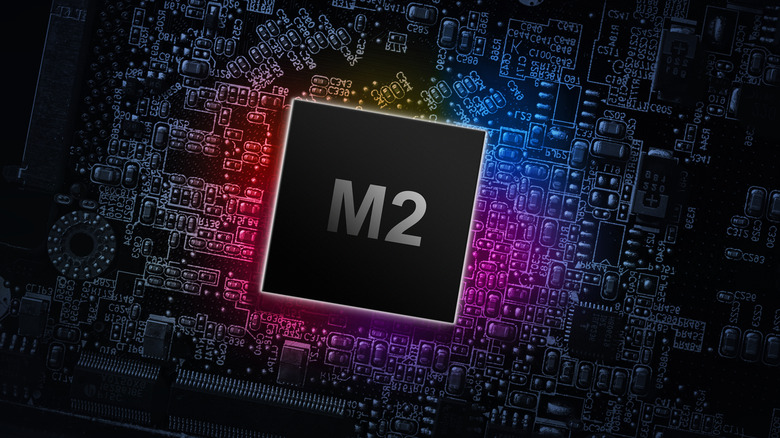 Nature/Getty Images
As we noted above, you do get markedly improved performance gains across the entire lineup of Macs. Raw CPU performance is 20-30% faster than 2021's models depending on the task, and that's nothing to shake a stick at. Especially with the increased core counts in the higher-spec'd M2 Max and M2 Pro models, your processor-intensive work only gets faster.
That said, we'd caution against immediately salivating over this moderate performance bump before you understand how it'll impact your workflow. You'll likely see the biggest difference in tasks like video and 3D rendering speeds, but even those use cases might only shave off mere seconds at worst, and just a couple of minutes at best, Gizmodo found.
If you're the type of person who can step away for a break while your computer does its thing, you're probably safe to stick with M1 models. But if you require multiple rendering jobs on a daily basis, those extra seconds and minutes can add up tremendously, and you should certainly consider upgrading.
For better or worse, it still looks the same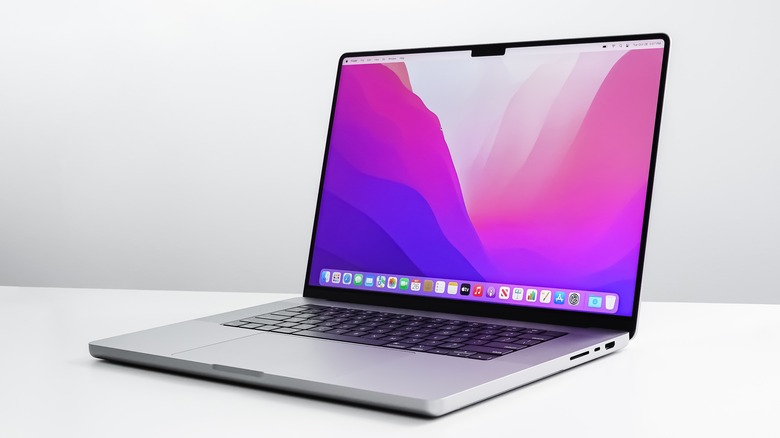 WML Image/Shutterstock
The display was one of the most controversial changes Apple made to the MacBook's design in 2021. Its contiguity was disrupted by the same unsightly notch that Apple introduced on every flagship smartphone since the iPhone X. It made sense there, considering the advanced optics needed to facilitate its revolutionary Face ID tech.
But many are still finding it hard to justify its presence on these MacBooks, especially as the webcams are only slightly improved, and still don't support Face ID. To its credit, the notch helps Apple stretch the screen-to-bezel ratio even further, but it wasn't necessarily bad before. Functionally, it can still detract from the overall experience in edge cases.
"By now, most of the handful of apps that had some issues around this design have been updated, but there are still outliers here and there," says ArsTechnica's Samuel Axon. "Those are the exception rather than the rule, though, so I believe most people will get used to the notch quickly."
Other design changes made to the previous lineup persist here, including the return of MagSafe and the unceremonious dismissal of the Touch Bar — some folks liked it, some didn't. Judging by its absence, its detractors are clearly a sizable majority.
Battery life improves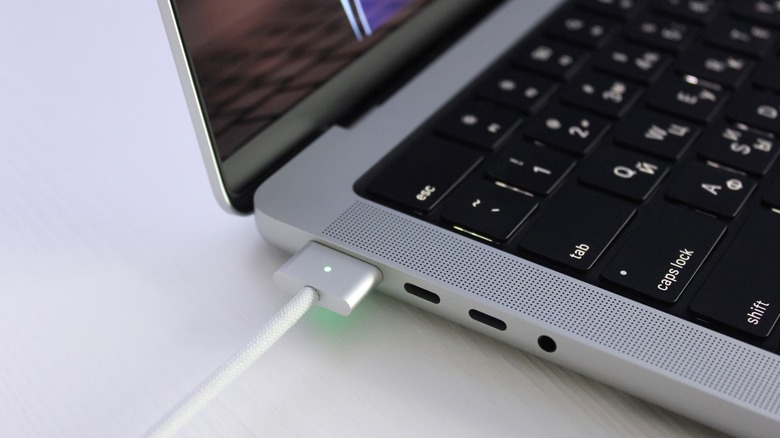 marymash/Shutterstock
It was only a few short years ago that anything exceeding 10-12 hours of battery life on moderate usage was seen as the crème de la crème. The M1 chipset changed the game, delivering up to 20 hours of battery life on the MacBook Air, and up to 18 hours on the MacBook Pro.
Early tests of the 2023 MacBook Pro models suggest Apple makes nice on its claim that its battery life can exceed 20 hours. Specifically, the 16-inch model can go as long as 22 hours under the most ideal circumstances. (Expect the 14-inch model, falling short on account of its smaller physical size). Of course, you won't squeeze that out of every single session, but even if it falls 20% short of expectations, it should easily outlast most people's work day.
"During my time reviewing the Apple MacBook Pro 16-inch (2023), I threw all manner of tasks at it, and it didn't skip a beat — even when on battery life, which caused only a tiny hit to synthetic benchmark results, but no noticeable drop in performance," writes TechRadar's Matt Hanson. Especially considering the excellent battery life capable on the new hardware, it's impressive it can still carry its power well without needing to be plugged in all the time.
Wireless performance gets an upgrade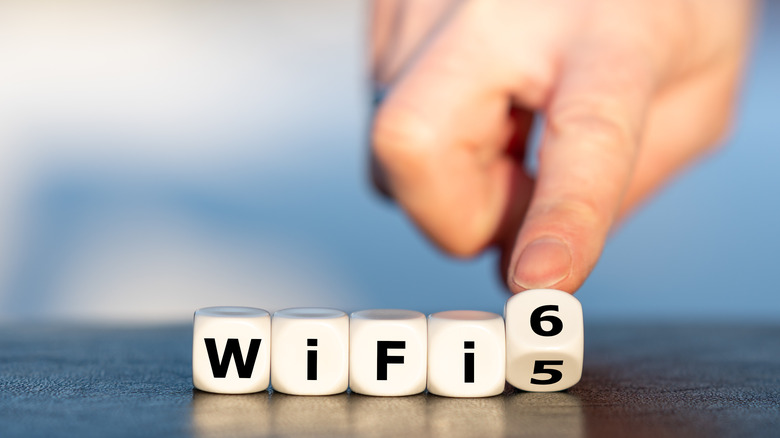 FrankHH/Shutterstock
One last nugget we can all appreciate: Wi-Fi and Bluetooth should be even better on the MacBook Pro. Long gone are the years when the Intel-based MacBooks' radios suffered from intermittent dropouts and inconsistent speeds.
The M1 MacBooks had already garnered a reputation for worry-free, fast wireless internet with its Wi-Fi 6 radios. The latest MacBook Pro gets a rock solid Wi-Fi 6E upgrade that strengthens an already dependable chipset; capable of facilitating just as much speed as your internet service provides, and without any reliability hiccups.
Additionally, these new MacBooks are getting Bluetooth 5.3 as part of the package. It represents only a marginal improvement over Bluetooth 5.2, but the improved handoff speeds and stability are both welcome byproducts. It's also a little more efficient than the previous generation, which might contribute to the 2023 MacBook Pro's improved battery life — even if it's just a slight difference.