Halo Is Safe 343 Industries Insists After Microsoft Cuts Thousands Of Jobs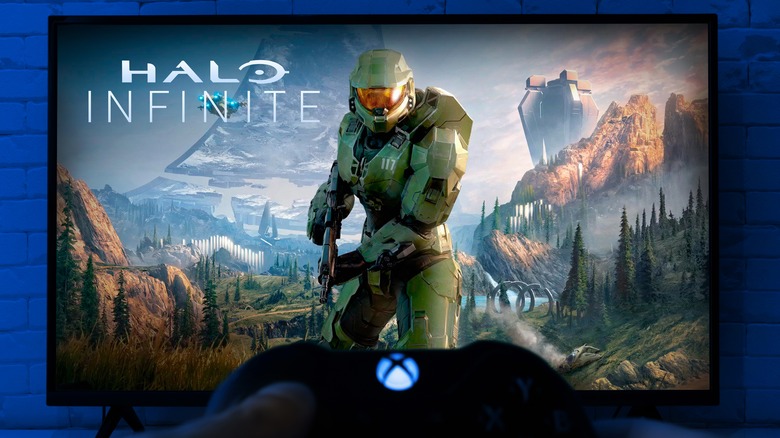 Miguel Lagoa/Shutterstock
Microsoft laid off around 10,000 employees a few days ago, and among the divisions that were affected by the restructuring were "Starfield"-maker Bethesda and "Halo Infinite" creator 343 Industries. Phil Spencer, head of gaming at Microsoft, called the layoffs "painful" in an internal note (per PC Gamer), while former employees that have worked on Halo in the past criticized the move and lambasted leadership on Twitter. In the midst of the corporate chaos that severely impacted Halo developers, rumors started circulating that 343 Industries was pulling out of developing future Halo experiences, and would instead oversee other parties that take over development duties for new entries in the Halo series.
Well, those speculations appear to be nothing but unfounded rumors for now. The game's official account on Twitter has shared that Halo and Master Chief are here to stay. The note has been signed by none other than Pierre Hintze, the former chief of publishing for "Halo Infinite" and currently the studio head at 343 Industries.
"Halo Infinite" hasn't experienced the smoothest development journey, and was hit by multiple delays in the not-too-distant past. Ever since its release over two years ago, it has been criticized for the slow pace of rolling out fresh experiences, a progression problem with the battle pass system that served tedious challenges, multiplayer woes, and some odd in-game mechanics. Naturally, 343 Industries has courted heat for offering a divisive Halo entry.
The short note doesn't say much, though
Hintze wrote in the Twitter note that "343 Industries will continue to develop Halo now and in the future, including epic stories, multiplayer, and more of what makes Halo great." The studio head's assurance comes at a time when multiple reports claim that 343 Industries was among the divisions hit hardest by the layoffs at Microsoft. According to Bloomberg, some of the laid-off employees include veterans that had been a part of the Xbox team for over a decade.
In an internal email, Hintze assured employees that 343 Industries will continue to push forward with the development of "Halo Infinite's multiplayer and live service elements," according to GameSpot. Bloomberg reporter Jason Schrier tweeted that the "Halo Infinite" team "got hit hard." "Halo Infinite" creative head Joseph Staten also departed 343 Industries after joining the team in 2020 and has been moved to the core Xbox Publishing team (via Polygon).
While Hintze's short statement serves as an assurance that 343 Industries would continue to be a part of Halo development in the future, a lot of fans out there are of the opinion that "Halo Infinite" could have fared better in the hands of another studio and that maybe it was time for Microsoft to look for another partner.