Here's How To Redeem Microsoft Rewards For Free Game Pass Memberships On Your Xbox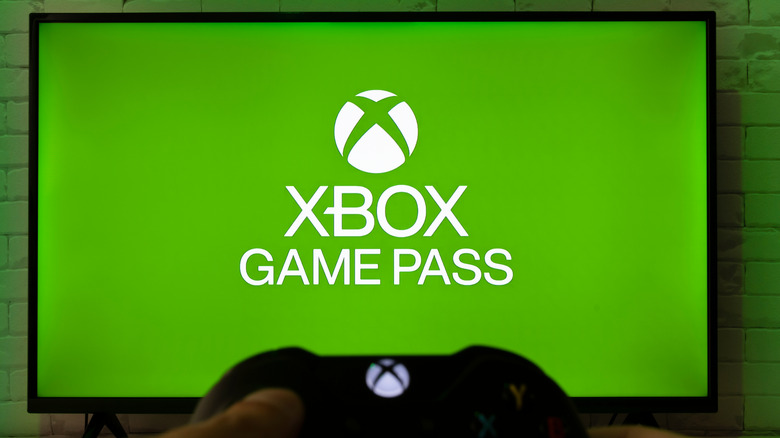 Miguel Lagoa/Shutterstock
One of the best perks of being an Xbox Live subscriber is Microsoft Rewards. For the unaware, Microsoft Rewards is a program that allows you to earn points for various actions across the company's products and services. You can then redeem those points for cash-equivalent rewards, such as a gift card you can use to buy more games. But one of the most commonly sought rewards will get you free months toward your Game Pass Ultimate subscription.
It's not uncommon for people to miss out on some of these extras, especially considering not everyone is even aware of this program's existence. If you have an Xbox One or later and you regularly buy and play games, chances are you've racked up some points.
If you didn't know about Microsoft Rewards before, it's important you learn all about it now to ensure you aren't missing out on freebies that'll help you keep the fun going for less. We'll show you how to redeem these points specifically for extra Game Pass Ultimate months, but first, here's everything you need to know.
How do you earn Microsoft Rewards points?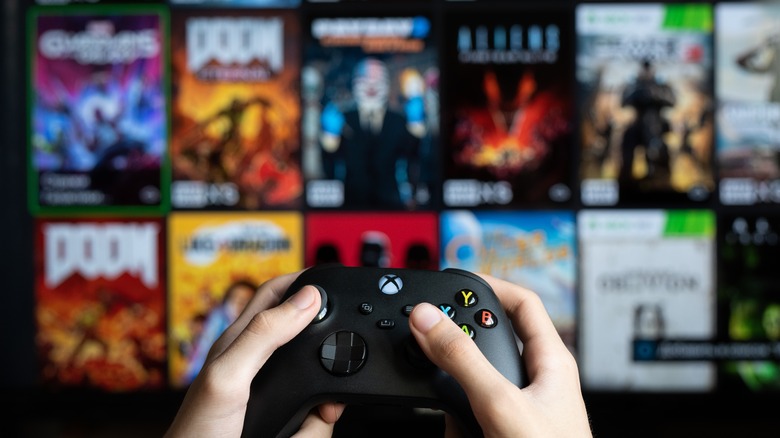 vfhnb12/Shutterstock
First, you might want to be aware of the various ways you can earn these points. Not all of them are lucrative. In fact, we'll warn you out of the gate that money-spending actions are by far the fastest way to get points.
Every purchase earns you a set amount of points per dollar, whether that's digital goods on Xbox or on devices and services at Microsoft's website. But Microsoft regularly offers promotions that can earn you bonus points, such as buying a certain game during its launch period, earning achievements in specific games during a bonus event, or spending a certain amount of money during game and movie sales.
You can also earn extra points by using various Microsoft services. For instance, Bing regularly offers up to 250 points per day for performing searches, using the Edge browser for these searches can net you 20 extra points per day, and you can get up to 125 points per week by using the Xbox app on your smartphone every day.
You also can regularly earn 5 points for simply looking at a game listing in the Xbox Store. The best way to figure out how you can earn some extra points is to go into the Microsoft Rewards app and check out the latest featured offers.
What else can you buy with Microsoft Rewards points?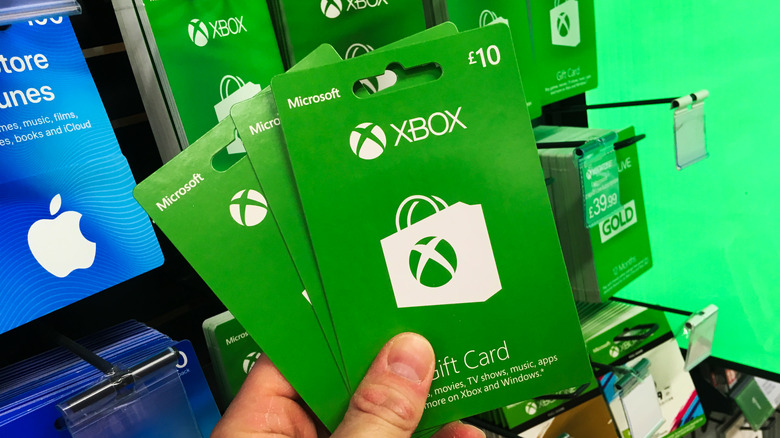 David Cardinez/Shutterstock
Microsoft gives you numerous things to spend your points on. Most people will be interested in the gift cards, which can net you up to $100 to use on any purchase you want in the Xbox store. This can help you save on new games, downloadable content, or movie and TV show purchases and rentals.
Xbox Live memberships are another popular reward, giving you added time to enjoy premium benefits such as online gaming, party chat, and Xbox Game Pass access - perhaps not enough to cancel your Game Pass subscription for good, but enough to save you some good lunch money throughout the year.
But you can also spend your points on things like Skype credits, gift cards to popular stores such as Amazon and Starbucks, or sweepstakes entries in case you're feeling lotto lucky. Lastly, you have the option of donating your points to some worthy causes like the World Wildlife Fund or the Special Olympics in case you're bitten by a philanthropic bug.
How to use Microsoft Rewards points for free Xbox Game Pass Ultimate memberships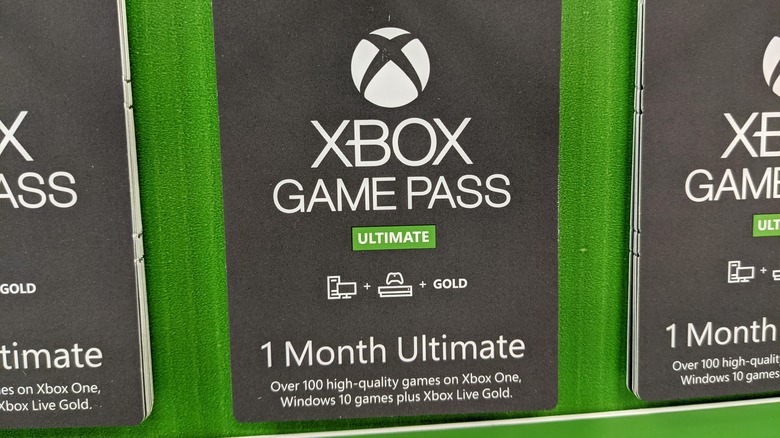 Eric Broder Van Dyke/Shutterstock
If you're enrolled and you've earned some points, spending them couldn't be easier. Wondering how to use them to get free months of Game Pass? We'll take you through the process step-by-step:
Download the Microsoft Rewards app on your Xbox, then launch it.

Navigate to the "Redeem" tab.

Navigate to the "Shop" section and select "Show All" to view all your options.

Select "Xbox Game Pass Ultimate Membership – 1 Month."

Using the drop down, choose how many months you'd like to redeem.

Select "Redeem reward."

If successful, you'll get a confirmation that your reward has been issued.
The steps above apply to those seeking regular Xbox Live Gold memberships as well – just ensure you're selecting the correct membership type you want. Note that a 1-month Xbox Live Gold membership costs 8,500 points, while 3 months will run you 20,000. Meanwhile, 1 month of Game Pass Ultimate costs 12,000 points, or 35,000 for 3 months.
You should also know that you can save on these rewards by opting to have Microsoft automatically redeem your points once you've reached the required threshold. This can save you 1,000 to 1,500 points, which can add up significantly over time.