Apple Expected To Drop Next-Gen HomePod This Year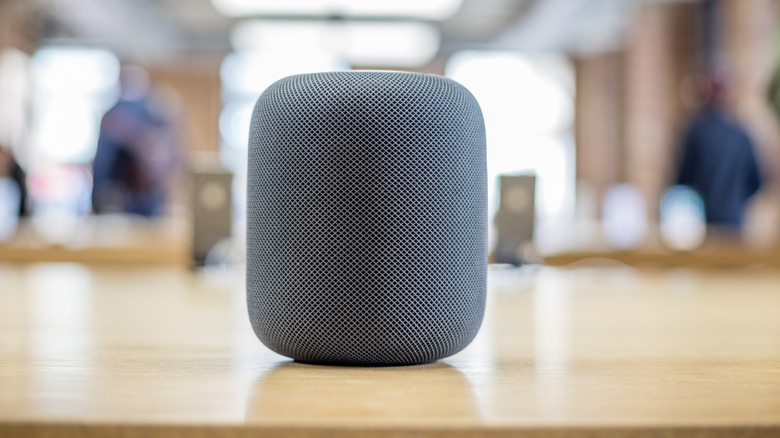 Ksenija Toyechkina/Shutterstock
Apple introduced the first-gen HomePod way back in 2017, but seemingly never bothered with a successor. In March of 2022, Apple finally discontinued its Siri-fueled smart speaker to focus on a cheaper mini, which itself hasn't received a second-gen model following its debut in 2020. Now, it would appear Apple is finally ready shake things up with the launch of a new HomePod smart speaker. 
The next HomePod should also be coming fairly soon https://t.co/WsByewy7hm

— Mark Gurman (@markgurman) January 16, 2023
Bloomberg reporter Mark Gurman claims in a tweet that "the next HomePod should also be coming fairly soon." The tweet came after Gurman tweeted about the possibility that the upgraded 14-inch and 16-inch MacBook Pro with the next-gen M2 Max and M2 Pro may be announced this week.
Apple announced the HomePod in June 2017, but it reached shelves in February 2018. The release timeline of its successor appears rather out of order, but not without reason. The 2023 slate of devices for Apple appears to be following an unexpected release schedule, primarily because the focus is on the imminent Mixed Reality headset, which is also lined up for an introduction ahead of the WWDC event in June.
What to expect from the second-gen HomePod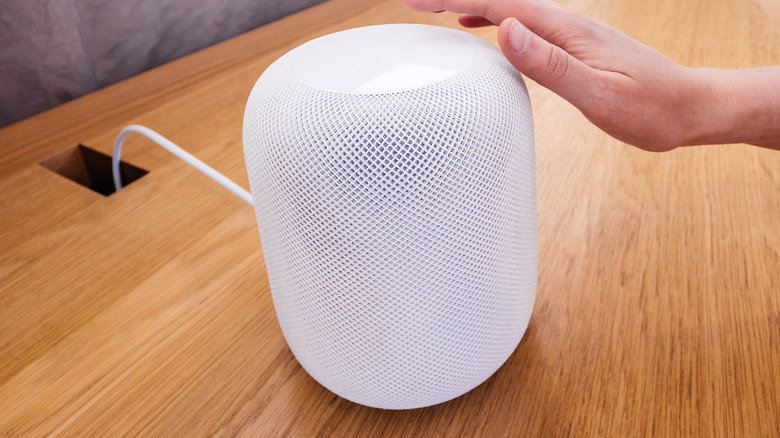 Hadrian/Shutterstock
In January, Gurman predicts in his PowerOn newsletter that the HomePod successor won't offer "anything revolutionary." Not much is known about its design, but given Apple's history, expect more or less the same form factor as the first-gen barrell-shaped HomePod speaker. Apple just might surprise with more jazzy color options this time around, just like with the HomePod mini, which got a peppy makeover in 2021.
The only major rumored change is reportedly up top, where the touch-sensitive area for gestures will be replaced with an "updated control panel" (via Bloomberg). It's unclear if Apple is going to add on a small touch-sensitive screen for Siri interactions, or if the HomePod will feature touch-sensitive area with halo lighting underneath. Beneath the cylindrical chassis, Apple is swapping the A8 chip inside the original model with the in-house S8 chip for the second-gen trim. This is the same chip that Apple has fitted inside its current-gen Apple Watch.
The most promising bit of information from Gurman is that customers should expect a lower price. The original HomePod started at $349, and it failed to make the kind of market splash that Apple made with products like its AirPods. In his review of the first-gen HomePod, SlashGear's Chris Davies called it "an astonishingly good speaker," but expressed disappointment with the capabilities centered around Siri. Hopefully, the status quo has changed this time around.