This Forgotten Pontiac Sports Car Was A Rally Car-Inspired Concept With Sliding Rear Doors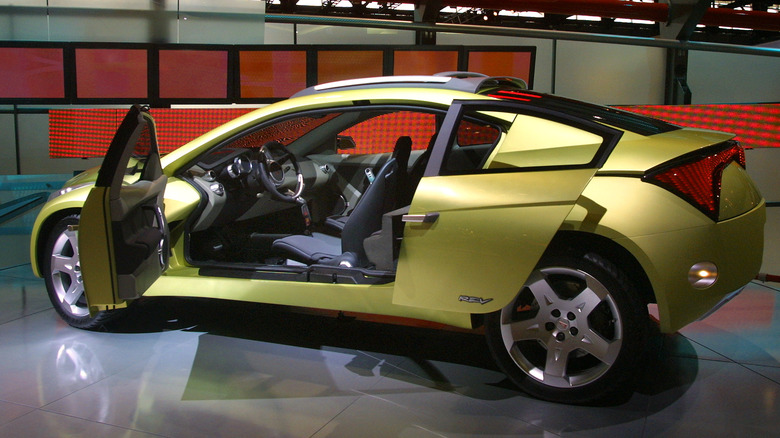 Tim Boyle/Getty Images
Pontiac showed off its rally-inspired REV concept car at all the big auto shows in 2001 to great applause and fanfare. The Detroit car maker envisioned that everyone would want a "go-anywhere" all-wheel-drive with an adjustable suspension that was sporty and capable of carrying passengers and cargo alike. Honestly, it's not very different from the Piranha concept the automaker unveiled just a year earlier.
The REV featured a lot of unique design features that showed off the flexibility of this vehicle's rally car design, including the ability to raise the car two inches (while moving) if you wanted to take it off-road. The carbon fiber composite fenders and the rocker panels would reportedly absorb blows from a rough and tumble ride without a dent or paint chip. It sported a large sunroof and built-in roof rack that could carry skis, surfboards, or mountain bikes. The all-wheel drive spun 19-inch front and 20-inch rear wheels to help get across any obstacles (via Allcarindex.com).
Inside was a dashboard and door panels made of more carbon fiber composite. A futuristic chrome-shrouded LCD gauge cluster sat above the steering column, and the driver could personalize and configure each of the three gauges to show different stats based on needs (via Ultimatecarpage.com).
Four Lycra-covered molded bucket seats made of (more) carbon fiber were wrapped in the same gel-type padding found on a typical bike seat, ostensibly to soften blows while rutting over all the trails Pontiac wanted you to drive this car on. Four-point safety harnesses kept passengers locked tight in their seats (via Ultimatecarpage.com).
Pontiac wanted people to REV this sports car everywhere
The driver shifted an electronic manual transmission with a "joystick" situated where the stereo usually sits in the dashboard. According to Phil Zak (brand character chief designer for Pontiac), sequentially shifting with the joystick was akin to playing a video game (via Autoweek).
Despite the lack of a single image across all the Interwebs to prove otherwise, the REV was said to have a front-hinged clamshell opening front hood and a similar hatchback-styled trunk. Under the hood was a 3.0-liter, 245hp OHC V6. A unique tailgate mechanism allowed the back to drop down over the back bumper, giving better access to the large-ish cargo area (via Motor Trend).
Pontiac even provided some equipment to accommodate all your adventuring needs. Four Motorola TalkAbout GPS-enabled radios were stowed in the rear wheel well compartments. A full-blown Motorola cell phone/two-way radio (with GPS and Internet access) was installed in the center console directly below the joystick shifter. It could be removed and taken with you on the trail as well.
Last but not least, removing the B-pillars let Pontiac install a cool sliding rear door feature. Think of a soccer mom's mini-van. Given the car's close quarters, the car maker thought sliding the doors to the rear made it easier for people to clamber into the back while giving it a unique feel. They weren't wrong.