Here's What Makes The Honda Motocompo 'Trunk Bike' So Special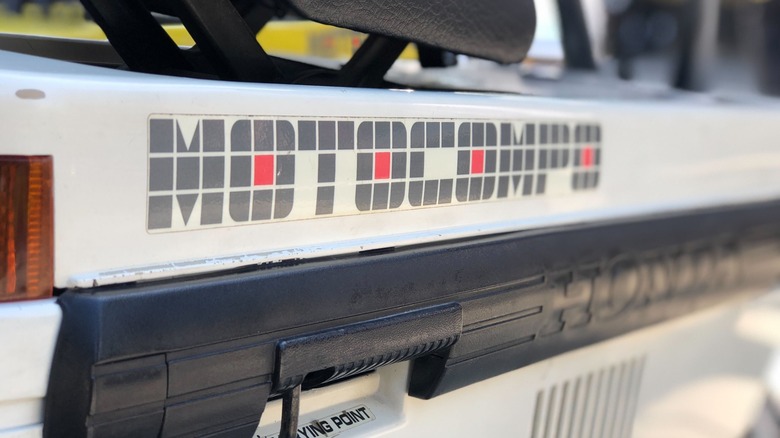 Alex Hevesy
Scooters are an excellent vehicle for someone who wants to move faster than a bicycle, but wants something much more compact and maneuverable around a city than a much larger full-size motorcycle or car. In addition, scooters are often far less expensive than motorcycles, and licensing isn't always as strict depending on what state you live in and the scooter's engine size (via DMV.org). Honda, one of the world's best-known purveyors of anything with an engine, has been making competent scooters for decades like the Honda Ruckus and Honda Metropolitan.
The Ruckus and Metropolitan are both scooters with 49cc engines that are efficient, light for their size, and generally easy to ride around. In the 1980s, Honda came out with a super compact scooter called the Motocompo; it was a bike so compact and lightweight that it was dwarfed by all but the smallest pit bikes and dirt bikes made for children. The model also possessed a quirk that made it way more portable than almost every other form of motorized transportation. 
The Motocompo's party trick
First going on sale in 1981, according to Honda, the Motocompo was built from the ground up to be as compact as physically possible; it was capable of folding up and fitting into the trunk of the Honda City. When folded up, the seat and handlebars disappear into the bike's tiny rectangular frame. Per Silo Drome, the entire bike measures 46.7 inches long, 9.4 inches wide, and 21.3 inches tall, allowing the entire bike to fit within the 49.8-inch wheelbase of a Honda Ruckus. A Top Gear segment demonstrated that it only took a few minutes to fold up and store away. 
As for specs, the Motocompo was not a powerhouse at all. The model had a 49cc one-cylinder engine that made a thundering 2.5 horsepower. If the rider didn't weigh very much, the scooter was capable of going upwards of 30 miles per hour, according to Silo Drome. The term "lawnmower engine" is often thrown around with reckless abandon when referring to small engines. The Motocompo's engine is actually significantly smaller and less powerful than many push lawnmowers. All told, Honda made about 53,000 Motocompo scooters from 1981 until 183, the final year of production.