Here's How VR Is Helping Tackle A Serious Pilot Shortage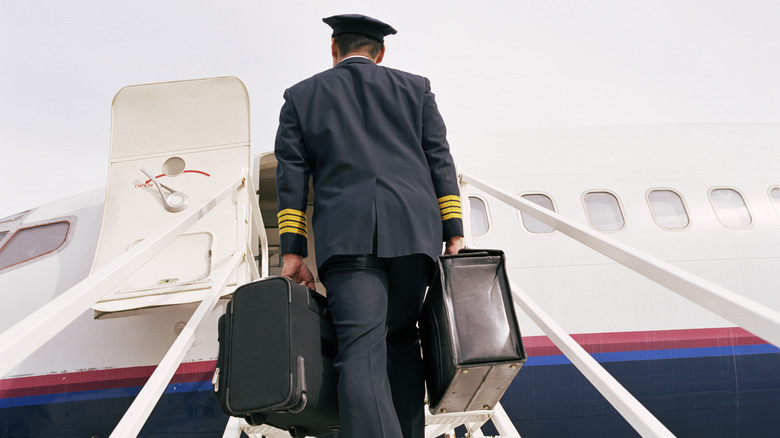 Siri Stafford/Getty Images
Industry shortages are not anything new. Industrial sectors have been hit hard by sudden or long-trending downturns in worker availability, but none quite like the current pilot shortage. After the pandemic virtually eviscerated air travel, pilots were grounded and many lost their jobs. Euro Cockpit notes that as many as 18,000 pilot jobs based on the European continent alone were lost permanently or threatened during this time with an additional 6,500 atypical employments lost as well.
OliverWyman reports that a growing demand curve began to form in 2020, with a sharp spike in consumer utilization of air travel following the next year. As of this forecast, pilot supply remained large enough to manage this surging demand. Starting in 2023, however, the discrepancy will get worse over the next decade with a total net negative of around 80,000 qualified pilots in the industry by 2032.
ATP Flight School reports that it costs $91,995 to become a pilot with no previous flying experience. With an average commercial pilot salary of $77,200 per year (via CareerMatch), the cost and time required to complete flight school can be prohibitive for those thinking of becoming one. Fortunately, a new technology might change this, enabling aspiring pilots to train faster and with far less expense.
Loft Dynamics is shifting focus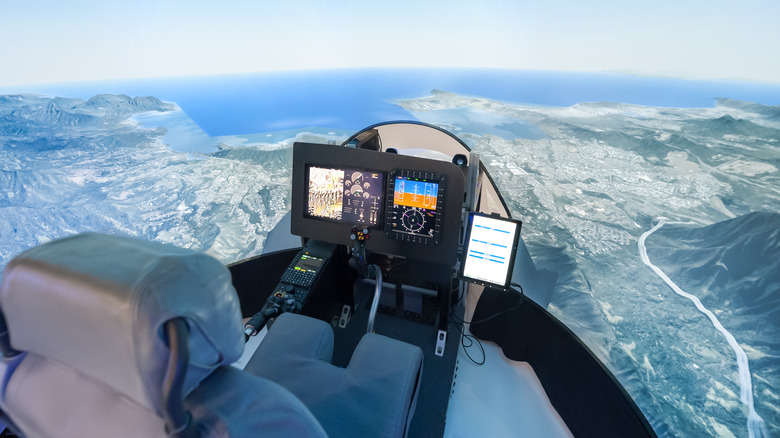 Steve Mann/Shutterstock
Loft Dynamics is a Swiss company that has developed highly technical resources for helicopter pilot training since 2016, according to Tech Crunch. The brand was initially called VRM Switzerland and has had success in building a variety of simulation scenarios including flying in low visibility conditions like at night. The simulators also provide training the same as a real helicopter, albeit without the addition of mortal danger.
While these tools have quickly become essential for those training to fly helicopters in the real world, Loft Dynamics has also rolled out airplane VR systems as well. This virtual reality environment allows pilots in training to engage in realistic scenarios that may occur while flying a commercial jet, and the European Union Aviation Safety Agency has even signed off on these devices as a legitimate and approved training tool for the Airbus H125 helicopter simulator (per TechCrunch). This certainly signals a surge in utilization of the company's products and Loft Dynamics appears poised to chase after subsequent authorizations for its other simulator training solutions. Until now, the company has operated solely in Europe.
The brand has raised significant capital, signaling excitement for the future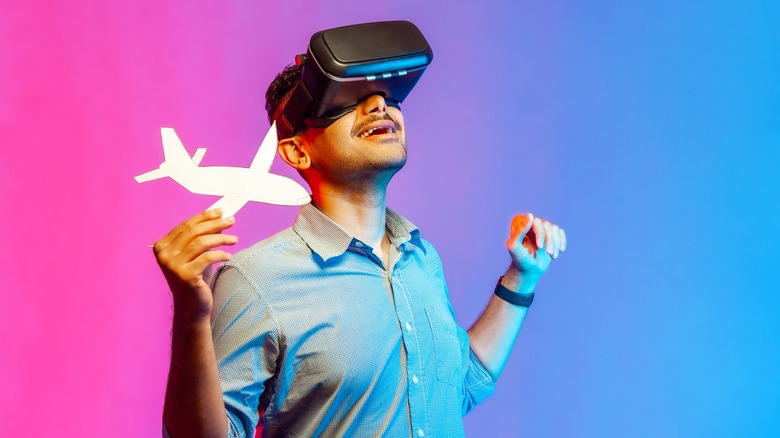 Khosro/Shutterstock
One notable change that Loft Dynamics has made going into the final days of 2022 is a raising of capital (via Loft Dynamics). In December 2022, the company secured $20 million in funding from Craft Ventures, Sky Dayton, and Up.Partners, all in the United States to expand its pilot training VR program and enter the U.S. marketplace.
This is a big deal for Loft Dynamics, but an even greater one for aspiring pilots in the U.S. With the introduction of a training device that's 10% of the size of a traditional simulator (via Tech Crunch), and will potentially offer low cost training credits that can be leveraged against the certification requirement it's possible that pilot training will be turned on its head.
These training tools are far more advanced than the flight simulator games that many people love pouring their free time into, but they can act as the next step in the evolution of an enthusiast considering becoming a professional. The barrier to entry for commercial pilots is high now, but with new training tools hitting the market, people who love flight may just get the chance and in the process end the projected pilot shortage.