The 5 Best And 5 Worst Things About Realme Smartphones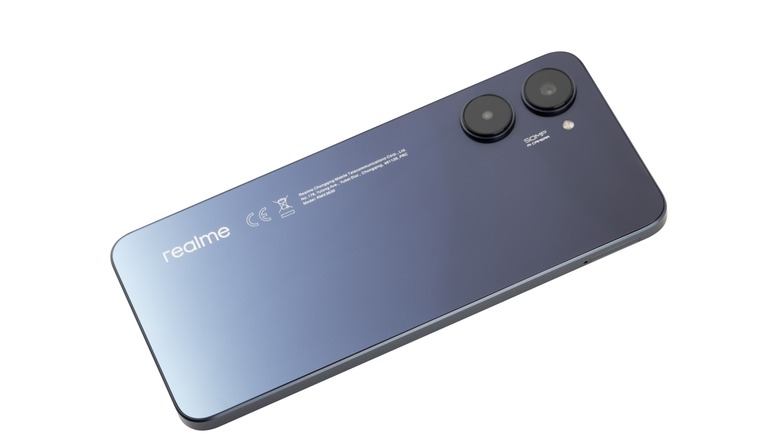 Sergey Eremin/Shutterstock
The smartphone industry is a market where rigid products go head-to-head with highly customizable devices, where concept phones are shipped in large amounts to gain attention, and where new smartphone makers fearlessly challenge established titans. One relatively new brand is Realme, a Chinese company founded in 2018. Previously a subsidiary of OPPO, Realme embodies the philosophy that emerging smartphone brands can stand on their own and win a share of the consumer base for themselves. To that end, Realme has slowly but surely risen to international popularity by offering phones at the flagship, midrange, and budget levels.
But as with phones shipped by other companies, Realme devices certainly have their upsides and downsides. On the one hand, the phones distinguish themselves by a top-notch exterior design and feature excellent battery capacity while remaining affordable for most consumers. On the other hand, the performance on some of Realme's midrange and budget phones can be unbearably poor — and then worsened by regular bug occurrences.
As Realme looks to continue its upward mobility in 2023, here are some of the best and worst things about its products so far.
Exterior design - Best
Realme is known for its experimental and innovative styles in smartphone exterior design. Its smartphones are simply some of the most beautiful devices on offer, and users who love smartphone rear patterns would enjoy having a Realme phone in their possession. This becomes even more remarkable when one considers the high level of attention given to the product design. Take the GT2 Pro, for instance — a smartphone built to have a paper-like feel. The company went to great lengths in designing this phone, consulting an industrial designer and earning an international certification in the process.
Of course, reception to smartphone exterior design varies by user. A device like the Narzo 50A, for example, would stir controversy with its two-tone, vertical stripe design. But this only serves to reinforce Realme's willingness to take risks with its smartphones' looks, so that its phones stand out in such a fiercely competitive market.
With smartphone cases being seen as a necessary accessory, and with the phone case market even expanding on its own, it might be argued that smartphone exterior design has become less important. For proponents of this take, all that matters is the quality and durability of external materials. Realme has, however, chosen to stick with this unconventional approach to exterior looks, and it seems to be working out pretty well.
Cheap cost - Best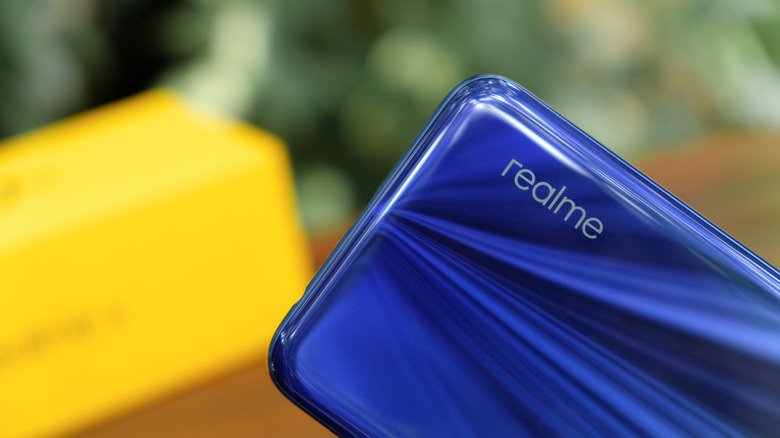 Framesira/Shutterstock
Even more than its highly attractive exterior design, Realme has won hearts with the affordability of its smartphones. Low-budget Realme phones have prices that go as low as $125, and even the good midrange devices are priced below $300. Given that the company is based in close proximity to hundreds of millions of midrange and budget consumers, it's no surprise that its phones would be well-received at these price points — not to mention the demand for phones of similar prices in other parts of the world.
Just like Xiaomi, Realme operates with an ideology based on volume sales. By considerably keeping phone prices low for midrange and even flagship levels, the company is banking on a high level of adoption by the market to make profits. At the low-budget level, the Realme 6 ships with a 6.5 inch 1080p display, a quadruple rear camera setup, a 16 MP front camera, and a 4,300 mAh fast-charging battery — all while starting at a price of $175. At the midrange level, it gets even better with the Realme X2 Pro as a great example. For $330, you get a 6.5 inch 1080p Super AMOLED display, a 64 MP main camera as part of its triple rear camera setup, and 4000 mAh in battery capacity.
High-end features - Best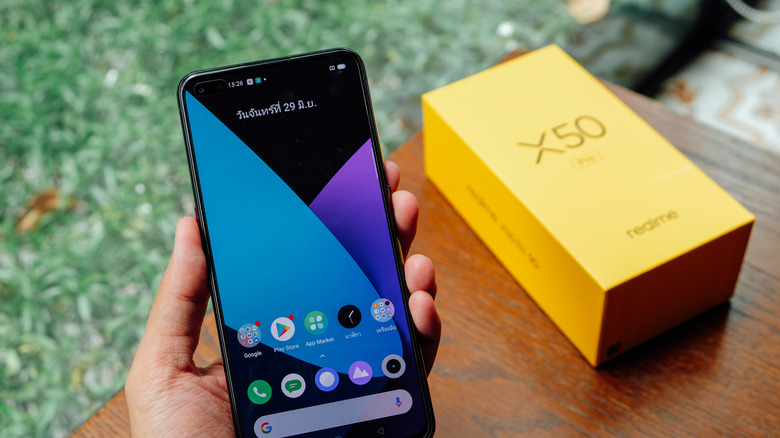 Framesira/Shutterstock
Along the same lines, Realme is committed to providing its users with some of the best technologies and components. As one might expect, Realme's flagships take phone specifications a notch higher — and the X50 Pro perfectly conveys this. Released in early 2020 as the company's first 5G-enabled smartphone, the spec-boosted X50 Pro was more than just a 5G phone. It housed several top-tier components including a Qualcomm Snapdragon 865 chipset, a 6.44-inch Super AMOLED display with 90Hz refresh rate, 12 GB of RAM and 256 GB of internal storage at maximum, a double front camera arrangement with a 32 MP main, an even better triple rear camera setup led by a 64 MP ultrawide sensor, and a 4200 mAh battery capable of charging in 35 minutes with Realme's "SuperDart" 65 W charging brick.
Furthermore, Realme is not hesitant to test out innovative features that might someday define the smartphone experience. Back in 2019, it pioneered the 64 MP camera sensor on a smartphone with its XT and further established its case as a company to pay attention to. It also released MagDart, Realme's answer to the MagSafe used on Apple's devices. MagDart outperforms MagSafe by offering 50W wireless charging, much faster than wired charging in many cases.
Battery life - Best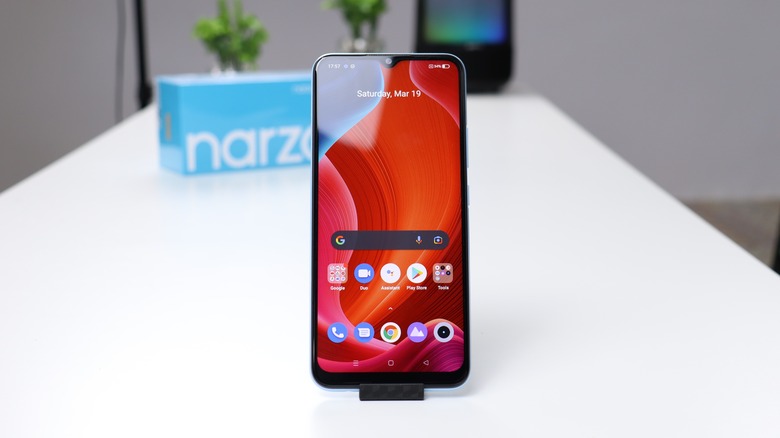 Chouaib Erramzi/Shutterstock
All other features aside, the battery life on Realme smartphones has already made them fan favorites in many parts of the world. The high battery capacity of Realme phones is great for all parts of the smartphone consumer base, but most especially for markets that lack stable power to charge phones whenever they wish. A phone with up to 4500 mAh in battery capacity instantly generates appeal in these locations, and it is commendable to see that Realme has such markets in mind for all categories of its phones.
Many of the company's phones, such as the 5i, offer up to 5000 mAh in battery capacity. Despite this, Realme does not have let other specifications take a hit — the Realme 5i, for example, still offers up to 4 GB of RAM and 64 GB of internal storage at its price tag of $125. Even better, some others like the Narzo 50A go up to 6000 mAh in capacity. That's potentially more than a day of use, depending on the apps run and the features active.
There is a seemingly legitimate argument to be made against shipping phones with long battery life. The higher the battery capacity, the heavier and bulkier the phone tends to be. But this is clearly not a concern for smartphone users desiring to have phones that can last them a long time before the next charge.
Realme UI - Best
Realme is part of the large group of smartphone brands that employ a company-built operating system. While still running on the base Android framework, these systems are crucial in differentiating Android-based smartphones and, perhaps, making some more attractive to consumers than others. Such attractiveness is indeed the selling point of Realme UI. Previously featuring OPPO's ColorOS as the main operating system, Realme devices now use the company's own Realme UI — another step in Realme's independence as a smartphone brand.
Realme UI extends well beyond a mere home launcher to touch every part of the smartphone. The first thing to note is that it offers a high level of customization and functionality. You can set up gestures to perform several smartphone tasks instantly, as well as rearrange your notification bar, desktop icons, and widgets based on your preferences and use patterns. Even more exciting than this is the very experience of using Realme UI: with its interface design, transitions, and animations, Realme UI is easily in contention as one of the best skins in the market.
As Realme has clarified, its UI editions are based on different Android versions: Realme UI R, for instance, was built on Android 11, and Realme UI S on Android 12. With every periodic update, the company improves the operating system's features, functionality, and integration with the base Android framework. Realme UI can of course be enjoyed on not only flagships but also midrange and budget phones.
Performance - Worst
On the other end of the spectrum, Realme phones lag in their processing and performance, most frequently observed in budget devices. Besides being slow to execute commands and run tasks, these phones lag when several apps are open simultaneously. There is also the problem of overheating, which occurs when high demands are placed on the phones' resources. Certainly, poor performance is a turn-off for smartphone users.
The first port of call for these performance issues is the chipset. Even while having great specifications in other areas, some Realme phones still use chipsets that underperform in processing power. One such phone is the Realme 6, which has seen its fair share of user problems and complaints (via Gadgets 360). Despite its admirable specs in display technology, storage, memory, and battery life, the use of the Helio G90T chipset has been an unwelcome development. Several users have reported instances of overheating, lagging, and a failure to even start certain apps and games — these beginning from as little as a week after purchasing the phone.
Realme's defense might be that smartphone users should not expect such a high level of processing from low-budget phones, as the major processing components are as low in power as the device cost is cheap. Nonetheless, the company must work to improve phone performance if it wishes to maintain a competitive position.
Camera - Worst
The cameras on Realme smartphones range from low-pixel-count cameras on the cheapest phones such as an 8 MP camera on the C30s, to high-pixel-count camera sensors on flagship products using the 108 MP camera on the 10 Pro+. In all cases, the camera quality could use a lot of work.
In some phones, the cameras are poor because they lack common photo and video capabilities. This is seen on the Realme GT2 Pro which, for all its marketing as a premium phone, has left users disappointed with its camera performance. On the hardware side, consumers have pointed out its lack of support for 4k video recording on its front camera, a subpar HDR configuration, and overly high exposure causing the pictures to be undesirably bright. On the software side, the camera app has been criticized as lacking enough options to toggle shot quality or reduce exposure when necessary, and there is decreased camera functionality with third-party applications (al via XDA forum).
In other phones that have these features, the problem comes down to image processing. Given that great camera quality is one of the top criteria for smartphone users, Realme would be wise to take another look at its algorithms for image processing and output. This could be a major turning point for its devices going forward, even as the company looks to match the camera performance of other Android smartphones like those of Samsung and Xiaomi.
Build and durability - Worst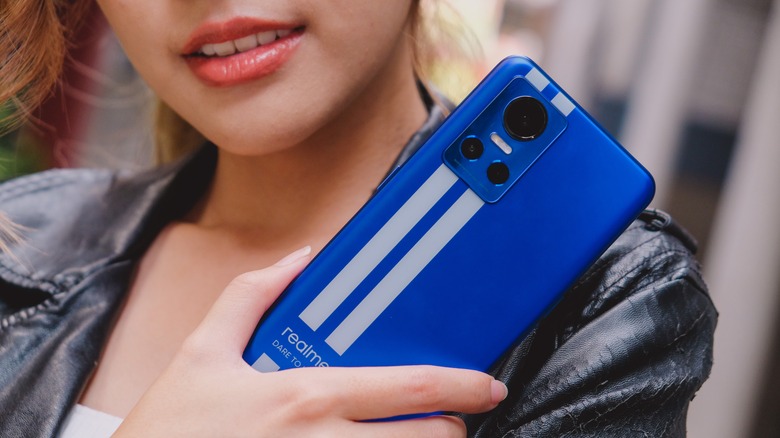 Framesira/Shutterstock
One could argue that durability and build should not be major topics of discussion for Realme's low-budget and midrange phones, as these come at relatively low price points for their overall value. However, there is little merit in owning a high-spec phone that can start malfunctioning with one accidental drop. Plus, poor build and durability could also spell problems for Realme's smartphone exterior design, which the company evidently spends ample resources on. In general, it's a win-win for both the manufacturer and consumer if the phones are built with the right materials and are durable enough to withstand common cases of hard impact with the ground.
It's worthy of note that Realme has put the requisite attention into improving the durability of its flagship phones. The Realme 8 Pro, which was tested by JerryRigEverything, performed excellently in the scratch and burn tests, and remained unbroken after the rigidity test (via Gadgets 360). Realme deserves credit for its work in this regard, and if it can carry this over to its budget and midrange phones, then the company would be on pace to establish excellence in every category and for every market.
Redundancy - Worst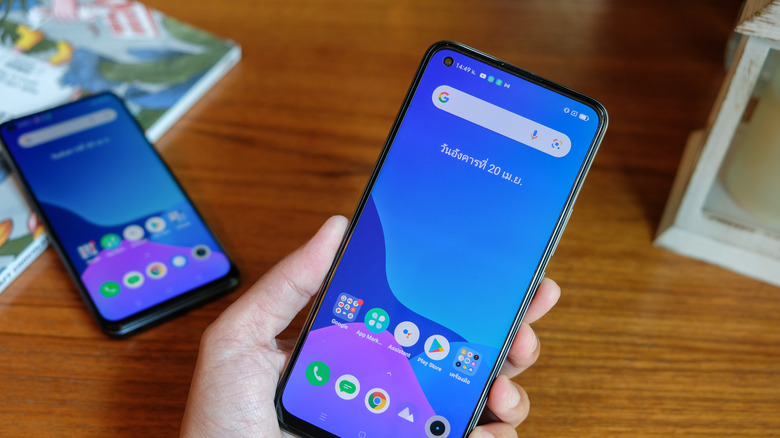 Framesira/Shutterstock
The subject of redundancy perhaps does not get enough attention in the smartphone space. For a truly innovative future for smartphones, this should be discussed. In an attempt to reach as many markets as possible, Realme has become guilty of releasing phones that have similar build and specifications while being tagged with different names. There's also the issue of shipping too many phones in one series. Whether or not this is an effective market strategy, it is without question infuriating to users who would rather avoid as much confusion as possible in picking a phone.
The existence of a smartphone model is questionable if it brings nothing new from its previous edition. Such has been observed with the Realme GT Neo 3T, which was purported to be the high-end version of the GT Neo 3, according to Digital Trends. As this device exemplifies, there are two primary strategies that smartphone manufacturers deploy to avoid being criticized for releasing the same phone twice. The first is to alter the phone's design language. A simple rearrangement of the back cameras, a change of smartphone color, or the use of a different design pattern on the smartphone rear can do the job. The second is to improve upon one or two specifications that, frankly, do not have so much of an impact on smartphone usage. Realme should look into this going forward.
Bugs and bloatware - Worst
Despite Realme's efforts to give users a great smartphone experience through its UI and other associated software features, the phones are struck with bugs occasionally. These bugs might cause certain phone features to stop working, freeze the screen, or temporarily reduce phone functionality. Moreover, users have reported problems with software updates. It is certainly not a good look if the updates that should fix smartphone issues instead play a role in proliferating them.
While the problems of bugs and smartphone updates might be faced by consumers who have used the phone for a considerable amount of time, new owners may be plagued by a familiar enemy: bloatware. Several applications come preinstalled on Realme phones — apps that phone owners have no need for. Plus, on certain devices, there's no direct method of uninstalling these apps. According to the Times of India, Realme has also implemented the "recommendations" strategy. Rather than pre-installing so many apps on the phone, flash these apps as recommendations every now and then with a clickable button to immediately install them. Some users might have no problems putting up with these recommendations, but things go south when the phone presents unnecessary apps.
Of course, it is clear why bloatware and recommendations even exist in the first place. They are revenue channels for the smartphone company, as the creators of these applications are simply running advertisements through Realme.
Is it worth buying a Realme phone?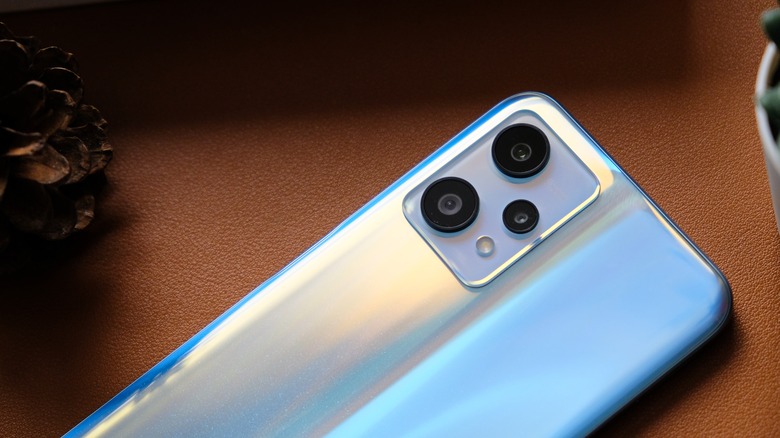 Framesira/Shutterstock
Ultimately, buying a Realme phone or not comes down to the consumer's budget, needs, and preferences. At low and midrange price points, Realme devices are some of the most dominant in the market. They offer an enticing array of features and specifications at a low cost. As the quality of specifications increases, however, so too does Realme's competition. Indeed it would take some special feature or preference — or perhaps a significantly lower cost for comparable quality — for the average premium smartphone user to pick a Realme flagship over, say, a Samsung flagship.
From the stunning exterior design to the fluid user interface, certain characteristics of Realme phones stand out from the competition. Smartphone users might find a Realme phone worth owning because of these pros. Such users drive growth significantly for the company, and they're the reason why Realme should continue its trend of smartphone innovation.
Looking ahead, it'll be nice to see how far Realme can progress its phones without losing their low price points. With a more strategic smartphone release profile to eliminate redundancy, a commitment to eliminating other downsides, and a heightened intensity on its best features, Realme might just be the most "worth buying" smartphone at some point in the future.