The Hidden Costs Of Online Shopping That You Need To Know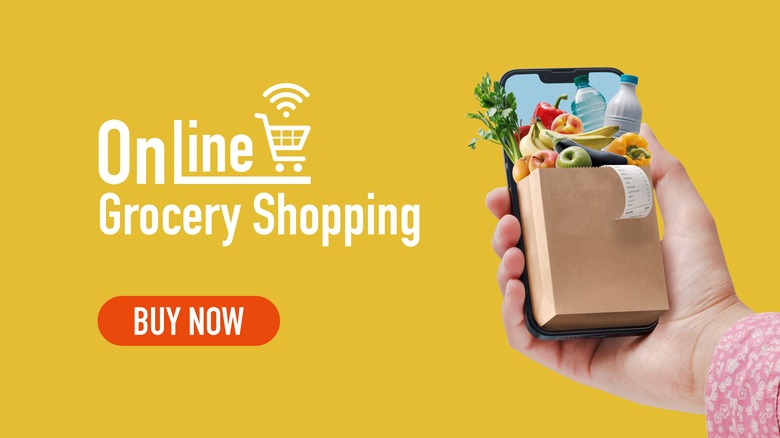 Stokkete/Shutterstock
According to a report published by Adobe, Americans spent $1.7 trillion on online purchases between March 2020 and February 2022. What's more, Adobe expects U.S. consumers to spend more than $1 trillion in 2022 — this is almost as much as the revenue that was recorded in 2018 and 2019 combined. This means that online shopping is now bigger than ever, partly driven by the Covid-19 pandemic and more consumers embracing online platforms. 
Amazon is the biggest e-commerce company by market value. Some of the other big players in North America are Shopify, Copart, eBay, Chewy, and Etsy. Beyond that, DoorDash is the most popular food and grocery online service app in the U.S., followed by Uber Eats, GrubHub, and Postmates (via Business of Apps). 
However, even with subscription models, online delivery platforms often overcharge customers for convenience. In other words, you will likely find hidden costs when you're ordering groceries online. Here is a breakdown of the hidden charges you should know about. 
Most food and grocery delivery apps increase the prices by 15% to 30%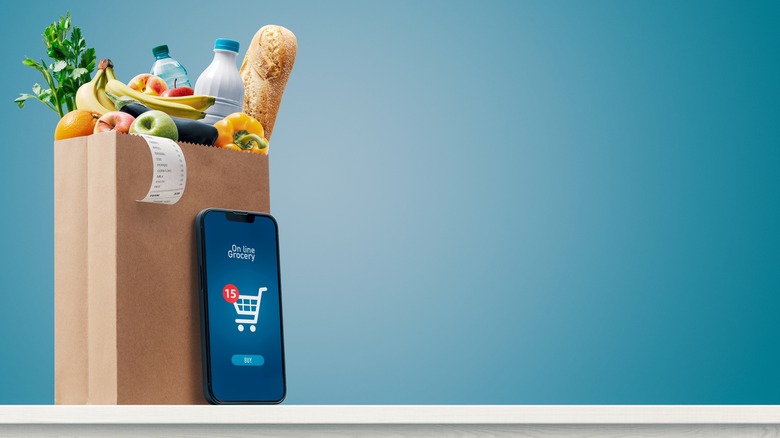 Stokkete/Shutterstock
Food delivery apps like DoorDash, Uber Eats, and GrubHub usually charge restaurants and stores a commission of between 15% to 30% on delivery orders. This means that you could end up paying more through delivery apps since most restaurants and grocery stores have no option but to increase their item prices to recover the delivery commission (via the Motley Fool). However, you could reduce the cost if you place an order through a restaurant's website or app — or you can go old school, and just call the restaurant.
Alternatively, you can place an order through delivery apps and pick up the items in person if you want to save costs. At the moment, delivery apps like DoorDash and Uber Eats charge a 6% marketplace fee to businesses if the customers prefer to pick up their orders. Besides that, you don't need to pay the delivery fee if you're picking up your order.
In some cities like San Francisco, Seattle, New York, Philadelphia, and Minneapolis, policymakers have approved a limit of 15% commission that delivery apps can take from local businesses — as reported by GeekWire. 
Most apps include a delivery fee and a service fee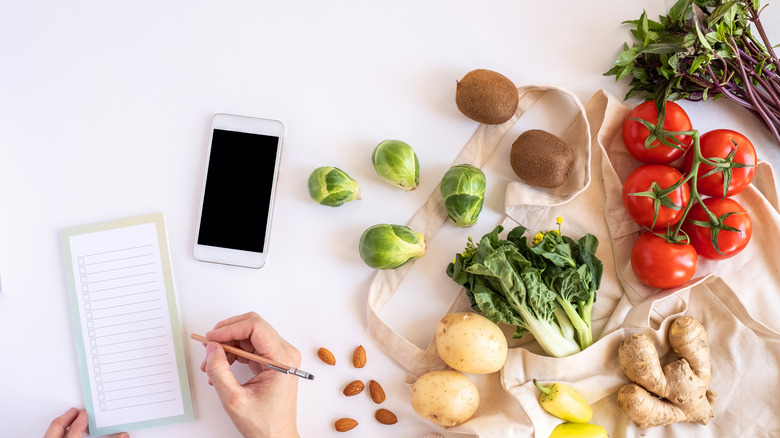 PattPaulStudio/Shutterstock
On top of paying more for items on the app than at the grocery store or restaurant, you could also pay a service fee — this is different from the delivery fee and sales tax. More succinctly, the service fee is what you pay for the convenience of ordering through an app, and it could also include the cost of packaging your item. For instance, you could incur a service fee of between 10% to 15% of the subtotal if you order through Uber Eats or DoorDash. What's more, delivery apps often charge a small order fee if the subtotal is below a certain amount — if you're grocery shopping online, the small order fee is usually added if your subtotal is less than a set amount. That minimum order amount varies by provider and location but it can range from $8 to $12.
Beyond that, the delivery fee depends on your location and your distance from the grocery store or restaurant. According to TechCrunch, some of the most expensive cities for online delivery are San Francisco, New York, and Los Angeles. However, most online shopping apps offer a monthly subscription option to customers who want free delivery.
As for how much you should tip the courier, delivery apps don't impose a specific limit. Regardless, the ideal tipping rate should be between 15% to 20% of the total cost of your order (via Consumer Reports).