Three CES 2023 Gaming Monitors Worth Looking At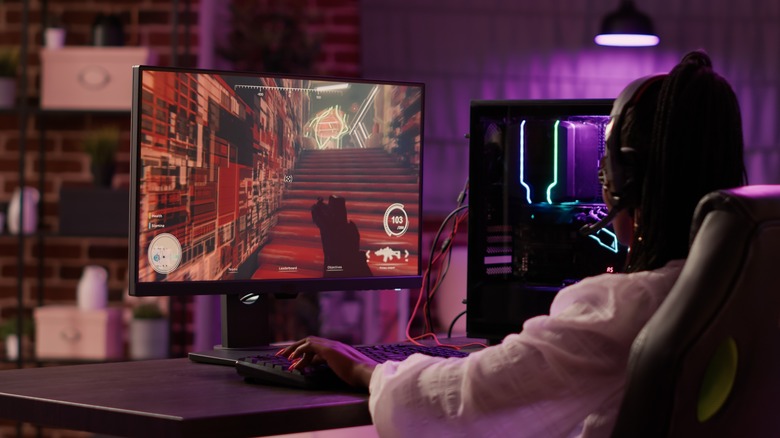 DC Studio/Shutterstock
We still haven't been treated to the full slate of cards coming out of the latest generation GPUs, but whenever they arrive, you can bet there'll be a healthy suite of monitors to take full advantage of them. Like always, a bevy of new gaming gear is being announced at CES 2023, including a wealth of ridiculous gaming monitors.
One of the biggest developments we're looking forward to in 2023 is the first run of DisplayPort 2.1 monitors, which would usher in new heights for total resolution and framerate possibilities. We've suffered years of delays with DisplayPort 2.0, and it sounds like the industry still isn't quite ready to flood the market in 2023, but based on the latest announcements, we're not far off.
We're seeing exciting new gaming monitors from all of the usual players, but there are too many to mention here. If you're curious about the best of the best, we've scoped out three of CES 2023's most noteworthy attendees.
Acer's ultra-fast, ultrawide OLED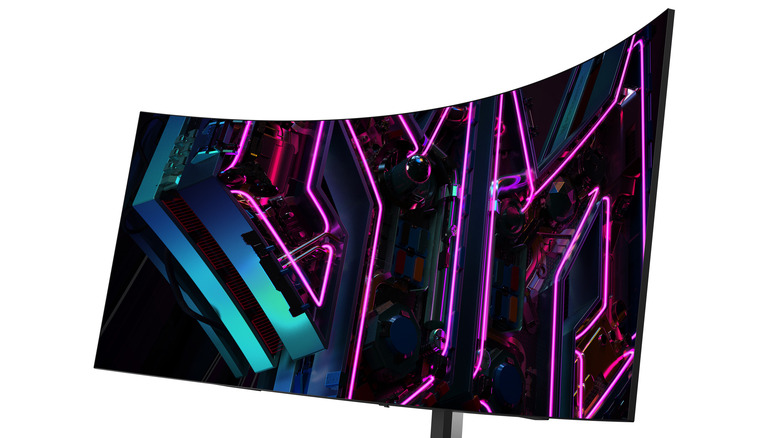 Acer
Ultrawide gaming is here to stay, and Acer is challenging this sector with the Predator X45, a 45-inch 800R curved monitor sporting a 1440p-equivalent resolution. Its aspect ratio makes it height-equivalent to a typical 16:9 36-inch display but stretches much wider for those who appreciate the added peripheral view in gaming. Of course, this sort of kit pays dividends for work productivity, too.
The X45 reads out like one of those rare monitors that can match top-tier TVs for HDR10 performance with its 1,000-nit peak brightness. Matched with a stated 98.3% DCI-P3 color gamut, it should recreate color as accurately as anything, which means it should also be suitable for creative work.
Acer is marketing this thing as a great monitor for console gamers, as well, with two HDMI 2.1 ports to go alongside its DisplayPort 1.4. It tops out at a 240Hz refresh rate and has a .01ms response time, both marks being about as fast as they can get in this flavor. As expected, you'll pay handsomely to own one: Acer will list it for an initial $1,699 when it lands in Q2.
Samsung's dual UHD ultrawide is wild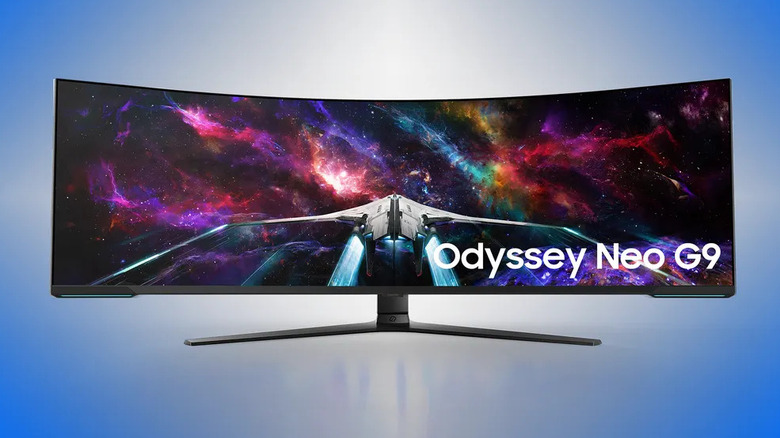 Samsung
Like it does in almost every category it competes in, Samsung is putting the competition on notice with a cutting-edge monitor it plans to bring out sometime in 2024. We don't know the cost yet, but you'll probably need to have some serious cash flow or credit to afford one, based on these specs.
The newest Odyssey Neo G9 is a 57-inch 32:9 ultrawide that brings together two Ultra HD panels for a 7680 x 2140 resolution, complete with a 240Hz refresh rate and 1 ms response time. Samsung markets it as an 8K device on account of its horizontal pixel count, but this is still technically a 4K-equivalent rig. Either way, it's nuts. The panels use mini-LED "Quantum Matrix" backlighting that can achieve a 1,000,000:1 contrast ratio and peak HDR10 brightness of 1,000 nits, which puts it on par with some of its best TVs in terms of panel and color quality.
Furthermore, Samsung claims it'll be the first to market with DisplayPort 2.1 connectivity, a necessity for the number of pixels it'll push. Most GPUs, including NVIDIA's latest RTX 4000 series and AMD's Radeon RX 6000 series, can't even take advantage of that tech yet – the just-released RX 7900 XTX is the first. But for those planning to build the ultimate gaming PC of their dreams in the coming years, this should be your first consideration.
Lenovo's budget-minded 0.5ms gaming monitor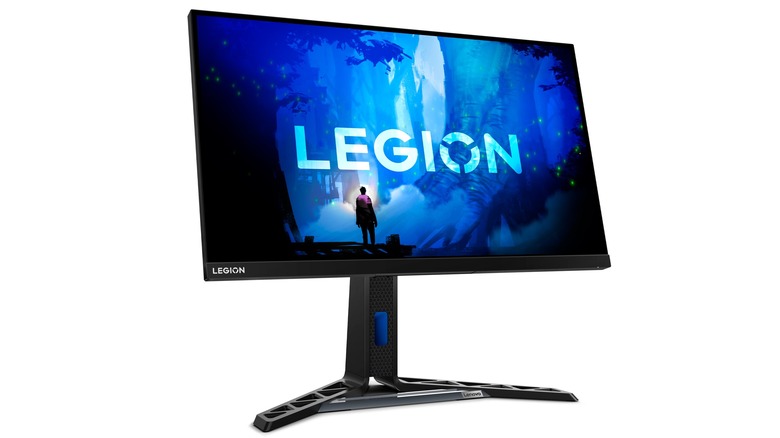 Lenovo
If you won't have quite so much to spend, Lenovo is checking in with a new 1440p, 240hz (250hz overclockable) option that has one significant claim: it can achieve a response time of just 0.5ms, but only if you sacrifice AMD FreeSync Premium. That still isn't the absolute fastest we've ever seen, but really, anything under 1ms is great for just about any competitive gamer, and any variation within that range is just hair-splitting.
There isn't a ton to write home about elsewhere. It's checking in with a 95% DCI-P3 color gamut and 125% sRGB. And while it does achieve 10-bit color depth, you'll top out at VESA HDR400, which is only a slight step above SDR displays. The Y27qf-30, as it's called, includes a pair of 3W speakers and a phone holder built into the adjustable mount. It'll run you $599, and you should see it hitting store shelves starting this May.