Here Are YouTube's Top Videos And Creators Of 2022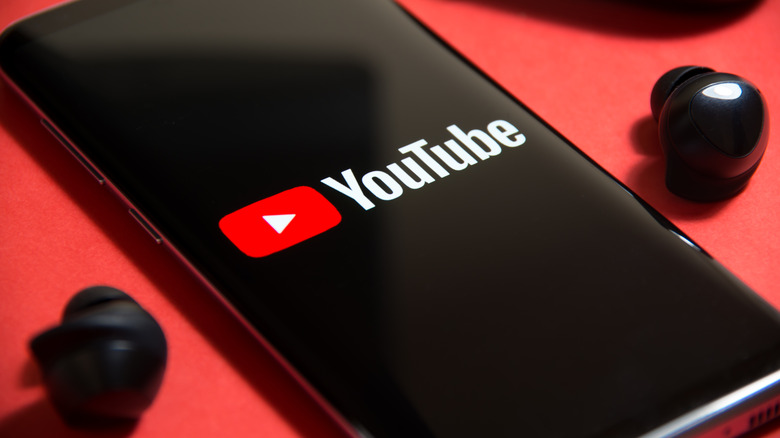 Chubo - my masterpiece/Shutterstock
To celebrate 2022 before we ring in 2023, YouTube has prepared a blog post full of this year's top creators and videos. While the list only applies to trends in the United States, it does a good job of showing the content that dominated YouTube throughout the year. YouTube's round-up is comprehensive, including lists of the top 10 creators, videos, music videos, shorts, and breakout creators. Can you guess who ruled the hearts of the viewers in 2022?
Many companies like to mark the end of the year with a list or two. In the case of Spotify, we have Spotify Wrapped; Apple has something similar with Apple Music Replay. For many years, YouTube used to make a yearly video called "YouTube Rewind," which used to be a fun mash-up that included some of the trending creators, songs, and videos from a given year. However, Rewind slowly went south, with "YouTube Rewind 2018: Everyone Controls Rewind" receiving an enormous number of dislikes, surpassing 20 million. YouTube finally canceled Rewind for good in 2021, announcing its demise in a tweet.
While YouTube no longer does Rewind, it still prepared a wrap-up that tells us what exactly was at the top of the charts in 2022.
The top video of 2022 is heartbreaking
YouTube starts out strong by talking about the year's top trending videos, and the video that tops that list is completely heartbreaking. It's embedded above, so watch it if you want to, but you might need tissues. Titled "so long nerds," it's the final video of YouTuber Technoblade who passed away in 2022. This farewell message from his father, as well as the final words of Technoblade himself, moved millions of viewers to tears. Things continue to be serious throughout the top 10: Further down the list at #7, Jaiden Animations talks about not being straight, and at number 9, The Try Guys explain a scandal and talk about the future of their YouTube channel.
This year's top 10 also includes some celebrities, such as a video of Will Smith smacking Chris Rock at the Oscars, ranked #2, the star-packed Super Bowl Halftime Show, and Millie Bobby Brown eating spicy wings in First We Feast's "Millie Bobby Brown Needs a Milkshake" closing the list at number 10. Dream, MrBeast, Mark Rober, and Kane Pixels have also made the list with a face reveal, a recreation of Willy Wonka's Chocolate Factory, pranking scam callers, and a creepy "found footage" video, respectively.
YouTube's Shorts have been on the rise lately. This carbon copy of TikTok also brings in millions of views sometimes, and 2022 marks the first year when YouTube prepared a list of the top Shorts. At the top of the list sits Shangerdanger's video of a diver cracking an egg underwater. The rest of the trends all fall into the "wholesome," "funny," or "interesting" categories, with a dog grooming video, magic tricks, social experiments, and a surprise pregnancy reveal all included on the list.
The top creator should come as no surprise
For three consecutive years, YouTube's number one creator has been MrBeast. The YouTuber, known for fun challenges of epic proportions, has 114 million subscribers at the time of writing, and his videos often hit insanely high view counts. Following MrBeast is NichLmao, with a much more modest (but still enormous) subscriber count of 18.8 million. The creator is also known for fun challenges and prank videos. The growing interest in this type of content is prevalent throughout the rest of the top 10, with Airrack claiming the third spot on the podium, followed by Ryan Trahan, Isaiah Photo, Brent Rivera, Dan Rhodes, Luke Davidson, CoryxKenshin, and Ian Boggs.
Another category highlighted by YouTube this year is called "Breakout Creators," and to some surprise, there's some overlap between the two creator lists. NichLmao claims the spot as the top breakout creator, followed by Airrack, Jooj Natu ENG, Shangerdanger, David the Baker, Kat, Dayta, Devin Caherly Shorts, MDMotivator, and Charles Brockman III.
Closing out this year's YouTube Trends is a round-up of the top songs on the platform. Disney's Encanto steals the number one spot with "We Don't Talk About Bruno." Bad Bunny appears at number four and six with two different songs. Kodak Black and Jessica Darrow claim the second and third spot, respectively. Karol G also appears in two entries, with "Mamiii" and "Provenza." If you'd like to check out the full list of trends, read YouTube's blog post here.