Following Apple And YouTube, Spotify Wrapped Is Now Live
Spotify users curious about their listening habits over the past 12 months are in for some good news. The streaming app's annual Wrapped feature has gone live for 2022. Wrapped gives users some pretty in-depth insights into their music selection, before placing them in different categories based on what they listen to, and when they listen to it.
As part of Wrapped, Spotify has also released information on its wider customer base's listening habits. On the whole, Bad Bunny was the most streamed artist on the platform this year, followed by Taylor Swift, and then Drake. Despite coming second in the streaming chart, Swift topped the "Viral" chart — meaning her music was "shared" more than any other artist on Spotify's. "As It Was" by Harry Styles was the most streamed song of the year, and most streamed artist Bad Bunny got two tracks in the top five. Bad Bunny also claimed the top album spot, followed by Harry Styles. Ed Sheeran placed fourth with another album named after a basic mathematical symbol. 
Spotify is also logging user's love of "throwback" hits. Of all the songs on the platform over 20 years old, Kate Bush's "Running Up That Hill" was the most streamed. The song found viral success earlier this year after cropping up on Netflix's "Stranger Things." The song received over 87 times the number of plays it received before being featured on the hit series. Some of the more interesting stats include a spike in wedding-based content, with the streaming service's "country wedding" playlist receiving 620% more listens. The number of users searching for "daily affirmations" has also jumped by 400%.
Your Spotify Wrapped gets personal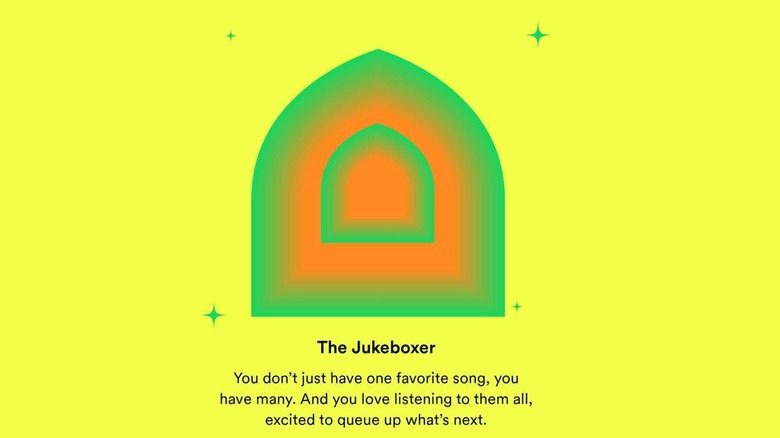 Spotify
When you open the Spotify app, you'll get the option to view your "Wrapped" summary for the year. Doing so will launch an Instagram-stories like slideshow backed by your own personal soundtrack. The feature is only available on the streaming service's online app, so PC users will have to head to their respective app store if they want to join in. It does include all songs that were played on a particular Spotify account though, so listeners that mainly use a PC or a smart speaker won't miss out — even if Wrapped is the only thing they will ever use the app for. Wrapped will take you through the kinds of music you listened to in the mornings, throughout the day, and in the evenings using terms like "psychedelica," "indieheads," "mystical," "hardcore," "proud," and "happy."
You'll be told your top song for the year, along with how many times you played it. Your top five songs and artists will be listed as if they were appearing on the cover of a magazine, and in the end, the type of listener you are will be unveiled. Users will also have the opportunity to add a playlist of their top 100 songs to their account, so they can listen back over them at their leisure. Some of the stats that are revealed, including total listening minutes, are compared with the average Spotify user. So you'll know if you're listening a little too obsessively, or your life's a bit quiet compared to the average person with a Spotify account.
Other platforms are doing something similar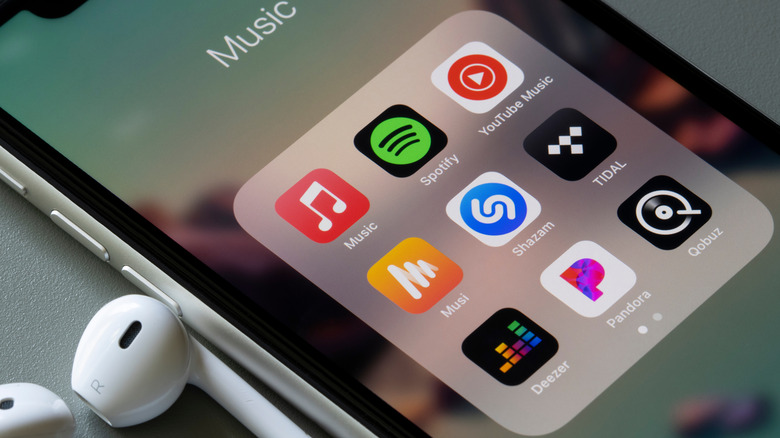 Tada Images/Shutterstock
Spotify's Wrapped is a fun way for users to recap their year in music — but it is far from unique. If your audio needs are met by YouTube Music, then you'll be able to draw a lot of parallels between Spotify Wrapped and YouTube Music Recap. Recap is back after making its debut last year, and like Spotify's effort, uses a slideshow to take its users through their top artists, songs, music videos, and playlists from 2022. As with Spotify, Recap is experienced on the YouTube Music app. Another similarity between the two playlists is the "music personality" YouTube will assign you based on your listening habits. There is a notable difference. YouTube claims it can use Recap to point you towards rare editions of your favorite tunes. If their catalog has a live version, demo, or remaster of something you've been vibing to since January — expect your Recap to nudge you towards it.
Apple Music users also have their own summary slideshow to see the year out with. Apple Music Replay has been going since 2019, and again has a lot in common with both Spotify Wrapped and YouTube Music Recap. Despite the similarities, some Apple Music users were complaining that Spotify's annual effort offered a lot more — so Apple has changed things up a little for 2022. Users who listen to a particular artist more than the majority of other people can now check if they've been given "superfan" status, they'll be bombarded with more stats and data than ever before, and the whole feature has been given a significant visual overhaul. Apple will keep updating the stats until the year actually ends, so its listeners can check back before December 31 if they think things may have changed.