The Best PlayStation Cyber Monday Deals Of 2022: PS5 Accessories And Game Discounts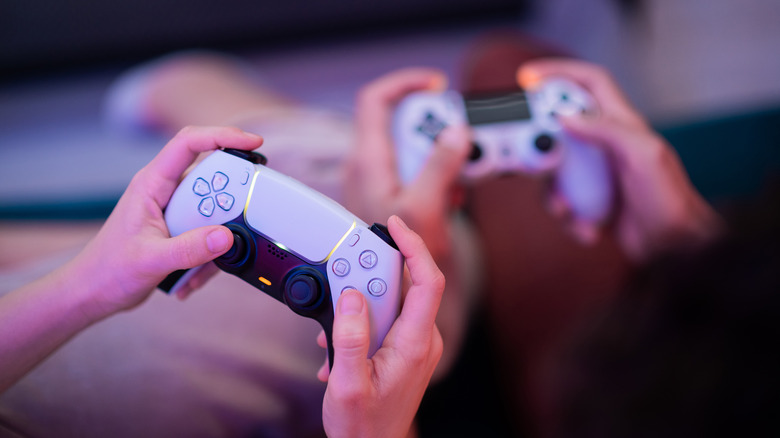 Roman Kosolapov/Shutterstock
There's a whole bounty of deals to be harvested by the PlayStation player this Cyber Monday, whether you're in the market for new controllers or want to pad your list of games. Actual PlayStation 5 console ownership may still be an exclusive club, but if you're lucky enough to own one, decent sales on PS5 DualSense wireless controllers are cropping up everywhere on the eve of Cyber Monday. At Best Buy, DualSense controllers in all available colors — galactic purple, gray camouflage, starlight blue, cosmic red, white, midnight black, and nova pink — are $25 off, reducing the price by a third from $74.99 to $49.99. Target and GameStop offers the same deal, with an extra $15 off the DualSense in white at GameStop.
At the same retailer, you can snag a DualSense charging station for a slight deal — $22.99 as opposed to full price of $29.99. The PS5 media remote is on sale for the same price as the charging station as well. Sony's Pulse 3D wireless gaming headset in black and white is 30% off at Best Buy, falling to $69.99 from $99.99. The same deal is available for this headset at GameStop, if that's your preferred retailer.
Back at GameStop, you can save $50 on refurbished PlayStation 4 consoles.
Shop price-reduced games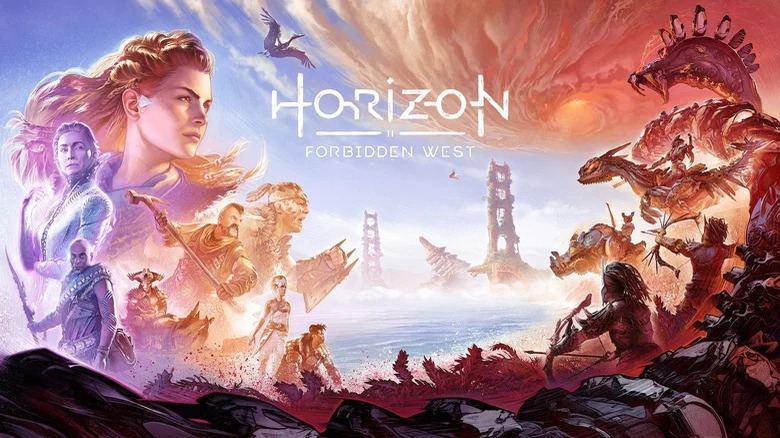 PlayStation
A number of widely-approved titles came to PlayStation this year, notably "Horizon Forbidden West," which you can swipe for almost half-off at Best Buy (on sale for $39.99, regular price $69.99). Also at Best Buy, there's "The Last of Us Part II" and "The Last of Us Remastered" for just $9.99 apiece. The beloved "Ratchet and Clank" is also half-off. There's a couple of older installments in the "God of War" series on sale too, if you'd like to do some catching up before diving into Ragnarök. The recently-released "Sonic Frontiers" for PS5 is $20 off as well — pitching from $59.99 to $39.99.
The fire sale continues at the PlayStation Store. "Forbidden West" and "NBA 2K23" are half-off, and the most recent "The Last of Us" installment is available for 25-30% off. "Gran Turismo 7" is available for a steal — $29.99 rather than $59.99 — and "Grand Theft Auto V" also clocks in at half-off for both console generations. "Ratchet and Clank" is at least half-off, and older games — "Last of Us Part II," "Call of Duty: Black Ops Cold War," "Destiny 2," "Marvel's Spider-Man: Miles Morales" — see sales of 60% off or greater.
Through Target, "Call of Duty: Modern Warfare II" is available for a modest savings — $10 off. "Elden Ring" is on clearance here, too — $39.99 vs. $59.99. The "Sonic Frontiers" and "Ratchet and Clank" deals are the same here as at Best Buy, but we see lesser but similar deals on "Gran Turismo 7."