Don't Get Your Hopes Up For "God Of War Ragnarök" DLC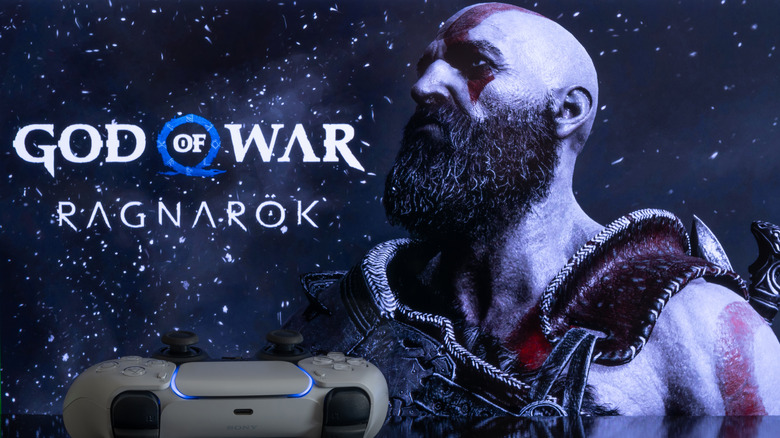 Miguel Lagoa/Shutterstock
As much as you're probably loving "God of War Ragnarok" right now, you might want to take your time and savor the experience. Speaking with Kinda Funny Games on a recent podcast episode, game director Eric Williams answered the final question of the day regarding potential DLC with a very noncommital answer. To the chagrin of everyone clutching a DualSense, he tells us not to hold our breath for any downloadable content that would extend the game's storylines or add new gameplay.
"Um, I don't know, man. That game is big," he said. "I think we put everything we had into it, so I wouldn't count on it."
The remark came on the heels of an answer to whether there are any super secret endings that fans could yet uncover, to which he answered that he might have one on a flash drive in his home. It sounded like a joke in context, but we can dream.
No more viking Kratos ... for now
Sony
The fiercest Mjölnir wielders will probably have to jog through "Ragnarok" repeatedly in order to get their fix. The original "God of War" reboot also snubbed fans of further content despite long-lingering requests, so it's safe to say that Sony Santa Monica won't easily cave to pressure of the hot response to its game of the year contender. And if you know game developers, you know that statements like "don't count on it" and "no current plans" pretty much spell doom for any potential to the contrary.
Thankfully, there's a ton to dig into with "God of War Ragnarok," featuring an even bigger world than the original with much more room for exploration. All of it is backdropped by a grossly engaging story that allows you to play as both Kratos and Atreus. The main campaign is meaty on its own with reports suggesting there are 25 hours worth of gameplay there, and many more are available through side quests and collections.